Filmmaker Hacks Sleeping Beauty to Propose to His High School Sweetheart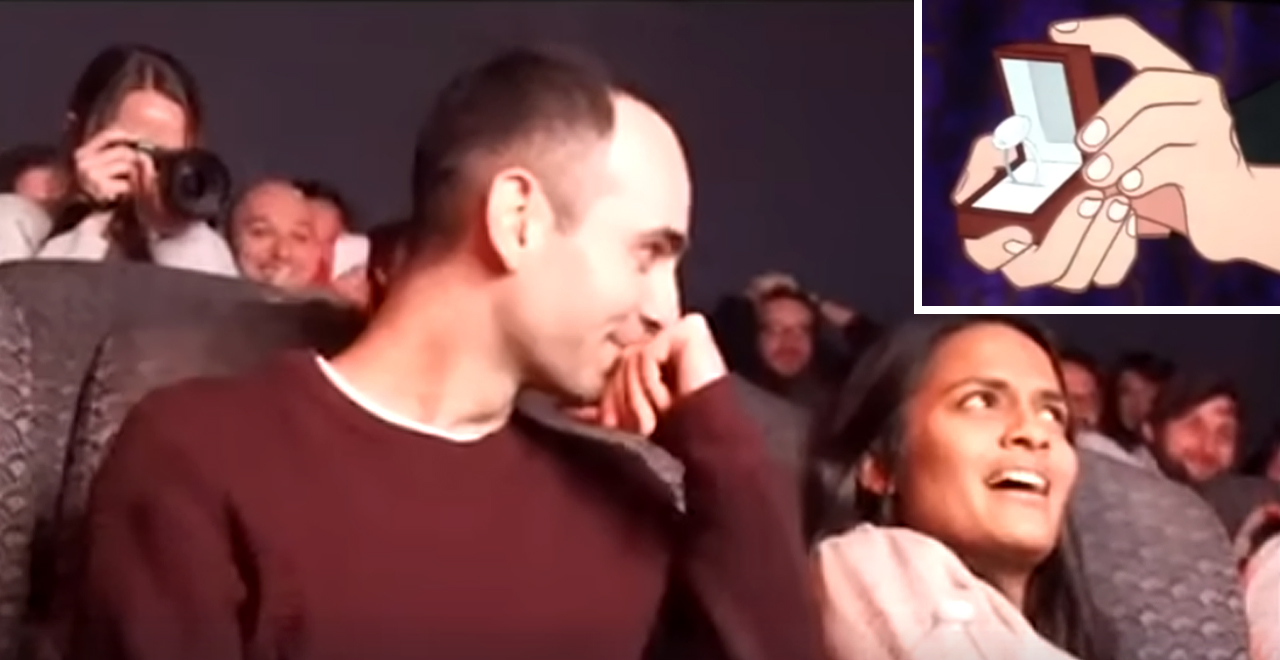 Usually, when you hear that a movie has been hacked, it's for nefarious reasons that may or may not involve Tyler Durden. When you hear that there's a secret message inside a Disney flick, again, you probably suspect the worst, i.e. the phallic designs in The Little Mermaid, or the cloud of dust in The Lion King that allegedly spells out "SEX."
One filmmaker hacked into a Disney flick to add a secret message of his own, but there was nothing sketchy about it. In fact, it was incredibly sweet, and the internet is going nuts over it.
Filmmaker Lee Loechler shared a video of his feat a video of the finished product, along with an explanation of what he did and how he managed it.
"For the past six months I've been animating my girlfriend and myself into her favorite movie, Sleeping Beauty. With the help of some local Redditors, I popped the question in a 'crowded' movie theater," he wrote.
At the end of the year, December 30th, he brought his fiance to a screening of the Disney classic Sleeping Beauty, and everything was as it should be until the end of the film. At the end of the film, when the titular beauty, Princess Aurora, is awoken from her cursed slumber by a kiss Prince Philip. Only in Loechler's version, he digitally replaced Philip and Aurora with animated images of himself and his high school sweetheart, Sthuthi David.
On screen, Prince Philip produces a ring box and then throws it towards to audience to Loechler (it was actually a friend being the screen who threw the real-life box). The groom-to-be catches it and then gets down on his knee to propose to Sthuthi – replacing the typical "Will you marry me?" with an on-theme "Will you live happily ever after with me?" – who actually apologized to the rest of the audience before accepting the proposal.
If you're worried that his hackery – which he accomplished with the help of Australian animator Kayla Coombs – disrupted the movie-going experience for the rest of the audience, the screening was filled with strangers Loechler recruited, and a collection of the couple's friends and family.
The screen then cuts to the three fairy godmothers applauding and celebrating at the news. Quite an impressive, and elaborate, way to get the job done, but it worked, and people love it. YouTube commenter Majestic Chicken stated what many men are probably thinking: "Glad that I just proposed to my fiancé just last week so that I don't have to compete with this."
The video he shared – which has over 3 million views in a mere day on YouTube – showcases the moment with a split-screen of what's on-screen and what's happening in the theater.
Take a look: