Kids of 9/11 Firefighter Get Late Dad's Invention a Massive Deal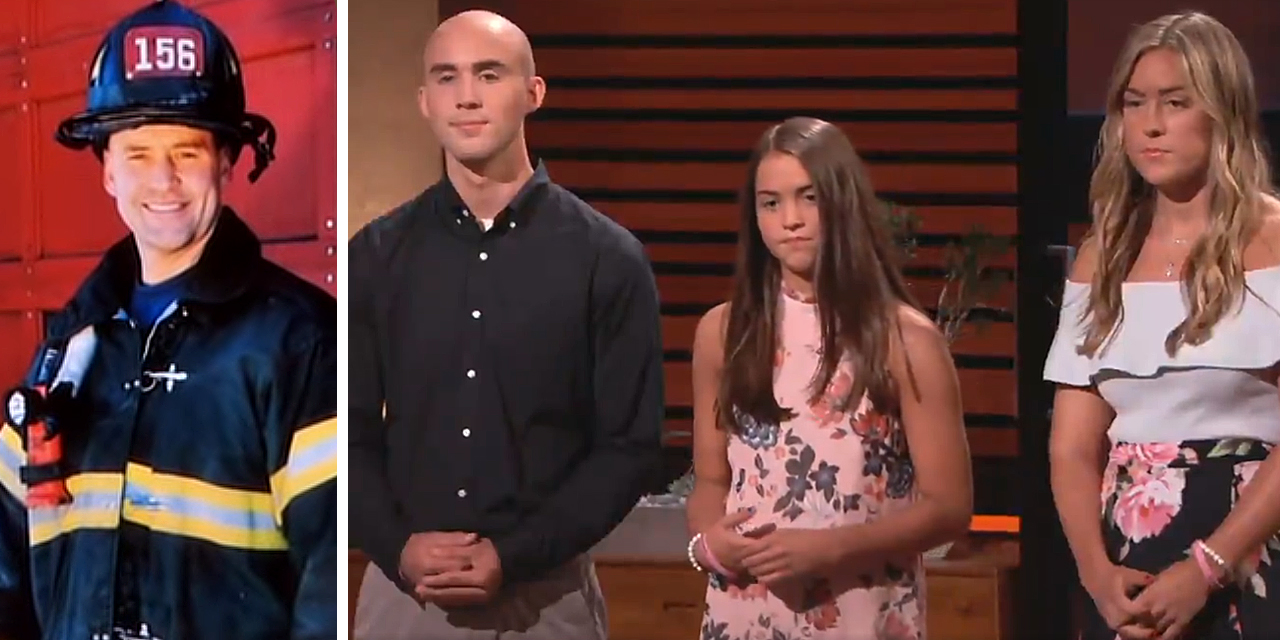 For many inventors and entrepreneurs, the fun ABC show "Shark Tank" is something of a holy grail. To be able to go on TV and pitch your product to a handful of famous investors, and get it in front of millions of potential customers, is a dream come true. Even if you don't get plucked from obscurity by Mark Cuban, the exposure surely gives you a leg up.
Not many people get that chance, and unfortunately, neither did retired NY firefighter Keith Young. But it wasn't because his product wasn't worthy; Keith died three months ago, due to cancer related to working the recovery efforts after 9/11. But Keith's kids wanted to honor their dad's dreams, and together, the trio appeared on the show to pitch their dad's product.
Kaley, Christian, and Keira Young explained on the show that it was their dad's dream to make his spiel to the Shark Tank's star investors.
"It was his dream to pitch it on 'Shark Tank,'" Kaley said on air. "Unfortunately, he passed away before he had that chance, but we're here today to continue his legacy and make that dream a reality."
His kids were there to pick up the slack.
The product is called the Cup Board Pro, and it's a cutting board that has a cup attached to make cleaning up after all that chopping easier. And the late Keith Young knew from chopping, twice having won on the Food Network's "Chopped" TV show! The product comes complete with an insignia that honors Keith and his fellow firefighters.
The sharks didn't stand a chance. All five of them – Daymond John, Matt Higgins, Mark Cuban, Kevin O'Leary and Lori Greiner – decided to invest $20,000 each in the CupBoard Pro, pledging to donate all profits to charities to support 9/11 related illnesses.
A deal with all five sharks and not a dry eye in the tank. #SharkTank pic.twitter.com/gxHhwfEND2

— Shark Tank (@ABCSharkTank) October 22, 2018
"The story is amazing. Obviously, you have a million reasons to be proud," Cuban told the group as he explained the group's decision. "Your father will live on forever through each of you and his product."
It was an emotional episode for the judges and viewers alike. Even the show's notorious hardcase Kevin O'Leary admitted as much!
"I always say "don't get emotional about money" but this pitch wasn't about money…OR a cutting board for that matter. These kids are carrying on their father's – a real hero's – legacy. Amazing." O'Leary tweeted.
According to an update on a recent episode of Shark Tank – there was a board buying frenzy after the original episode aired. The remaining inventory sold out almost instantly and Keith's children received over 100,000 emails inquiring about purchasing the product. That's when the sharks stepped in and introduced the entrepreneurs to Williams Sonoma. The retailer struck a licensing deal with the Youngs and made a minor improvement to the product by making it heat resistant to 350 degrees Fahrenheit and antibacterial – but otherwise kept it true to the original design.
"Our dad loved shopping in Williams Sonoma so we are very happy that Cup Board Pro will be on the shelves of one of his favorite stores," said Kaley Young. "When our Shark Tank episode aired we heard from so many viewers who wanted to buy our product right away. We are so proud to offer everyone the latest version of Cup Board Pro. We know that all of the new features of the cutting board would make our dad proud too."
The product retails for $59.99 and is currently available in stores and online.
"Keith Young is an American hero and I'm proud that Williams Sonoma will help his children fulfill his dream. We're thrilled that the Cup Board Pro can be made in America and can give back to such a worthy cause." said Willams Sonoma president Janey Hayes via a press release.
Kaley, Christian, and Keira Young also started a GoFundMe campaign that has raised over $42,000 for the FDNY Foundation.
Big cheers to the Youngs, your dad would be so proud!