Full House of Mustaches Is the Nick Offerman-Based Reboot We Need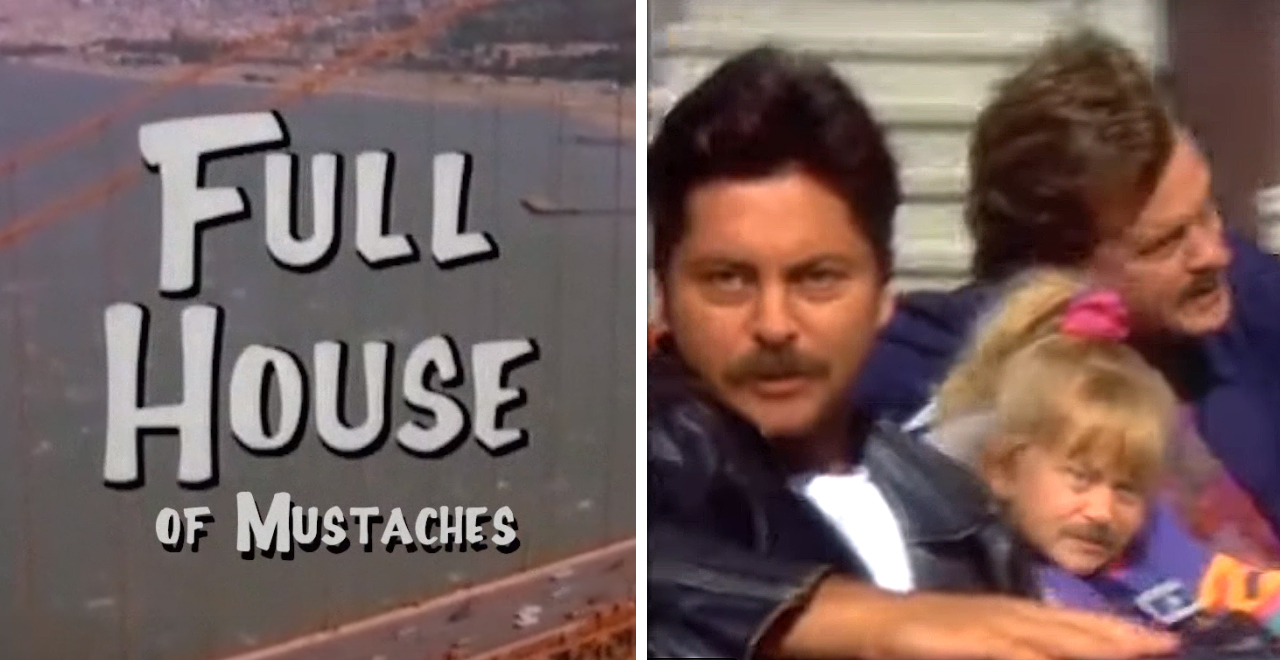 Remember "Full House?" Of course you do.
Either the theme song has haunted your dreams for the past 30 years ("Whatever happened to predictability?'), or you were thrilled by the Netflix reboot, or the Lori Loughlin college admissions schedule brought it back into your life, whether you wanted it back or not. I know I didn't.
I couldn't foresee a world in which I wanted any additional "Full House" related content, and then I saw "Full House of Mustaches."
A mad genius who creates deep fake videos and goes by the name "Dr. Fakenstein" has recreated the opening credits of the classic 80s sitcom, about a widowed dad (Bob Saget) raising his three daughters with the help of his two best friends (John Stamos and Dave Coulier). Only he's made a few changes…
Most of them revolving around mustaches.
Gone is the well-known cast of the show, each of their faces suddenly digitally replaced with Nick Offerman's, the spectacularly-mustachioed actor and wood-working enthusiast best known for his role as the Ultimate Alpha Male Ron Swanson, on the beloved sitcom "Parks and Rec."
The hilarious results must be seen to be believed.
Once you realize what's going on, the stakes of this video experiment keep getting higher. Sure, Saget, Stamos, and Coulier getting swapped out for Offerman makes sense, it's logical enough. But wait, Candace Cameron too? The middle sister. Dear god, the Olsen twins?!
And then Lori Loughlin and Kimmy Gibbler herself how up, only not quite, because they don't exist in "Full House of Mustaches." In "Full House of Mustaches," only Nick Offerman exists. And we like it that way!
Everyone once in a while, your life is missing something. It's not necessarily something you're aware of, nor even something you'd admit to missing if someone suggested it. It's the kind of thing you don't even realize you've needed until you get it.
Today, the internet has delivered that thing.
Even Nick Offerman himself agrees:
Dear Dr. Fakenstein, thank you for my career peak. @drfakenstein https://t.co/3BEGafcF8M

— Nick Offerman (@Nick_Offerman) August 7, 2019