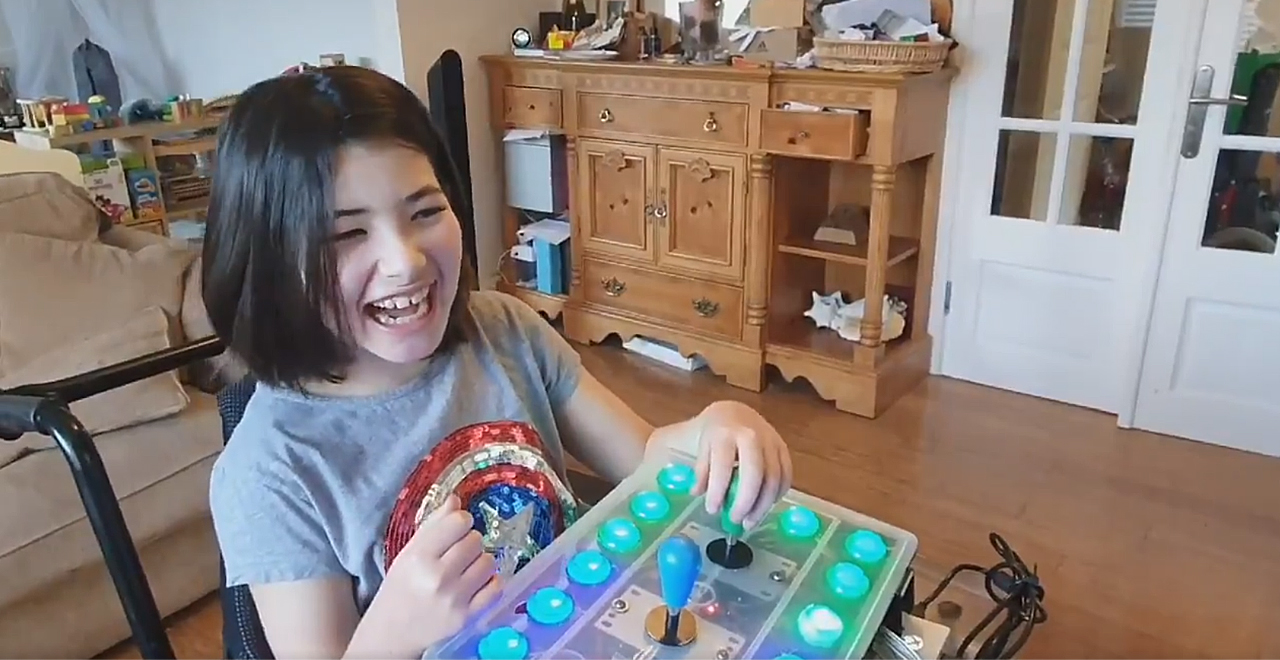 Credit: Twtitter/JerseyITGuy
Few things can truly bring together a dad and his kids like video games. Playing video games with your daughter can even be healthy for her. And one gamer dad recently went viral for the extra effort he took to make sure his daughter could experience the joys gaming has brought to many.
Rory Steel's 9-year-old daughter has hereditary spastic paraplegia, which affects her motor function and speech. That makes it pretty hard to manipulate a video game controller. So her dad tracked down some parts to create a custom controller for her Nintendo Switch, so she could play Zelda just like all of her friends.
Steel's controller has the vintage Nintendo look and can hook up to an adaptive Xbox controller. Featuring dual joysticks and easy to punch buttons, the entire concoction was completed for less than $200.
This weekends project. Make a @Nintendo #switch accessibility controller for my daughter using @Microsoft #adaptiveController and some @eBay parts. pic.twitter.com/YHN38SG9dZ

— Rory Steel (@JerseyITGuy) January 18, 2020
Her reaction is more than worth it:
Finished! Ava gives my homemade #accessibility controller V1.0 the thumbs up. She can play @Nintendo #BreathoftheWild on her #switch like her friends now. All thanks to @Microsoft 🙌 #adaptiveController #XAC @brycej @ArranDyslexia @shanselman pic.twitter.com/dOhGnUFZa0

— Rory Steel (@JerseyITGuy) January 19, 2020
Her joy at being able to play has racked up more than a million views and has earned Rory plenty of admirers in the process, including Microsoft's inclusive devices lead.
The plan sounds good. You can also bring in 8 buttons with each USB port, I'm assuming those boards will let you plug in buttons. Let me know if you have questions. https://t.co/NK6IrfgOWQ

— Bryce Johnson (@brycej) January 18, 2020
Rory isn't going to hoard his design, either. He's continued to improve on it and share the DIY instructions so other parents of disabled kids can help their kids get in the game.
Full walkthrough of V2.0 https://t.co/OkxIoWWtaJ. Teaser trailer here but click, like & subscribe Ava's channel for the full video & future #disability #accessibility gaming & tech reviews. Thanks to @Microsoft #adaptiveController #XAC @brycej @ArranDyslexia @shanselman @XboxP3 pic.twitter.com/dtio5TI7Sc

— Rory Steel (@JerseyITGuy) February 2, 2020
To get more of your gaming fix, join The Dad Gaming group on Facebook. It's one of the most robust, and supportive, gaming groups online, so come play with us.