Genius Boss Creates Game of Thrones Season 8 Death Pool Contest [SPOILERS]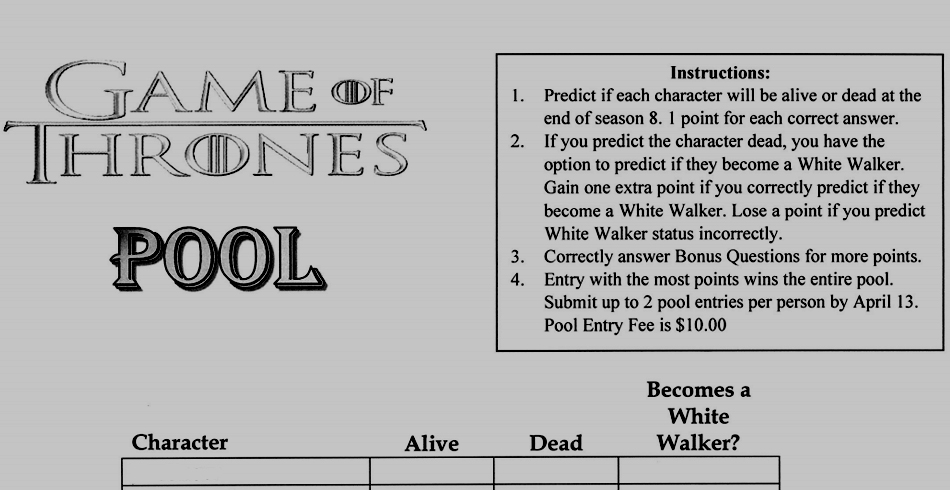 Gambling was around long before football was devised, and it will be around long after this weekend's season-ending Super Bowl. There are plenty of other sports to base a fantasy team around if you're hankering to put some money on the line and hope the injuries and fluky performances go in your favor.
You can wait for March Madness or you can lay it all on the line with HBO's Super Bowl, aka, the final season of Game of Thrones!
That's what one office is doing, thanks to a creative boss who built an office-wide contest around who will live, who will die, and who will become a white walker during the forthcoming final season of HBO's tits-and-dragons juggernaut.
The contest revolves around guessing the fates of nearly every major and semi-major and minor-but-occasionally-says-something character.
Here are the instructions on the form:
Predict if each character will be alive or dead at the end of season 8. 1 point for each correct answer.
If you predict the character dead, you have the option to predict if they will become a White Walker. Gain one extra point if you correctly predict they will become a White Walker. Lose a point if you predict White Walker status incorrectly.
Correctly answer bonus questions for more points.
Entry with the most points wins the entire pool. Submit up to 2 pool entries per person by April 13. Pool entry fee is $10.00.
Take a look at the sheet: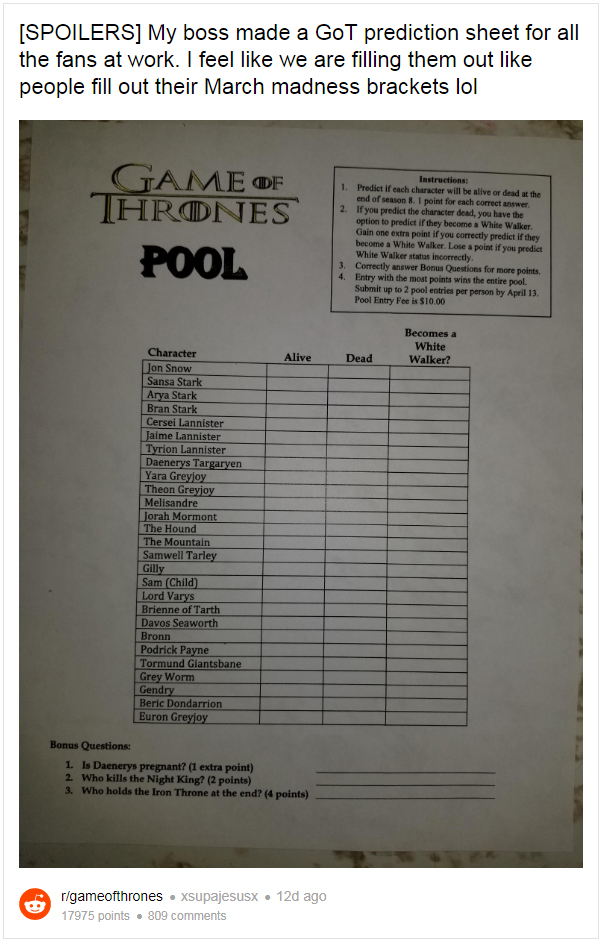 Reddit took to the pool idea like the wildfire Tyrion used to great effect in the second season finale "Blackwater." (I love the show too!) It has been upvoted almost 18,000 times and the more than 800 comments include many pledges to print out the sheet and use it at their office. Max, the original poster, shared Reddit's reaction with his boss (she was thrilled), and even took some suggestions and provided downloadable (this is the original) versions (this is updated with more characters, including a direwolf!) for interested parties to join in the fun.
On top of guessing the survival rates, there are three bonus questions:
1) Is Daenerys pregnant?
2) Who kills the Night King?
3) Who holds the Iron Throne at the end?
If you think you are inside the heads of HBO's "Game of Thrones" showrunners, you'd better get downloading. The first episode of the show's final season airs on April 13.