Girl Returns Rock to National Park With Handwritten Apology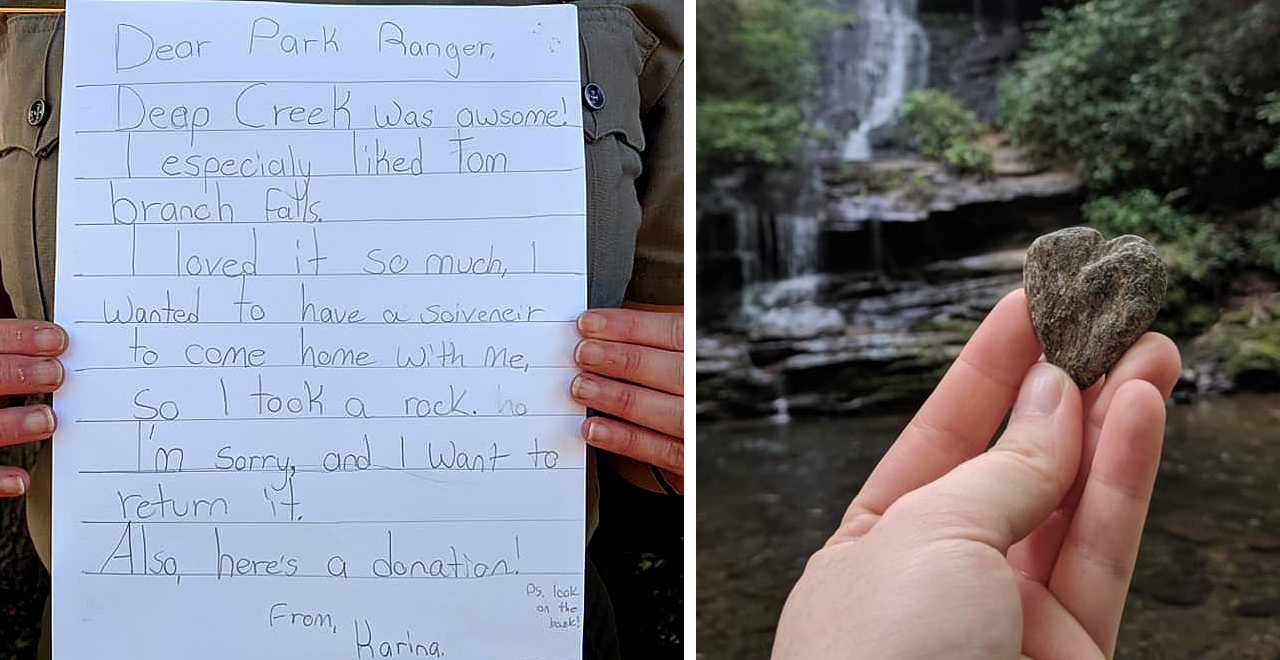 Family trips can have a lasting impact on kids and they are quick to leave a new place with a souvenir, be it a wildly overpriced generic stuffed animal, or occasionally, something native to the location, like a seashell or rock. One young girl did just that recently on a trip to Great Smoky Mountains National Park, taking a piece of the Smoky Mountains home with her in the form of a small rock.
But, the presence of the rock weighed heavily on her conscience because taking a rock from a National Park is forbidden. Wracked with guilt, she wrote a handwritten apology note to the National Park Service and returned her beloved rock.
"Dear Park Ranger, Deep Creek was awesome," she wrote. "I especially liked Tom Branch Falls. I loved it so much; I wanted to have a souvenir to come home with me. So I took a rock. I'm sorry, and I want to return it. Also, here's a donation!"
Then she drew a picture of it, presumably so the Rangers could know where to return the rock.
The Park Rangers responded on Facebook, with a message that quite frankly felt a little condescending for my liking. She did a pretty cool thing, so they could've gone a little easier with the "now that you learned what is in the park should stay in the park" and the "if everyone took a rock, there'd be 11 million fewer rocks every year" lecture. And probably should've gone heavier into the "you're a great steward for the park" angle. I also have an issue with much of the media coverage, as nearly every article refers to the "stolen rock" like it was a precious diamond whose absence was noted by literally anyone alive (it wasn't). She clearly borrowed it.
I will concede that it was a sweet gesture to take a photo of the rock being replaced in its natural habitat. And it was probably one of the cooler things the Park Rangers get to do, as now they are back to warning people about rolling balls of poop.