Girl Scout Troops Are Donating Unsold Cookies to Healthcare Workers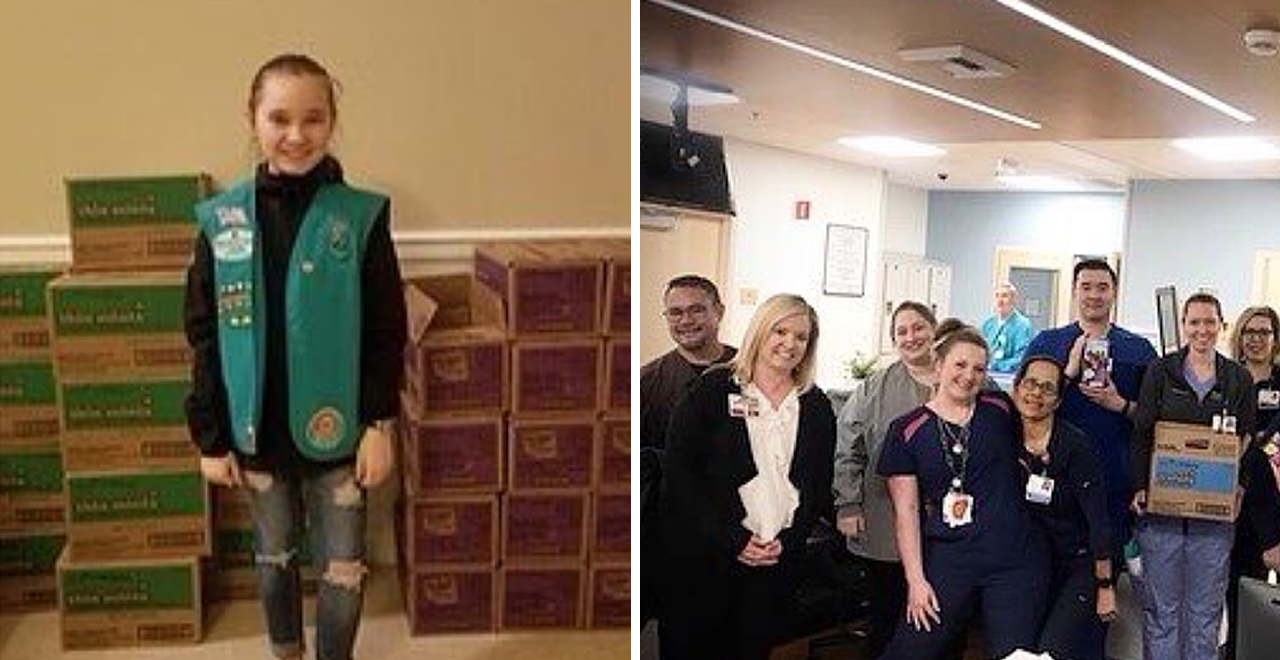 The community lockdowns and statewide shelter-in-place orders have run roughshod over small businesses. Including some of the smallest businesspeople, America's Girl Scouts.
Social distancing has had a major effect on the sale of Girl Scout cookies this season. The organization closed all cookie booths, which is why you don't see a cluster of masked children hawking Thin Mints when you're on your weekly trip to the only open store in your community. And this has had a big impact on the bottom line.
When faced with a challenge like this, you improvise, adapt and overcome, the very motto of the Girl Scouts (actually the Marines). For the Girl Scouts, that means bringing the cookies to the very people that could use some goodwill most: America's first responders.
Girl Scout troops throughout the nation have been donating some of their unsold cookies to healthcare workers in hospitals and clinics. More than 60,000 cookies have been donated in New York City, but the efforts are much broader. Troops have been donating to hospitals, but also to first responders and essential workers everywhere.
And you can join in on those efforts. Yeah, door-to-door sales and cookie booths have been shut down, destroying their seasonal efforts. But for the first time ever, the Girl Scouts have introduced an online option, meaning for the first time ever, you order Tagalongs online and have them delivered to your doorstep.
And just as easily, you can donate those cookies to first responders, volunteers or others in need (like me). You can be part of the movement to bring some cheer in the form of seasonal cookies to people who could really use it right now.
Cookies are back! Did you know you can donate cookies to COVID-19 responders? Girl Scout Katie donated 44 boxes of Girl Scout Cookies to the Allenmore Hospital in Tacoma, bringing a familiar taste of comfort to those working tirelessly to keep us safe! #GSCookieSelfie pic.twitter.com/IHQyfXeClV

— Girl Scouts of WW (@GirlScoutsWW) April 15, 2020
We recently donated over 1,400 boxes of Girl Scout cookies to the Vidant Health Foundation for distribution to all Vidant Hospitals in Eastern NC. While Girl Scouts were not able to personally deliver the cookies, several made handmade thank you cards to accompany the cookies!. pic.twitter.com/3H37lbSdKj

— GirlScoutsNCCP (@GirlScoutsNCCP) April 14, 2020
Interrupting your scrolling and #COVID19 news with a sweet announcement: you can buy Girl Scout Cookies online! Order now and have them shipped to your door—or donate 'em to comfort to first responders, frontline workers, and local causes in need. https://t.co/v9sl9qmFir

— Girl Scouts (@girlscouts) March 27, 2020
Girl Scouts make the world a better place! Step one: donations to health care workers! Step two: donating to emergency service & grocery store workers! Stand strong Girl Scouts! 💚 @girlscouts @GSNWGL pic.twitter.com/uqmxdho7YX

— Renee Erickson (@mkkreski) April 15, 2020