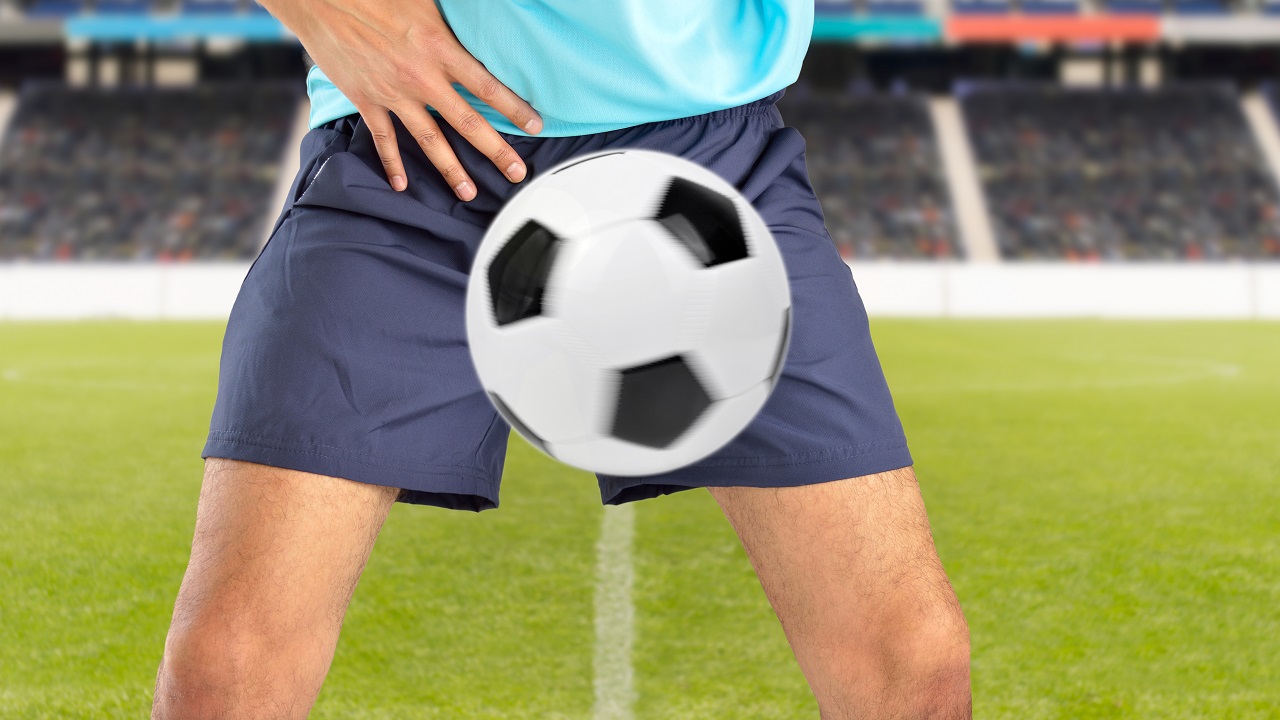 This is truly man at his best
I never enjoyed playing soccer as a kid, nor watching soccer as an adult, and over the years I've watched America's slow adoption of the world's most popular sport with bemusement and concern. Did I miss the boat?
Because the other day, a German goalkeeper made the ultimate sacrifice to do his job when he stopped a ball with his penis.
The bizarre incident only leaves me more conflicted. I'm glad I didn't play enough soccer for this to happen to me, but I'm sad I don't watch enough soccer to see it happen to someone else…
A story on Goal.com details Rafael Wolf, a goalkeeper for a team called Fortuna Dusseldorf, prevented the opposing team from netting points by using his crotch to deflect a free kick.
Normally, you might want to keep something like that quiet, especially since after getting hit in the nuts with a soccer ball, you probably can't speak for a while anyway. But Wolf seems almost proud to be a socc-blocker.
"You always say with your balls but this one I saved with my penis," the 29-year-old said after the match.
That's definitely true. I do always say "with your balls." Ask my wife!
His heroics helped Fortuna Dusseldorf overcome Arminia Bielefeld 2-0, which means he could have skipped out of the way to protect himself and still won the match, but no. He refused. He also inexplicably refuses to wear a cup, claiming it stops him from being able to run well. You know what also stops you from being able to run well? AGONIZING PAIN TO THE CROTCHAL REGION.
"I have worn protection as a youth at Hallenspielen. But you can't run properly – it's crap!"
Not as crappy as no longer being able to have children? It's an unanswerable question, except for the fact that running improperly is nowhere near as crappy.
Don't worry, after the match, the goalkeeper shrugged off the injury and dismissed the pain as no big deal.
HAHAHA, JUST KIDDING!
"First the pain was hellish but after some ice and rest it was okay."
Yeah, cool. It started at "hellish" and then slowly went to "holy shit I'm dying" before ramping down to merely "torturous" and eventually subsiding. No big deal!
The good news is, with the victory Rafael and his teammates remain atop the "2 Bundesliga table, three points clear of second placed Holsten Kiel after 10 games."
None of which I understand and am not entirely convinced wasn't something the goalkeeper blurted out while writhing in pain on the pitch.