Hall of Famer Emmitt Smith Showcases Great Parenting on Son's Signing Day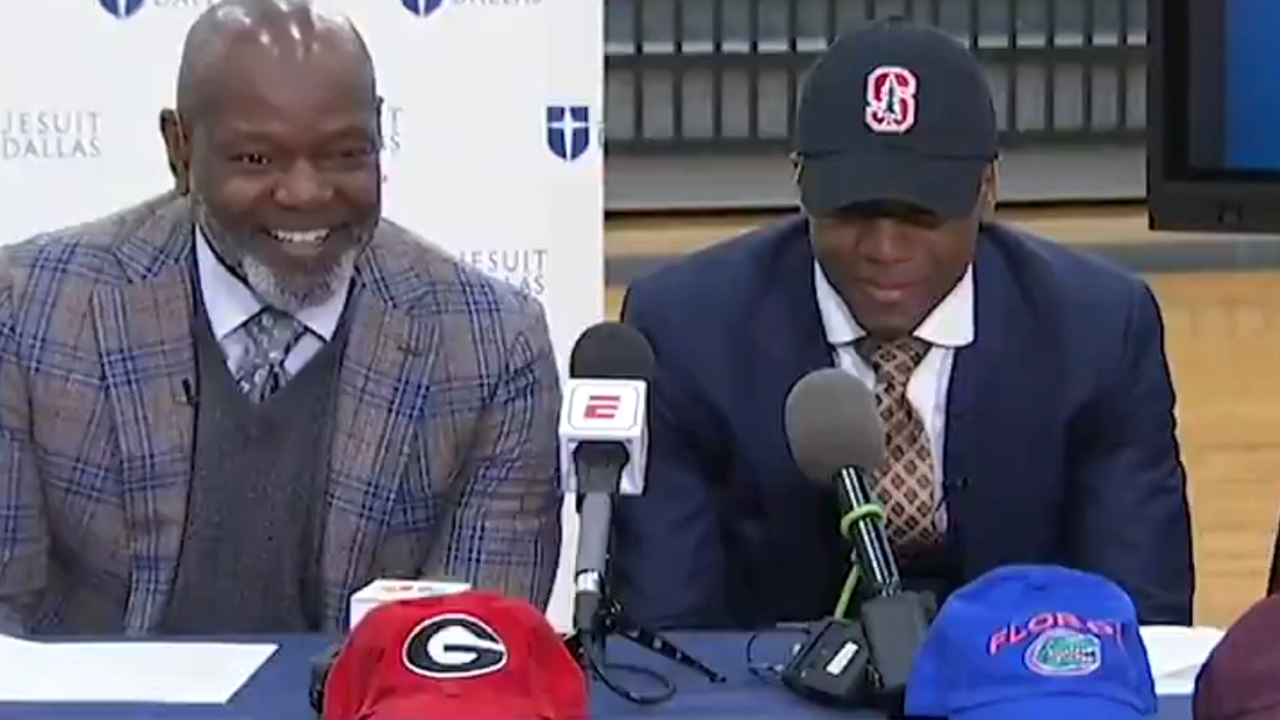 One of the stereotypically worst kinds of parent is the sports dad.
The dad in the stands who screams at the referee for blowing the call – during an elementary school basketball game. The dad who forces his son to practice golf nonstop until he can sink a putt on national TV, at the age of two. The overbearing high school hero who Great Santini's his kids into pursuing the athletic glory he himself never achieved.
Then there are dads who did achieve that glory and whose kids grow up in the shadow of a legend. Those dads, having reached the heights of athletic achievement themselves, might expect the most from their kids. Or maybe they realize that it's up to them to decide for themselves and live their own lives.
Emmitt Smith seems to be one of those kinds of fathers, at least in the face of the remarks he made at his son EJ's signing day. The Cowboys legend and NFL's all-time leading rusher sat next to his son when he chooses which college he plans to attend next fall. His son chose Stanford over Florida, Smith's own alma mater, and a reporter asked if Dad had given the young wide receiver/running back any advice beforehand.
Smith's response is a masterclass in good dadding.
"At the end of the day, my son has his own journey and it is his journey, not my journey," Emmitt Smith told ESPN. "And for him to do the things that are best for him is what we teach all of our children."
He explained that he raises his kids to make their own decisions.
"For him to do the things that is best for him, is what we teach all of our children. To find what is best for you and go make it happen for yourself."
He ended his statement be reiterating how proud he is of his son and making sure everyone knows that just because he's going to Stanford doesn't mean he doesn't have Florida Gator blood.
"I'm proud of him for standing up and being the man that he is, the man that he will continue to become, and I'm a Gator, he's still a Gator because he's in my family, and my wife is a Gator because she's in our family. We're still a family of Gators."
See the video:
"At the end of the day, my son has his own journey. And it is his journey, not my journey."

– Emmitt Smith after his son, EJ, committed to Stanford pic.twitter.com/50gEfkyB4R

— ESPN (@espn) December 18, 2019