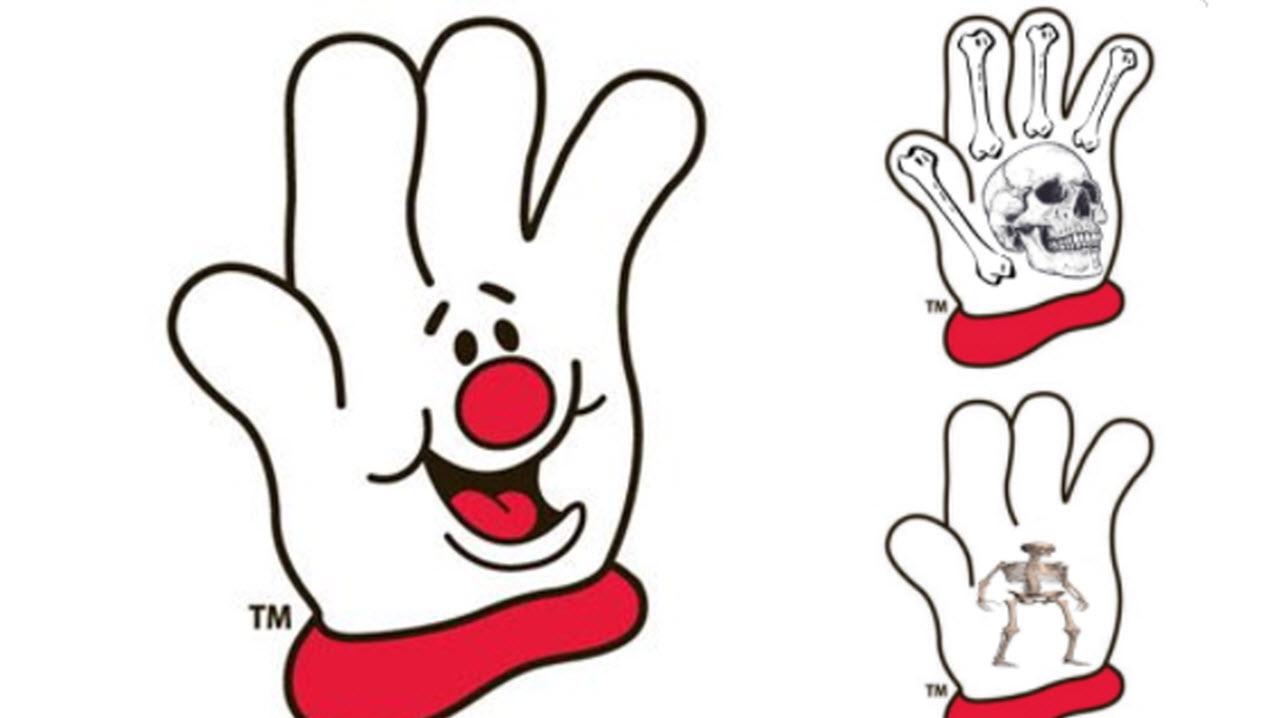 The internet offers their theories
There are some things you're better off not knowing. Like what's inside Marcellus Wallace's briefcase, how Carrot Top got famous, whether that brown stain on your kid's pants is chocolate or… not.
If you're like me, you've probably occasionally wondered what's in Hamburger Helper. But have you ever wondered what's in the actual Hamburger Helper glove? Me neither. Thankfully, Twitter did.
You know the glove. The food product's beloved (beloved? Sure.) mascot that is just a walking, talking four-fingered glove with a face, complete with a bright red clown's nose, on the palm? YOU KNOW THE GLOVE.
And if you know what's good for you, you've accepted the glove's existence at face value.
You never wondered where the glove came from. You never considered the implications of a hand with a face on its palm (No matter what happens, Marion, DON'T CONSIDER THEM!). And you never, ever, speculated on its anatomy.
But someone did. And the results were not pretty.
Twitter user @soongrowtired took to Twitter to raise the question, offering a few of his skeleton-based guesses, and people dutifully responded with a nightmarish collection of drawings and images.
https://twitter.com/jetpack/status/919246458494255106
Most people took the bone-based idea and ran with it, providing their own creepy variations…
October 15, 2017
An "actual skeletologist" weighed in:
https://twitter.com/jetpack/status/919636604758757379
At least one person acknolwedged the terror of the exercise, but not without offering a guess of his own:
terrifying to think about pic.twitter.com/RRSPbiZjsI

— Michael Cannon (@Artildawn) October 16, 2017
As it does, the internet went a little crazy:
It's obvious there's an Olympic high diver in there, doing some sorta reverse cowgirl triple-lutz backflip. #b3d pic.twitter.com/v9IMemxwJW

— Sketch2 (@doyousketch2) October 15, 2017
Until, finally, the Helper himself (herself? Itself?) attempted to settle the matter:
If I must pic.twitter.com/avKPZm80CX

— Helper (@helper) October 16, 2017
What a world we live in, in which, not only does an anthopomorphic glove serve as a cheerful product spokesman, not only do a wide range of people can unite to shed some light on the inner workings of such a creature, but the company itself actually steps in to end the debate.
Or not.
https://twitter.com/jetpack/status/920015517565554688
And futrher questions were raised:
https://twitter.com/jetpack/status/920014411225382913
Of course, this being the internet, it's not all heroes solving mysteries. Some people are just genuinely naive:
I thought it was all hamburger meat

— ☂️ Kelvin 🎗 (@mrchan) October 16, 2017
Hahaha, such an innocent soul. As if Hamburger Helper contains any actual meat!