Hasbro Re-Releases Original Star Wars Figures, Instantly Sell Out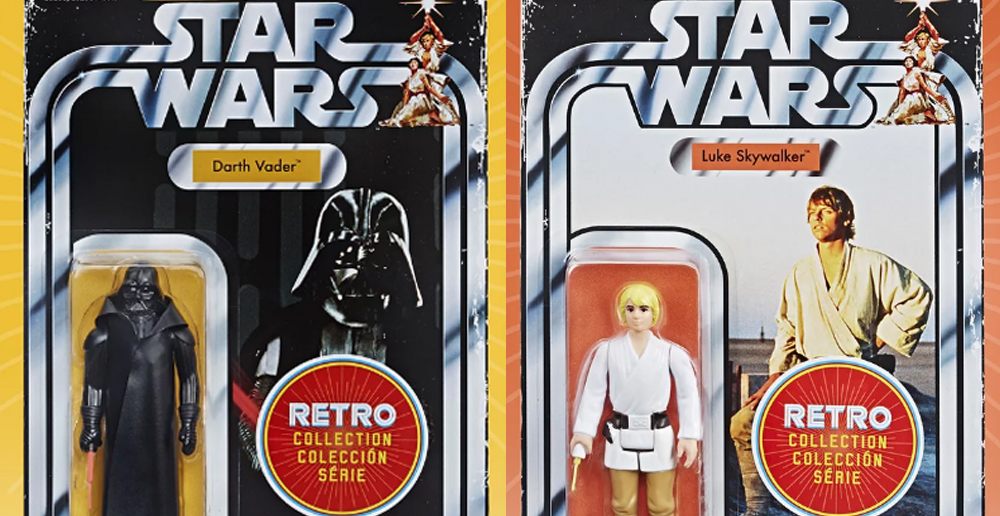 Every other time I go home to my parents' house for a visit, I end up in my old childhood room or in the attic or in the basement, trolling around, looking for relics from yesteryear.
I've found old term papers, articles I wrote for my high school newspaper, yearbooks. I even rediscovered my trove of old Garfield books that I inexplicably spent my tween years collecting. (Don't judge me!)
What I never find are my old toys. My old He-Man guys and GI Joes and Star Wars figures. Because, despite the Garfield books, my mother is not what anyone would call a hoarder. She'll throw out the newspaper while you're in the middle of reading it. Which is fine, except for the fact that if I still had my old Star Wars figures I'd be rich, I tell you, RICH!
But I don't have them. They're are lost to the dustbin of history, aka the dustbin in my garage. The only way I can get them back is by going on eBay and spending a fortune. Or, if you were paying attention recently, by going to Target. Because Hasbro reissued the original Star Wars figurines for purchase, at a mere $9.99 a piece, exclusively at Target stores.
Of course, being Star Wars and $9.99, they too are long gone, lost to someone else's quick instincts. They are all already sold out. Unsurprisingly, it took mere minutes for fans to pounce.
So it's back to eBay to purchase the reissued caped Darth Vader, Tatooine Luke Skywalker, Princess Leia, Chewbacca, Han Solo, and a Stormtrooper. So no Ewoks, no Lando, no Jabba's assistant with the worm-head thing who lets C-3PO and R2 into the gangster's lair (I had that guy). But it's a start.
Hasbro purchased Kenner, the company responsible for these original figures, back in 1991, and is re-releasing them under a "Retro Collection" line, which includes packaging meant to look just like it did when you got them under the tree in 1983. The packaging states "Retro Collection" so no one can try to pass them off as antiques on eBay or Craigslist or whatever.
So you won't get rich off these, but you will get nostalgic. And the ability to bring back cherished childhood memories is priceless. And fleeting. Stay tuned for when the figures make their way back to Target!