Healthcare Workers Rally Behind Simple Message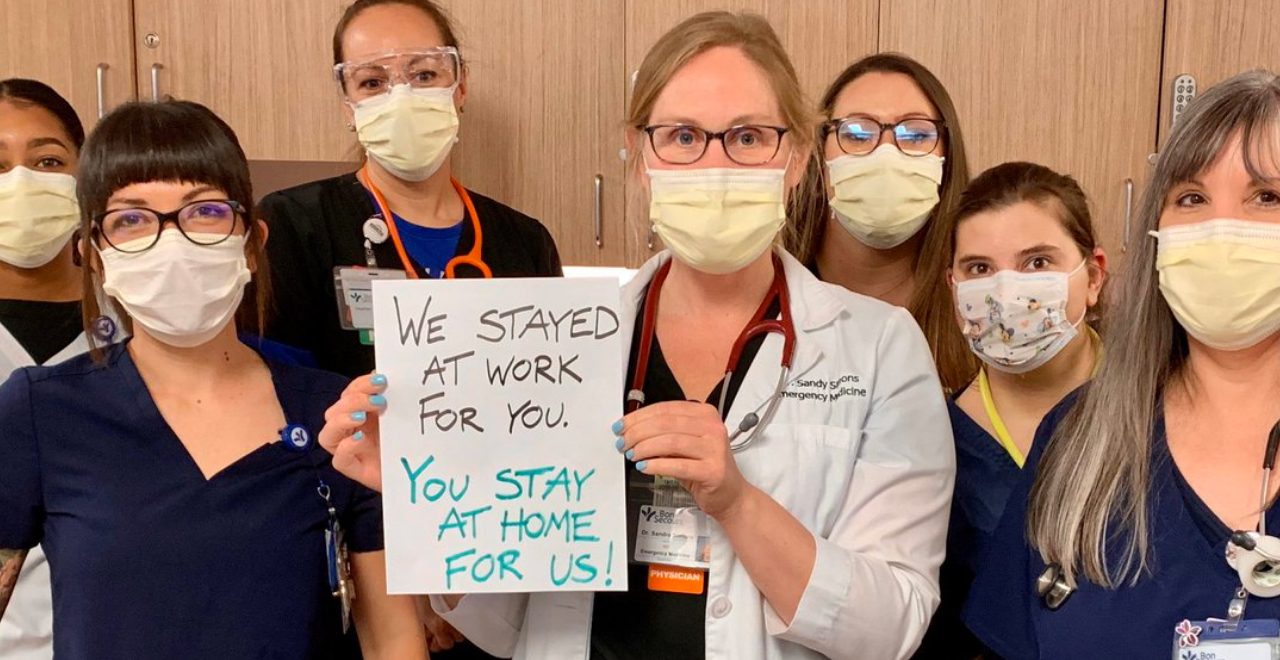 As the world battles a generation-defining pandemic, the frontline workers from the healthcare industry have a simple message for the rest of the country: Stay-At-Home.
Social distancing is the phrase-of-the-everyday, and the only way you're unfamiliar with the term by now is if you've been living under a rock (and stay there!). As some get creative with their isolation, others…well, aren't even practicing social distancing.
Many young people are living life as normal, hitting bars and beaches, nonchalant about the crisis at our doorstep. The goal of social distancing is to spread out the number of infections, so the entire health system doesn't get overwhelmed by the high number of cases. To that end, healthcare professionals have a simple message: "We stayed at work for you, stay home for us."
No one works alone. Elevate hospital staff, working tirelessly to serve patients. 🙏🏼#Nurses #CNAs #EnvironmentalServices #LabTechs #Phlebotomists #CustodialServices #Dietitians #FoodServices #SocialWork #PT #OT #RespiratoryTherapy #Pharmacy #Administration SO MANY MORE! pic.twitter.com/3zaXm72okr

— Abbott Northwestern Internal Medicine Residency (@Abbott_IM) March 19, 2020
"We stayed at work for you. You stay at home for us."
Love,
your ER team in Richmond#GirlPower 💪🏻#COVIDー19 pic.twitter.com/7bC6oTXnxd

— Sandy Simons MD (@ERGoddessMD) March 19, 2020
While the days ahead will contain many stories of heart and perseverance in the face of insurmountable odds, it is likely going to get worse before it gets better. And as it continues to get worse, those who face the greatest risk are the healthcare providers caring for those COVID-19 cases.
And they know this. It's what they signed up for. It doesn't make it any less inspiring and brave. And the best way we can help them now is to do our part to stay inside as much as possible.
Obviously, some of us can't. Grocery store workers, truck drivers, warehouse employees, and countless others are responsible for keeping up the national supply chain, and all of those roles have their own level of bravery. If you're ordering takeout, tip like crazy. If you have a friend who has been laid off because of the new rules we live under, help them out (if you can).
During a time when we all need to look out for each other, the very base level of support needs to be a consideration of our healthcare workers. They are staying at work, so let's stay at home for them.
Here at The Dad, we hope you, your families, and communities stay safe and healthy during the COVID-19 pandemic. For the latest information, please utilize online resources from local public health departments, the Centers for Disease Control, and the World Health Organization to remain as informed as possible.