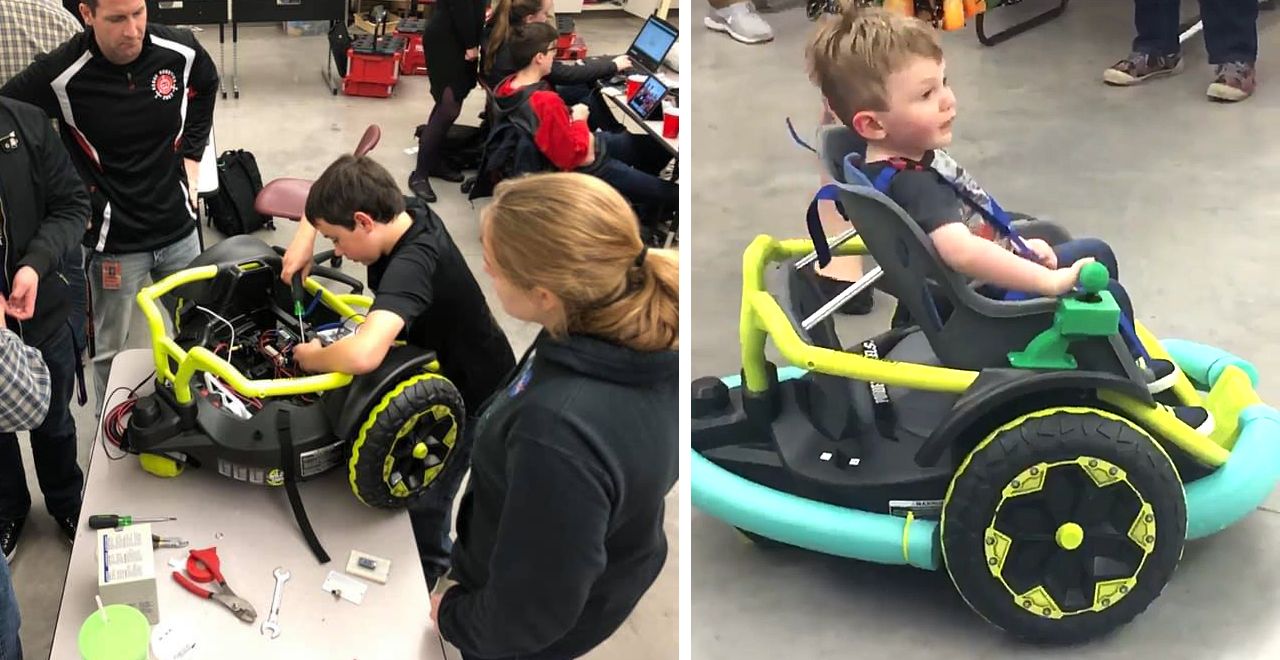 Credit: Facebook/Rogue Robotics Farmington
The kindness of strangers is a wonderful thing. Especially when you're out of options. When those strangers are young kids, it can't help but give you a little hope in the future.
A family in need who got a helping hand is certainly feeling grateful today, if not also hopeful, after a group of high school students stepped up for them.
Cillian Jackson is just two years old, and he has a genetic condition that leaves him unable to walk. The toddler requires a motorized wheelchair to get around, but motorized wheelchairs are expensive, and when Cillian's parents were faced with the price tag, they simply couldn't manage it. They learned of a program called Go Baby Go that provides motorized toy cars for families in need. But there wasn't a chapter near their Minnesota home.
So they reached out to the kids on the robotics team at Farmington High School and asked for their help. The kids, members of the school's Rogue Robotics team, decided to give it a shot. They used plans and models furnished by Go Baby Go to modify a Power Wheels toy car into a wheelchair for Cillian.
These smart teenagers took the Power Wheels car's electronics apart, modified the seat to work for Cillian, replaced the car's two joysticks with one, and wrote their own so the car would respond to the new controller.
"Everything that we've been doing for robotics competitions … was directly relatable to this challenge," Spencer Elvebak, the team's coach, told CNN. "The students did the programming, they did all the wiring, they did all the work."
"I decided to get involved with the project because … I wanted to help someone, and it felt really good in the end," Farmington High freshman Alex Treakle said. And when he saw the toddler use the new wheelchair? "The joy on his face really made my entire year."
The story has received national attention, and after Rogue shared CNN's story about it on Facebook, Cillian's mom Krissy Jackson weighed in.
"I'm so glad the world now knows how much of a difference you made in our son's life!" the grateful mom wrote. To which the Rogue team responded, "We're so glad the world knows how much of difference YOUR son made in ALL our lives!"
Check out NBC's story: