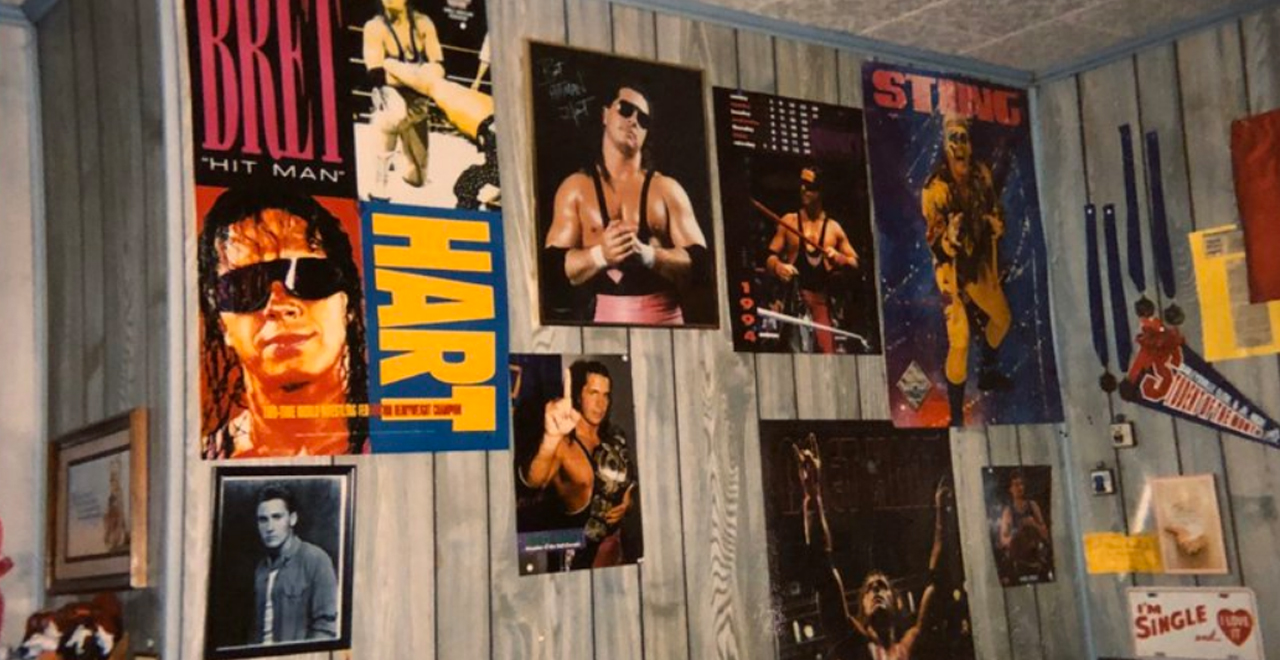 Credit: Twitter/puregonzo
Going home for the holidays can be a lot of fun. You see your family for the first time in a few months or longer, you reunite with old friends who've also traveled back home, catch up on your live, reminisce about old times, and generally enjoy each other's company.
Of course, going back home again doesn't always dredge up good memories. Sometimes your past can come back to haunt you.
That's what happened to Twitter user @alexaldolang, who tweeted a photo of some ancient artifacts she found in her bedroom, and unwittingly ignited a firestorm of tweets from others who'd rediscovered their pasts in the form of some mortifying bedroom decorations and accessories.
Went home for thanksgiving and found a museum in my old room pic.twitter.com/uvD47CdliE

— Alexandra Jane (@alexaldolang) November 27, 2019
Alexa escaped largely unscathed. After all, who doesn't have some old technology lying around? That's nothing to be ashamed of. But a wall of wrestling posters?
@OSWreview Thought you might enjoy this pic I dug up of my childhood bedroom. (Let's just ignore the Emilio Estevez pic 😄) pic.twitter.com/ud1c2u4oiL

— Teri Stone (@puregonzo) November 24, 2019
A 90210 pillow?
Lol found this in my old room at my parents' house. Yes, I had a 90210 pillow. pic.twitter.com/6TfZaBqEND

— Kimberley Wallace (@kstar1785) November 22, 2018
Your old Zelda poster?
I just got to my parents' house for Thanksgiving and look what's still hanging up in my childhood bedroom. 😍 pic.twitter.com/DZOVQqFehz

— Andy Swift (@AndySwift) November 22, 2018
Some bad-ass Star Wars wallpaper is nothing to hang your head about:
Not a word of a lie: here is a pic of my childhood bedroom wall. pic.twitter.com/dfvkFq2PLA

— Eric Fell (@ericfell) November 27, 2019
Neither is a solid collection of Harry Potter accessories:
How much Harry Potter merch do you have in your childhood room? pic.twitter.com/Fxfhhx4zKX

— mads🍋 (@madeleineburrow) November 25, 2019
Or skateboards:
Childhood room, hahah true skatehoarder shit pic.twitter.com/x7375Nf4Mz

— Corduroy Cowboy (@TooleyEvan) November 25, 2019
At least they had a childhood room to go back to. Some parents converted their kids' rooms to guest rooms. And others did this:
Can we talk about how my parents are cooking our ham for today in a crock pot in my old bedroom 😂😂 #HappyThanksgiving pic.twitter.com/8M4Ia0bxl8

— 🍉 Sugar (@ashbridgess) November 28, 2019
What old artifacts did you find in your childhood home? I may or may not have found my old collection of Garfield books and I do NOT want to talk about it.