Honey Bunches Of Oats Is Having a Midlife Crisis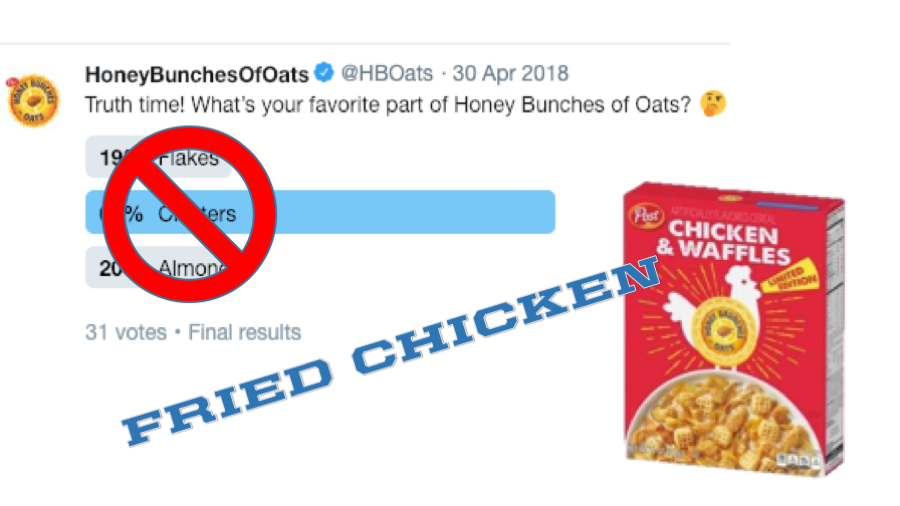 While only about 30 years old, it seems as though Honey Bunches of Oats, the delicious cereal has found itself looking back on who it has been and what it wants to become.
Yes, like a 46 year old man who suddenly decides he's a "hat guy," the family favorite cereal is going for a new vibe. Yahoo News reports that two new HBoO flavors – Chicken & Waffles and Maple Bacon Donuts – will be available for an extremely limited time. Like, 1 Day Only limited. And only at some 2,000 Walmart locations. So things will be back to normal in no time, but if you're itching to try some brunched-up clusters, be sure you've got an extra three bucks handy on March 7th.

These special boxes are in honor of National Cereal Day, a day that, apparently, exists. Because what better way to celebrate cereal than by making a great cereal taste like something other than cereal? Still, the flavors do sound pretty intriguing. Maple Bacon Donut is an easy win, but will the Chicken and Waffles taste like chicken and waffles?

It should be noted that Post is marketing these limited edition boxes as classic breakfast flavors, and that's fine for the Maple Bacon Donut variety, but chicken and waffles is decidedly not a breakfast food. Sure, you CAN have it for breakfast, but that doesn't make it breakfast food any more than eating cereal in your underwear at 9pm makes that "dinner food."  Of course, chicken and waffles could be considered brunch food, but only if you're pouring a Bloody Mary instead of milk.