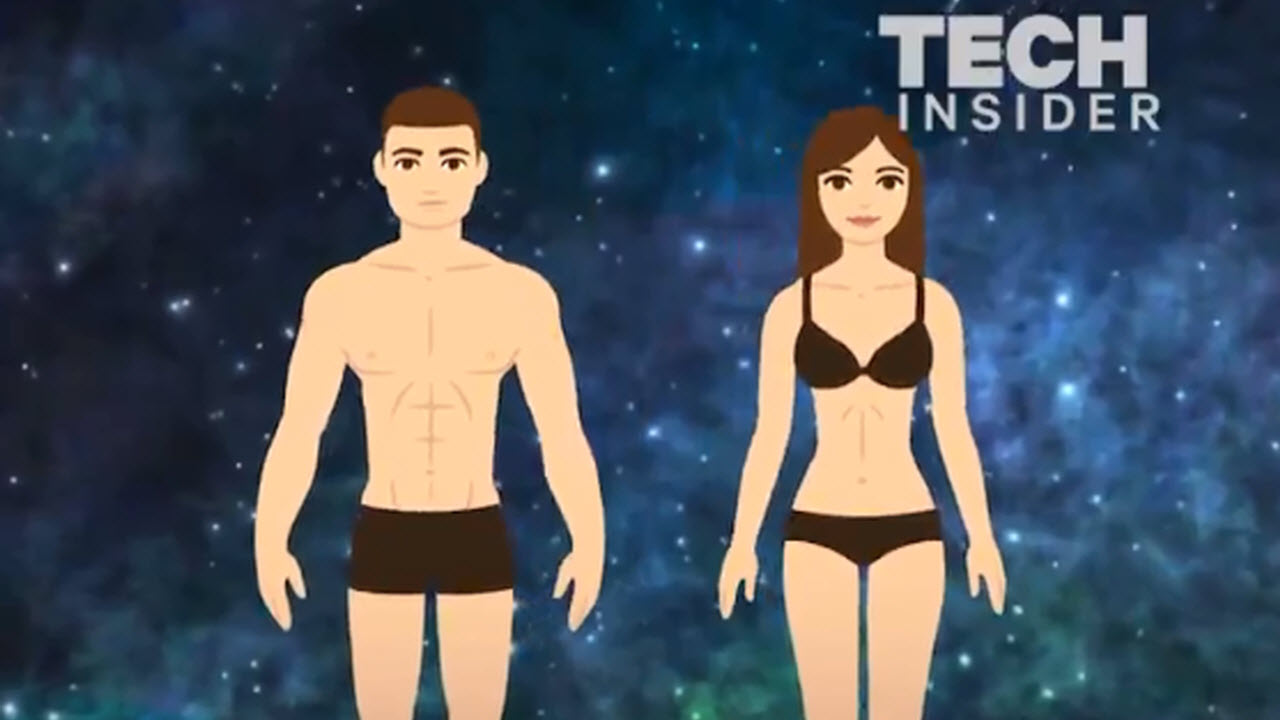 Credit: Twitter/Tech Insider
Scientists speculate on the future of human evolution and it is weird AF
Ever wish you were a little bit taller? And a baller? And immune to diseases? And part robot? And bionic? AND IMMORTAL?
Well, keep wishing, because you won't be, sucka! But your descendants may be all of those things, thanks to a little something I like to call 'evolution!' (Everyone likes to call it that, because that's what it's called.)
A new video from Tech Insider explores the different ways humans may evolve over the next thousand years, and while their speculations start small, they pick up steam pretty quickly, and things get weird.
The future of humans look pretty weird pic.twitter.com/w08pFB62qB

— Tech Insider (@TechInsider) January 3, 2018
Their first conclusion? That we're gonna become taller. This is based on the fact that 150 years ago, the average guy was 5'7″, but now he's 5'10" (and even taller if he's not afraid to lie!). We're trending up! It's not rocket science. Rocket science comes later, when the video talks about what happens when we move to Mars. Fo realz!
But first, it seems we're all going to be making like Lee Majors when existing technology that's made it possible for hearing aids to serve as white noise machines and telephones will expand to create bionic eyes and other body parts. Just wait until the Roger Goodell botches the NFL's response to PEBP (performance-enhancing body parts)!
Our bodies are also going to be leveling up on the inside, as our genes find ways to fight diseases (they've already discovered kids in South Africa whose genes have adapted to provide HIV-immunity) and we find ways to manipulate our genes to allow us to avoid all manner of illnesses and live longer.
Hey, maybe you don't want your great grandkids to become giant cyborgs. I get it. It's weird. But no worries! If Tech Insider is right, they'll just be able to move to Mars instead, where the dim sunlight and low gravity will expand our pupils and elongate our spines and make us all giant, and giant-eyed, Martians! Hooray!
And that ain't the last of it. The video builds up to the big reveal like an episode of Black Mirror that seems both plausible and idiotic at the same time.
Do you want to live forever? Someday your ancestors might be able to, and not in some hilarious "download your brain" kind of way. No, in a grisly HEAD TRANSPLANT KIND OF WAY! Apparently scientists are already experimenting with animals, literally swapping their heads to try to see if they can transfer consciousness.
Um. What? I'm glad I won't be around for this.