Introducing French's Mustard Ice Cream and Oscar Meyer's Ice Dog Sandwich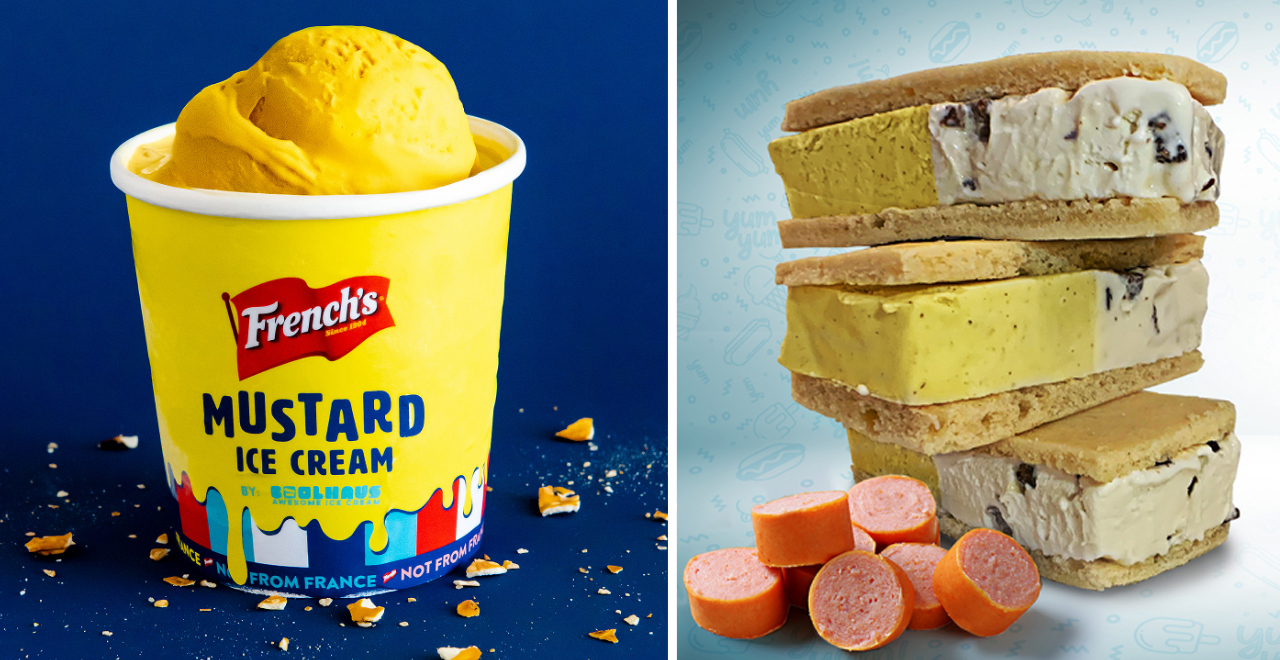 Everybody likes ice cream and nobody likes ice cream more than children. Well, it seems that Oscar Meyer, fresh off allowing people to spend the night inside their hot dog mobile, wants to test that theory with an ice cream flavor based on their own products. And they aren't alone.
The hot dog maker just released their bizarre new "hot dog-flavored" ice cream, but to be fair, they were provoked!
For this Saturday's National Mustard Day (honestly? National Mustard Day? Go home, calendar. You're drunk!), French's mustard announced a collaboration with Coolhaus: mustard flavored ice cream.
I scream, you scream, wait.. mustard ice cream? Yes, and it's delicious! We partnered with @Coolhaus for #NationalMustardDay on 8/3 to bring you mustard like you've never had it before. Click here to learn more: https://t.co/bkszXuy0NV pic.twitter.com/edOPK6s7tu

— French's (@Frenchs) July 31, 2019
Oscar Meyer wasn't taking that lightly. They considered the gauntlet thrown and responded with a tweet of their own, announcing their new "Ice Dog Sandwich".
Who eats just mustard @Frenchs? Condiments were made for Oscar Mayer hot dogs. Say hello to the Oscar Mayer Ice Dog Sandwich – ???? flavored ice cream, made with our better hot dogs, sandwiched with spicy mustard ????. Do you want to try this? Coming in August???? #OscarMayerIceCream

— Oscar Mayer (@oscarmayer) August 1, 2019
With at least 24 hours left to vote Oscar Meyer's Twitter poll indicates that 73% of respondents are not in favor of their new flavor.
The Oscar Meyer press release describes the product thusly: "a hot dog infused ice cream with real bits of candied Oscar Mayer hot dogs served alongside spicy mustard ice cream."
It's a strange competition, to say the least. For one thing, the two brands sort of need each other, don't they? Hot dogs and mustard go together like, well, the opposite of ice cream and hot dogs!
If you want to try these flavors, they'll be available in August.