It's Time to Get on the USWNT Bandwagon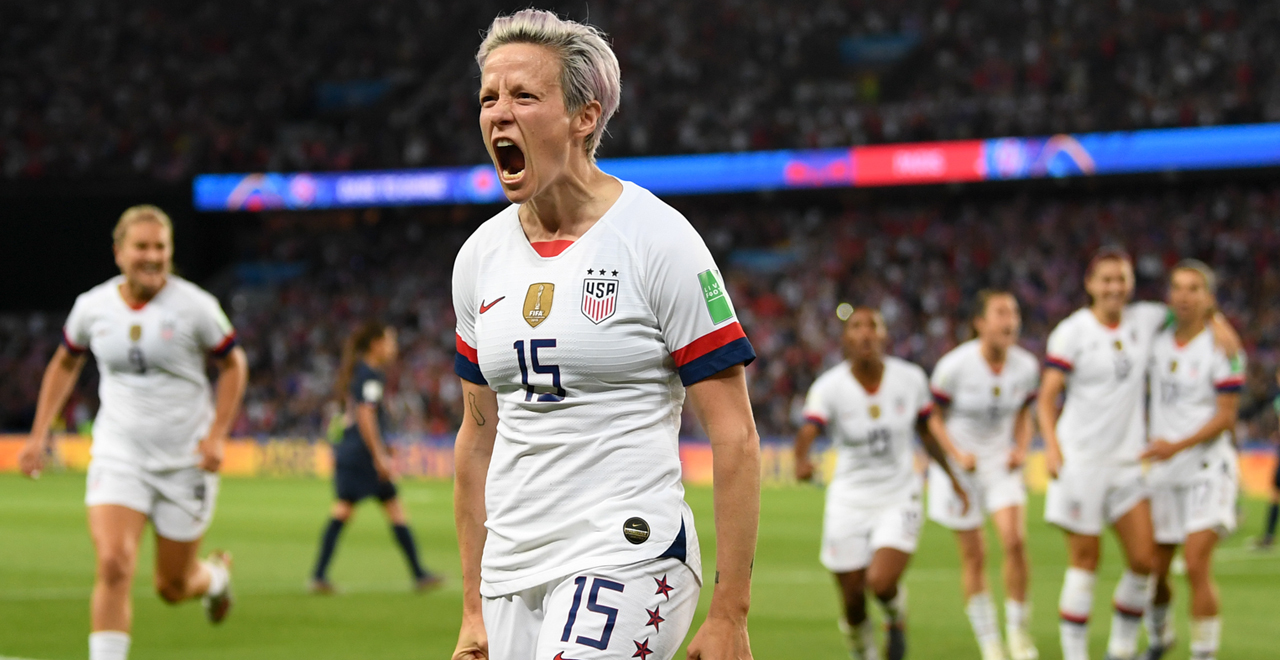 Women's soccer is having a moment. The U.S. Women's National Team is well on its way to a second consecutive World Cup after knocking off host country France in the quarterfinals, 2-1. The U.S. Women took down Les Bleus in one of the most hyped women's soccer games of all time.
As much as the game meant to the Americans, it may have meant even more to the French, as it was billed as a statement game for France as the women begin to earn more attention and had a legitimate shot to take down the top-ranked Americans. The priciest ticket on the secondary market topped $11,000, which is insane for any sporting event. But the U.S. took an early lead and held onto it throughout, and now face England in the semifinals on Tuesday. It will be the eighth straight appearance in the semifinals for the Americans.
If somehow your heart rate is back to normal, we've got some highlights so you can re watch that incredible game all over again. pic.twitter.com/iScsYtlHBx

— U.S. Soccer WNT (@USWNT) June 28, 2019
Now is the time to get on the bandwagon. Women's soccer is gaining more traction in America and the women continue their fight to get paid equally to the men's team (the women still lag behind despite generating more revenue). The U.S. is coming off a World Cup win in 2015 and has been seen as the top world power for several years now. But it's still not a household "must-see" event in America, so you can be forgiven for tuning in now. There's not that much else going on in the sporting world at the moment and what's better than an excuse to go to a sports bar on a Tuesday afternoon?
The decades-old take about how soccer isn't exciting enough. Of course, these same people will watch a baseball game for 4 hours, destroying any "logic" they claimed to employ. Even Oprah is on board.
Did y'all see that soccer game today? So proud of the USA Women's National Soccer team! ???????????????????????? @USWNT pic.twitter.com/h94JKAdtgU

— Oprah Winfrey (@Oprah) June 29, 2019
Sticking with female sports, one clip that went viral this week was the incredible defense exhibited by one defender in a girl's basketball game. The NBA's reigning Defensive Player of the Year, Rudy Gobert, even took to Twitter to suggest turning in his crown as the best defender in the league.
Allright @nba you can give her my trophy https://t.co/KAXs9BYLWT

— Rudy Gobert (@rudygobert27) June 26, 2019
The NBA free agency period is about to get crazy as things kick into high gear. The Lakers made the biggest league-shaping move when they traded for Anthony Davis. They have since cleared out nearly everyone else to make room for another max contract and are reportedly pursuing Kawhi Leonard or Kyrie Irving. The league's other major market team, the New York Knicks, is on the opposite end of the spectrum. They let Kristaps Porzingis walk for next to nothing, thinking they would end up with Zion Williamson, Kevin Durant, and Kyrie Irving after this offseason. Instead, they will have none and be the laughingstock of the league AGAIN. Rooting for the Knicks is like rooting for the Washington Generals, only they keep losing to teams that aren't even the Globetrotters.
And speaking of Kyrie, it looks like Celtic insiders are not afraid of savaging the guy on his way out after a less-than-stellar run in Boston.
Jackie MacMullan: At the completion of the regular season, #Celtics set up 100 balls for charitable partners. Everyone signed them except Kyrie Irving. Pressed to do it, say sources, he was neither aggressive nor confrontational. He merely said, "No, I'm not interested in that."

— Adam Kaufman (@AdamMKaufman) June 28, 2019
As for NBA Finals MVP Kawhi Leonard, it's looking pretty likely he won't be returning to Toronto to help the Raptors defend their title. But at least their fans are taking it well.
Dear Kawhi, Remember the "fun times" we had together in Toronto.
Yours truly,
The @Raptors pic.twitter.com/VXKXLlFgxn

— Jared Jacobs (@goldyeller) June 24, 2019