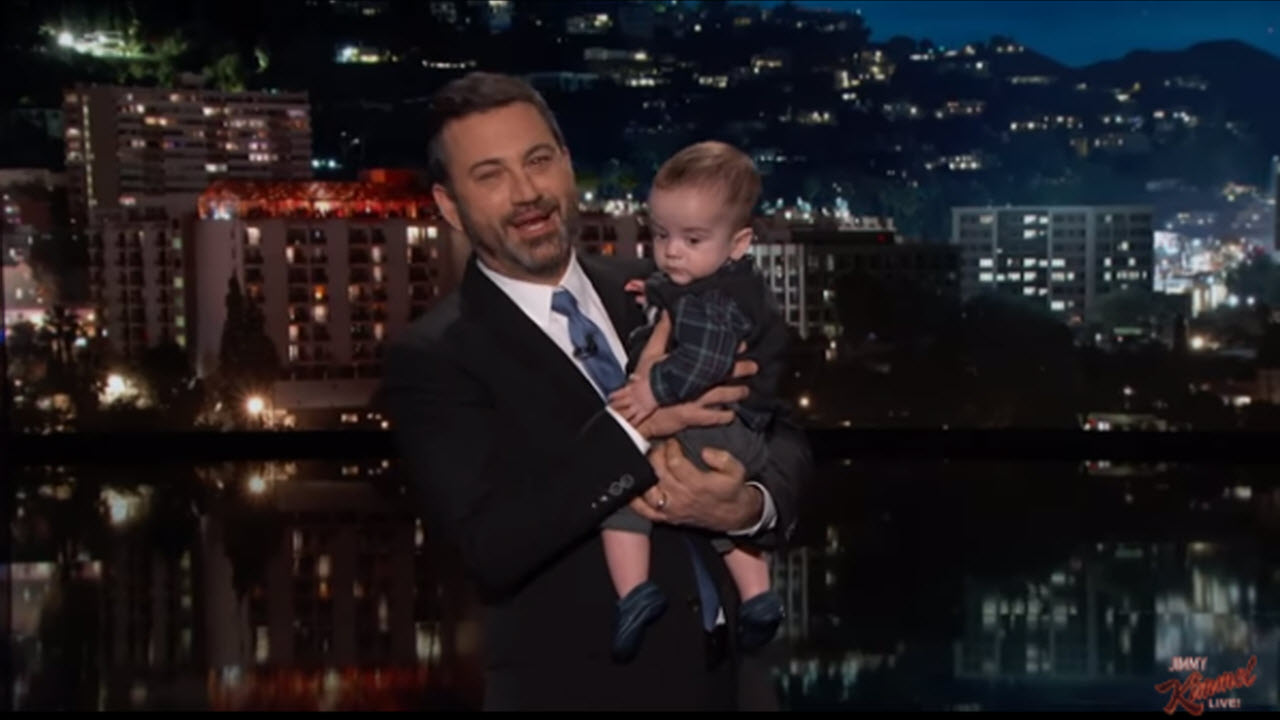 Credit: YouTube/Jimmy Kimmel Live
The kid was calm as a cucumber, which is more than you can say for the host
2017 has been a tumultuous year for many of us, for many different reasons. Hollywood is no different, and one of the most prominent voices to emerge has been Jimmy Kimmel, whose personal circumstances have lead him to become something of an advocate for better healthcare.
Kimmel's infant son was born with a rare heart defect that has required multiple surgeries, one of which occurred as recently as last week. The host took the week off, understandably – guest hosts included Chris Pratt and Melissa McCarthy (when I take a week off, the closest I get to a superstar fill-in is my out-of-office email, and that doesn't even work half the time!) – and returned last night.
With his son in tow.
The adorable little moppet stayed bizarrely calm in his father's arms as dad spoke to the audience, who, by now, must be used to the funnyman getting emotional on stage.
"I was out last week because this guy had heart surgery. But look, he's fine, everybody," the host explained. The 8-month-old is fresh off his second heart surgery and looks no worse for the wear. The little tyke isn't done, either.
"Billy is doing great, by the way. He has one more surgery," Kimmel told viewers. "And this is amazing: He had an operation a week ago. They say he's probably on track to win at least a bronze medal in the Olympics in 2036."
These updates about his son came before and after the comedian laid out the case for CHIP, the Children's Health Insurance Program that has yet to be renewed by a congress deep in the throes of a divisive tax plan. CHIP covers about 9 million children, and Kimmel is confused, and angry, about the fact that politics are trumping people. Especially when he's so close to one of those people.
"Now CHIP has become a bargaining chip. It's on the back burner while they work out their new tax plans, which means parents of children with cancer, diabetes and heart problems are about to get letters saying their coverage could be cut off next month. Merry Christmas, right?"
He's right, of course. No matter what your politics, there's little rational reason for endangering the lives of million of sick children.
When you get into the details, tax and healthcare policies are esoteric and at times purposely confusing or misleading. But no matter who we vote for, we all want the best for our children. Jimmy's not a politician, he's simply a dad, and it's on that level that his emotional pleas should be heard, along with the pleas of countless other parents across the country struggling to deal with the unimaginable hopelessness of trying to cure a sick child.
We applaud Jimmy for bearing his emotions in front of millions, all in an attempt to do what he feels is right, something we should all strive for. We also applaud his adorable kid for having such amazing composure on stage in front of millions.
I guess after you've powered through two heart surgeries, cameras ain't no thang.