Juan Soto's Relationship With His Dad Is the Real MVP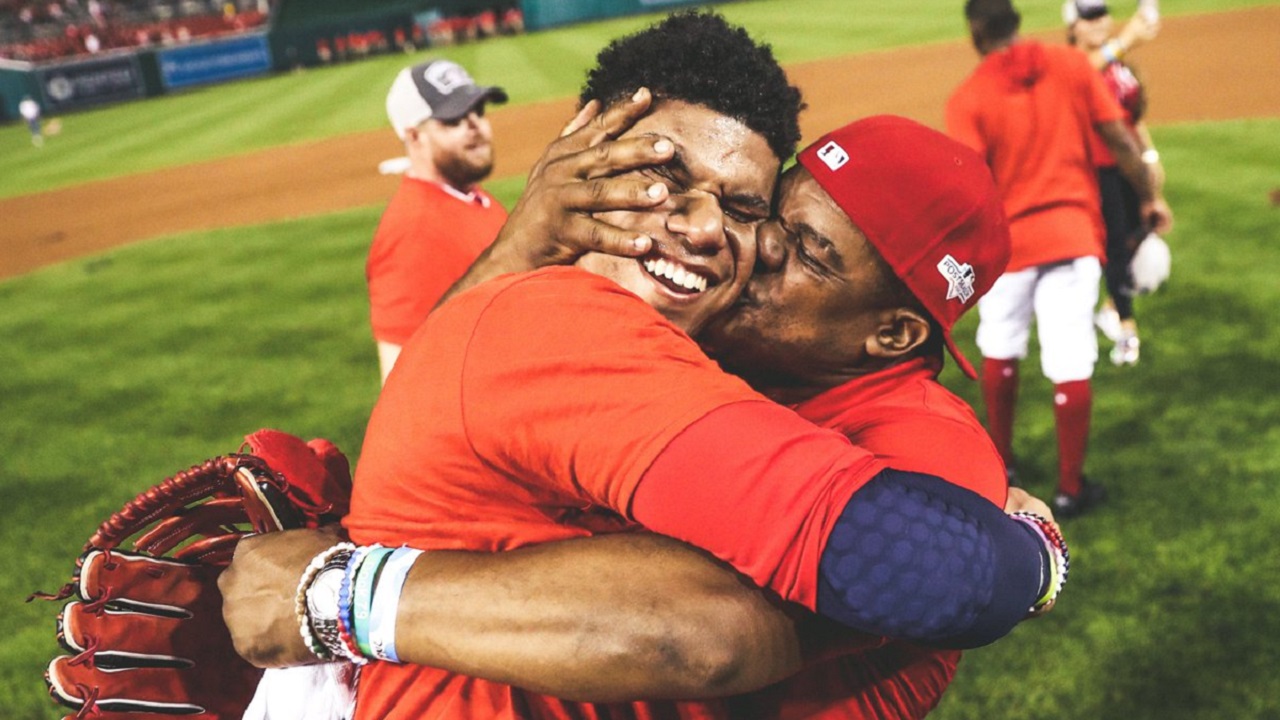 One of the absolute peaks of the parenting experience is seeing your kids succeed.
Maybe they aced a science test, maybe they nailed their part in the 3rd-grade play, maybe they graduated high school or won a battle of the bands or got a great promotion. Taking pride in your children's accomplishments is pure unadulterated joy, and getting to watch your kid perform, and perform well, on the national stage has got to be pure ecstasy.
It certainly seemed like Juan Soto's dad was on cloud nine watching his son crush his first trip to the World Series.
Juan Soto made his World Series debut with the Washington Nationals, where he hit three home runs, had seven RBI, and helped his squad win their first championship. All at the age of 21! And his dad was in the stands cheering him on the entire time.
Soto the younger is a pretty animated player, taking every opportunity to show his passion for the game with bat flips, staring down pitchers, celebrating with gusto, just generally having a great time. And after seeing his dad celebrate his success, it's clear the apple doesn't fall far from the tree.
Juan Sr. brought two homemade signs – adorned with photos of his son, drawn-on stars, and the phrases "JUAN SOTO MVP" and "JUAN SOTO LA FIERA" (it means THE BEAST) – and spent the Series openly celebrating his son.
View this post on Instagram
Then, after Wednesday's Game 7 victory, Dad was on the field, joyfully jumping on his son's back…
Juan Soto getting celebratory tackled by his dad is so amazing. pic.twitter.com/8atUzu4Ck2

— Cut4 (@Cut4) October 2, 2019
Embracing him…
Juan Soto celebrating with his dad is amazing. #JugamosDuro pic.twitter.com/Q80VO0Z09V

— MLB (@MLB) October 2, 2019
And just having as much fun – if not more – as his son. It's clear young Juan has a strong bond with his dad – with both his parents – and they aren't ashamed to show it. If Soto's performance this season is any indication, they're gonna have a lot more chances over the years.
Juan Soto with his family is everything. pic.twitter.com/67UgpNK6Uf

— MLB (@MLB) October 31, 2019