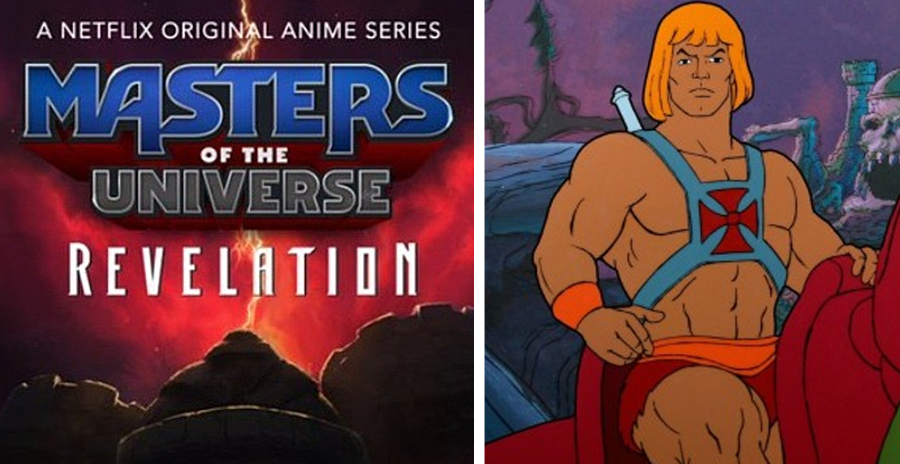 Credit: Netflix/Mattel
When I was a little kid, I loved He-Man. In fact, I remember being excited one September because the show's new season was launching on my actual birthday. It felt like a personalized gift from Eternia! I had a bunch of He-Man figures (remember Battle Chest He-Man?), I wanted to name my cat Cringer, I even had Castle Grayskull, complete with its bad-ass trap door in the throne room.
I was a He-Man stan.
I'm not anymore. Looking back, the show hasn't held up too well. Still, I can't help but be intrigued by some new He-Man news, in which a new anime version of the classic kid's cartoon was announced, to air on Netflix. (This on top of the live-action movie that's supposedly in the works. Which can't be worse than the Dolph Lundgren one!)
If you're a He-Man fan, you're probably excited too. And if you're a nerd, the news that the show will be run by one Kevin Smith of Clerk, Mallrats, and Live Free or Die Hard fame, probably gets you pretty pumped and jacked too.
.@ThatKevinSmith just announced at @ThePowerCon a new animated series coming to @netflix : Masters of the Universe Revelation!!!

Kevin Smith is the showrunner. Series is said to pick up from the original cartoon! pic.twitter.com/cwWGmeQjrV

— Pixel Dan (@PixelDan) August 18, 2019
The news comes courtesy of Twitter user @PixelDan, a toy reviewer who was there for Smith's announcement at the PowerCon 2019 convention. Smith also shared a synopsis of the show, which is being produced by the studio behind Netflix's Castlevania series.
"A radical return to Eternia, Revelation is a direct sequel series to the classic era of Masters of the Universe," the anime's official synopsis reads. "Featuring fan-favorites He-Man, Orko, Cringer and Man-At-Arms, the story pits our heroic warriors and guardians of Castle Grayskull against Skeletor, Evil-Lyn, Beast Man and the vile legions of snake mountain!"
"But after a ferocious final battle forever fractures Eternia, it's up to Teela to solve the mystery of the missing Sword of Power in a race against time to prevent the end of the Universe! Her journey will uncover the secrets of Grayskull at last. This is the epic He-Man and the Masters of the Universe saga fans have waited 35 years to see!"
"Waited" may be a strong term, but people liked Castelvania so maybe this will deliver. Now if you'll excuse me, I have to find my old Trap-jaw figure.
No word if Skeletor will be reprising his role, but we can only assume.