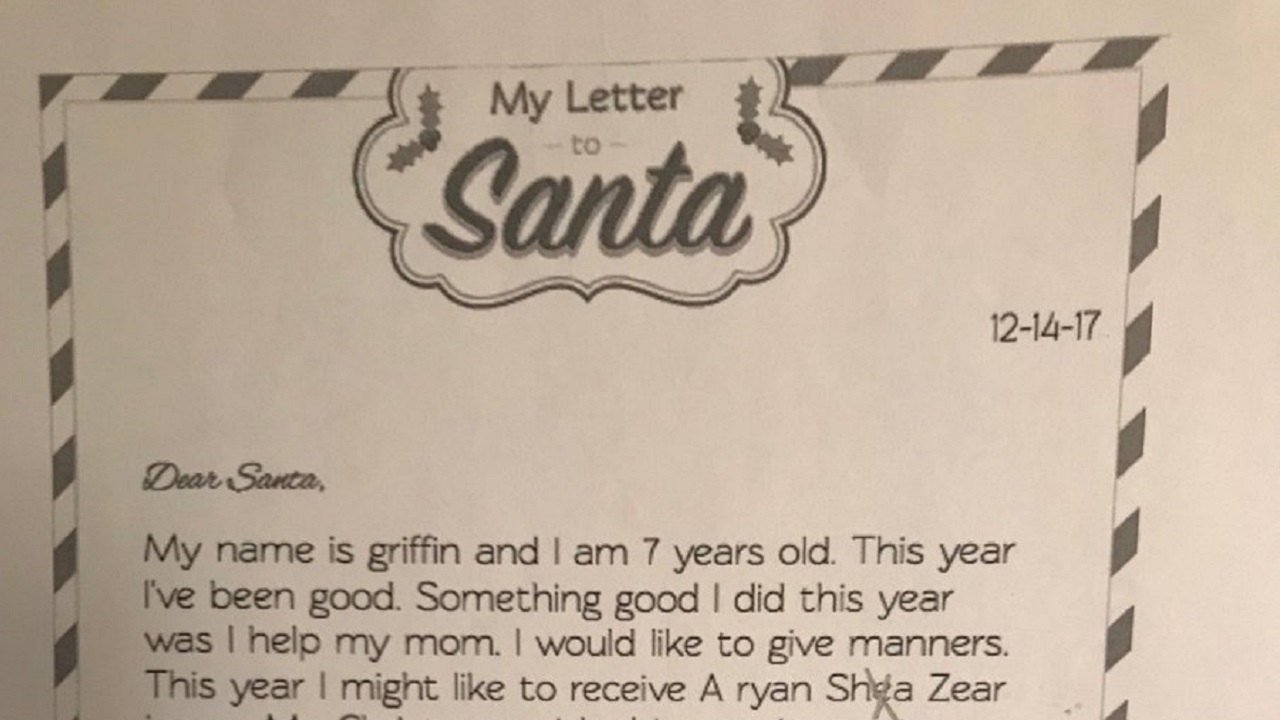 Credit: Twitter/@ryanrecker
But some of them are
When it comes to Christmas, kids, to paraphrase the Rolling Stones, want everything in the world you could possibly imagine. In their letters to Santa, they never seem to care much about the big man's life, his reindeer, the toll the increasingly intense Christmas season is taking on his marriage.
No, the letters usually consist of nothing more than a long list of the toys and games and gadgets children want him to lug around the world and deposit in their living room.
As a parent, it can sometimes be alarming to see how materialistic our kids can be. Especially since we know we're the ones actually on the hook for fulfilling their dreams.
It's a good thing those lists are occasionally cute and funny.
Twitter users are sharing their kids letters to Santa with the hashtag #christmaslist and some of these missives are true gems. The first one even totally contradicts my opening premise that kids don't care about Santa!
Dear 🎅, I hope you are well. Very proud of the polite start to my daughter's santa letter. #SantaClaus #christmaslist pic.twitter.com/QibNChB4zZ

— Brenda Frawley (@missusconneely) November 24, 2017
Bravo to that little girl, and to her parents, for enforcing proper manners and common courtesy towards everyone, including mythical beings (spoiler alert).
This kid gives manners a shot, but this is the definition of perfunctory.
My 3 year old son's letter to Santa. 😂 pic.twitter.com/cypFngzrTI

— MBopp ⚡️🆙 (@MdotBopp) December 11, 2017
TBH, I'm not even convinced he wrote that himself!
Now as I go through these, I'm starting to feel bad for the shots I took earlier. This kid's letter asks Santa to heal recently injured Pittsburgh Steeler player Ryan Shazier. Sure, it's probably because the kid wants them to beat the Patriots and win the Super Bowl, but still, he seems like a good egg.
A friend's son wrote this letter to Santa Claus. His Christmas wish is to have Ryan Shazier feel better. pic.twitter.com/yYPH46kdmn

— Ryan Recker (@RyanRecker) December 15, 2017
Okay, I have to take it all back. Because here's another little guy tugging my heartstrings, not only with a Christmas wish for the world, but also with an apology to Santa!
My 12 year old, autistic son's letter to Santa
Dear Santa; I would like everyone to have the best Christmas in the whole WORLD! I am also greatly sorry for the fact I don't use that Pogo stick you gave me, I will try to use it more often.
From: Cameron pic.twitter.com/OBmUg1wTkJ

— Stuart Duncan (@autismfather) November 19, 2017
Okay, this one is more like it:
I'm flummoxed by my daughter's letter to Santa: "I need an Apple Watch". The expectations of an 8 year old! #parenting #wishlist #santa #Apple

— Marsha David 🇹🇹🇬🇧 💙 (@marshajdavid) December 9, 2017
Oh dammit, this little girl wants Santa to bring her brother some friends so he'll stop being bullied.
https://twitter.com/Courtne8Brandon/status/941846274378162181
And this one sends some love to Santa's staff:
My 5 year old daughter had us write a letter to Santa Claus that said "if you can't get me what I've asked for, I completely understand. Please thank the elves for working so hard!"

My heart hurts.

— Taron Cochrane (@taroncochrane) December 10, 2017
Look, I'm gonna be honest here. My entire worldview is getting rocked by these revelations. I know kids can be sweet and innocent and funny, but it's a lot more entertaining to make fun of them when they're not. Unfortunately, most of the letters I'm finding are not good for comedy.
At least this kid is keeping the laughs alive with some striking honesty and a little bit of shade at Santa's pervy side…
My kid's letter to Santa. I'm dying! pic.twitter.com/xnVx6HFTgU

— RaisingJedi (@RaisingJedi) December 17, 2017