Kid's Convincing Anti-Homework Letter Goes Viral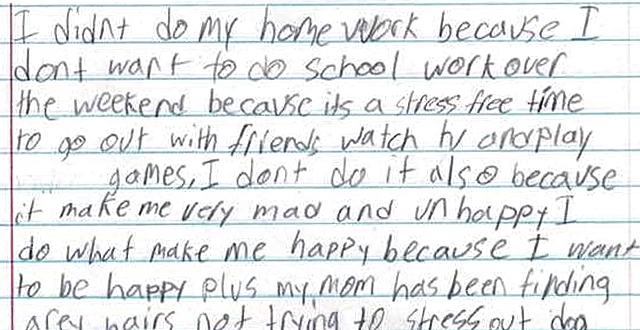 Homework sucks.
We can all agree on that. Getting sent home with tasks to perform and bring to class the next day has been an essential aspect of education in the United States for decades. CHildren have always hated it, and for good reason. After spending the entire day doing boring stuff like "learning," the last thing they want to do when they get home is more of it. Anyone who's even tried to get a tired, mentally-drained third grader to concentrate on math problems before dinner knows this. Kids want to play and deserve a break. And studies are starting to back that up.
Over the past few years, the concept of homework, especially for elementary school kids, is becoming increasingly controversial. At least one of the schools in my town has done away with it, and I wish my son's school would as well. You can google all the studies and data showing why homework is unnecessary, or you can read the letter one kid wrote his teacher when he was asked why he didn't turn his in.
Posted by Twitter user Lydia (@_Lyddz), the letter is one student – Lydia's cousin's son (no word on whether Ferris Bueller was involved) – explanation for why he didn't do his homework over the weekend, and it's a lot more elaborate, and convincing than "the dog ate it."
Edward rips the concept of homework to shreds, laying out multiple reasons why he's against it. He writes makes him "very mad and unhappy" and he wants to be happy. He says that weekends are a "stress free time to go out with friends and watch TV and play." He claims that "The real world jobs don't give you homework unless you're a boss or teacher. We should not have to do it in school because it's not useful" and apparently he won a ruling in a court of law "case closed the court rule in the favor of Edward C. in the case of student homework."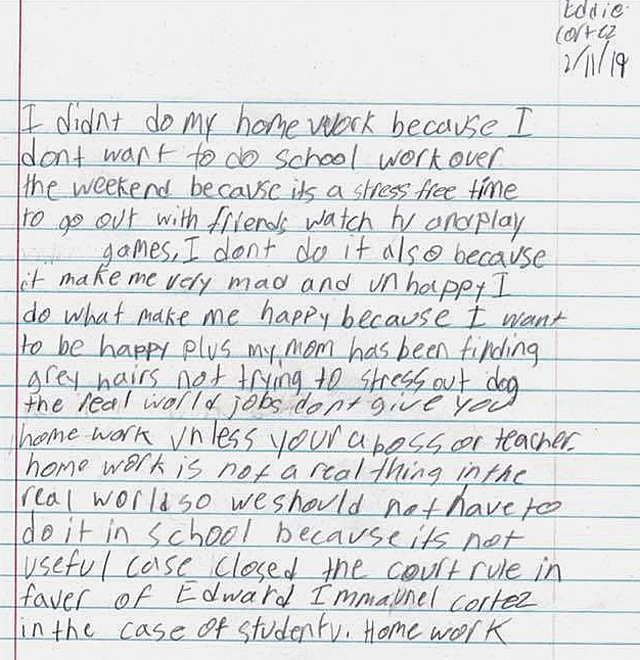 He's got me convinced, and most of Twitter too. Lydia's tweet of the letter has over 355,000 likes and 101,000 retweets.
So my cousin and his wife got an email from their sons teacher. He didn't do his hw so she asked him to write a paper saying why he didn't do his hw and this is what she got…????????????‍♀️ pic.twitter.com/2eDh2IgB9X

— Lydia (@_Lyddz) February 14, 2019
The kid closes his strong case with a preemptive victory lap, "Case closed, the court rule [sic] in the favor of Edward Immanuel Cortez in the case of students homework."
Somebody get this kid to law school! Just don't tell him what that entails…