Crafty Kids Sell Bracelets, Raise Nearly $100,000 for Black Businesses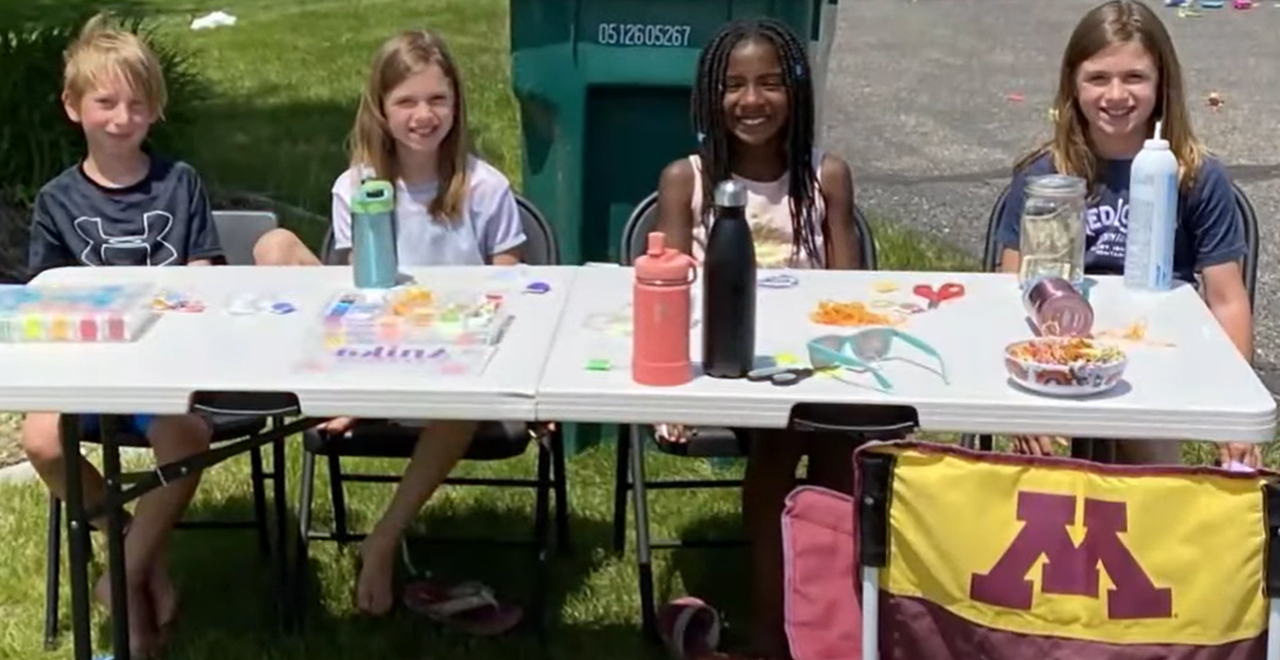 This is a very strange time to be a kid. Not only are they separated from their schools, their friends, their grandparents, and their normal routines, but they're also getting an enormous (and unavoidable) dose of some pretty tough-to-swallow topics. As if being in the midst of a pandemic wasn't enough, kids are now learning about the realities of racial inequality and the extremely real repercussions it has on the lives of their friends, neighbors, and even their own families. When kids are faced with things they don't quite understand, some respond with fear, some with curiosity – but if you're anything like 9-year-old Kamryn Johnson and her friends, you jump into action.
Kamryn and five of her friends were struck with boredom after all of their planned summer activities were essentially canceled. On a whim, as kids tend to do, they decided to start a business. The friends got creative and started weaving friendship bracelets and even opened a stand to sell them to their community. Most kids, upon making their first sale, would immediately go into planning mode. How do we spend this newfound wealth? Do we buy candy? A new gaming console? How much are horses? But these friends came up with a different kind of plan, one that would make any parent proud.
The six friends live in Minnesota, where the protests surrounding the unjust killing of George Floyd began. After seeing people in their community struggle, the big-hearted friends wanted to help. The friends zeroed in on donating to food banks and helping black businesses rebuild after coronavirus closures and damage from looters. The business, "Kamryn & Friends: Bracelets For Unity & Justice", led by Kamryn, began collecting donations online alongside their in-person bracelet business.
"When you look at Minneapolis, there is a huge racial gap in basically every aspect of life," Ron Johnson, former NFL player, and Kamryn's dad told CNN. "It's not equal. We want to be there for black businesses, especially those that don't have insurance agents to help them out, to let them know they have people that will protect and fight for them."
Although the kids' parents were proud, they didn't expect the project to raise much money. It was undoubtedly an amazing gesture, and knowing that they raised caring, selfless kids would have been enough. Nobody expected the bracelet business to gain national attention, and they never would have guessed that their little bracelet stand would raise over $90,000 since opening shop on May 30.
"She has a huge heart and simply wanted to be of help in whatever way she could," said Johnson. "She and her friends are finding ways to feed the families of Minneapolis and give back to their community in the way they know how." He also set up a GoFundMe to raise more funds for Minneapolis food drive initiatives and to support local businesses affected by the riots.
It's fitting that friendship bracelets are a tried and true symbol of camaraderie and connection because these six friends are uniting the world for an important cause, one bracelet at a time.