Kids Try to Surprise Grandma at Airport but She's Wise to Their Tricks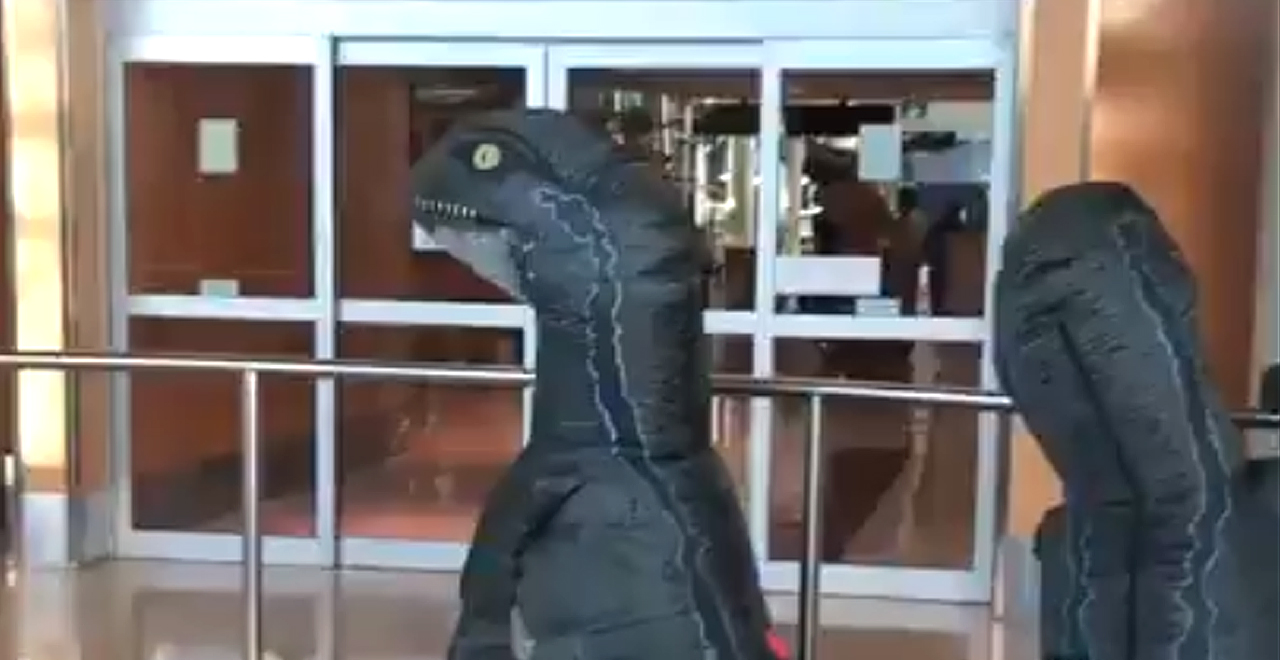 Airport reunions are always fun to see, whether they're celebratory, like when a soldier finally returns home, or sentimental, like watching young kids run to their parents after they've been apart. They're not usually cause for laughter, but thanks to one fun grandma, there's a first time for everything.
Two Canadian kids were so excited to see their grandma, they decided to dress up for the occasion and surprise her. The outfits they chose? Those goofy inflatable dinosaur suits that sort of bobble as you walk. They showed up at Victoria International Airport in British Columbia, expecting to catch Grandma off-guard with their hilarious get-ups.
But Grandma was one step ahead of them.
Instead of being shocked by seeing her grandkids in costume, Grandma turned the tables on them by wearing a costume herself. In fact, she wore the same one! The video, that has gone viral on YouTube, showcases Grandma emerging from her terminal with her luggage, a cup of coffee, and wearing her own enormous dinosaur costume!
Something tells me someone clued Grandma in, setting up the heartwarming, and hilarious, reunion.
The three dinosaurs converge, hugging and bouncing up and down, happy to see each other and surely delighted at the coincidence. Even the onlookers can be heard laughing and clapping at the hilarious sight of a large inflatable T-Rex walking down the hallway and then emerging and being hugged by two smaller inflatable T-Rexes.
Watch the video below:
Two children from Victoria wanted to surprise their grandmother when she got off her flight by dressing up as dinosaurs but they didn't know that their grandmother had the same idea 😂- 📹 Vitaly Petrukhin #Canada #BC #BritishColumbia #Victoria #VictoriaBC #VCT pic.twitter.com/qzfgL9XRvW

— Freshdaily (@freshdaily) January 10, 2020