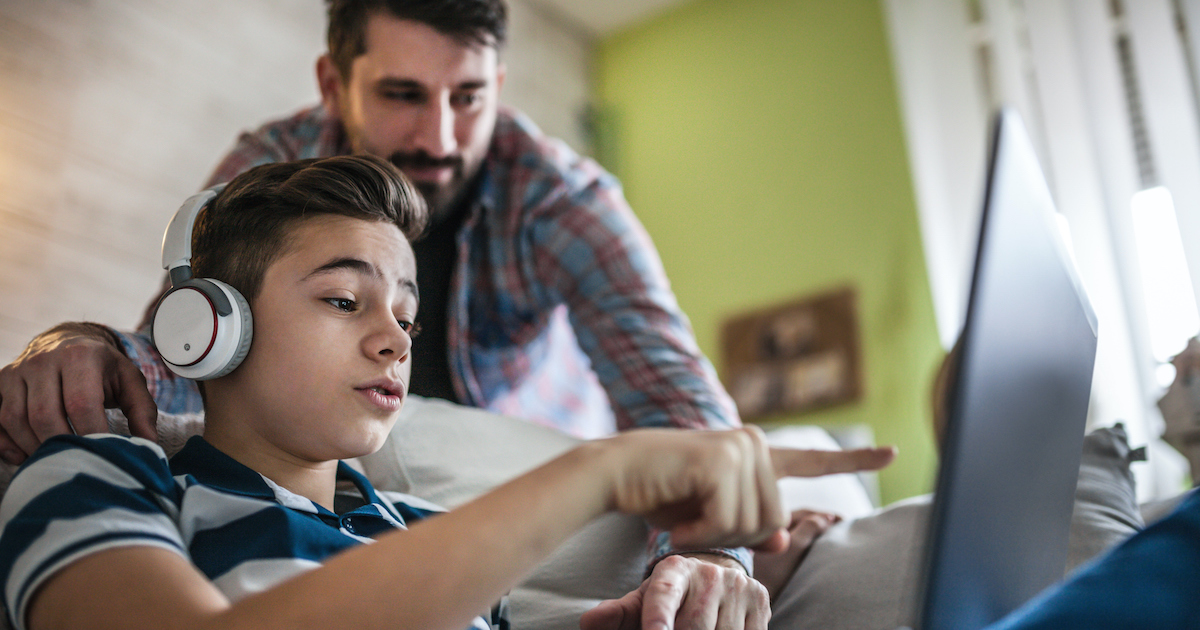 Credit: Getty/zeljkosantrac
I've managed to navigate the turbulent parenting seas for nearly 18 years, steering the S.S. Fatherhood around many icebergs piled high with the coolest gadgets and most popular toys. O Captain, My Captain, indeed!
Of course, my two daughters, like every child who has seen at least one commercial in their life, have coveted the various advertised goodies and expensive gadgets their friends have. But I've had a plan to avoid forking over wads of cash to buy all that stuff.
Strive To Be The Positive Change You Wish To See In Your Home
Telling my kids that we can't buy every crazy-expensive gadget that casts a glint in their eye would carry no weight if I myself was a first adopter, always rushing to buy the latest tech of my dreams. Just as I started eating more veggies when I became a dad, I strive to be the positive change I wish to see in my world at home. For example, my phone is far from the latest model yet still takes darn good pictures. My laptop was refurbished when I bought it six years ago. And I'm the only person in the Western world who wasn't pressured into buying a pressure cooker during that craze. I don't just talk the talk, I walk the walk too — in old sneakers, usually.
My kids have seen and heard firsthand how to prioritize purchases, find common interests with friends outside of shopping and stuff, and achieve financial security during prosperous and tough times. Greenlight, a debit card and app that teaches children and their adults how to be financially responsible, has easy to understand education tools that help me preach the gospel of financial literacy. This reduces my anxiety about making sure they're prepared for the economic side of adulthood. Sure, they aren't always happy being stuck with the same stuff for longer than their friends, but they now realize that hundreds of dollars to replace perfectly fine devices or a new-ish pair of sneakers isn't a smart way to spend money.
Teach Teens That Spending Is The Reward For Saving
I'm teaching my kids to keep their purchasing power in reserve for true 'gamechanger' gadgets and products — the stuff that moves the needle toward helping them live a better and/or more comfortable life. When we save, we aren't simply putting money aside, we're also stashing away excitement because spending is the reward for saving. When a truly remarkable piece of tech, clothing, or a toy does come along, we'll have the money to go get it because we delayed gratification and worked toward something greater.
One of the ways I help my kids save money and manage their own spending budget so they can actually press 'Purchase' when the time is right, is through the nifty Greenlight money app. I set their allowances, it flows into their accounts automatically, and together we demystify the financial world while developing a healthy mindset for what's available to spend, what should be saved, and how giving can play a role in their lives. Best of all, I can keep tabs on everything with ease, taking the guesswork out of this piece of the parenting journey.
With Helpful Tools, Teens Can Be Financially Successful
They say it takes a village to raise a child. So true, but it takes a small metropolis to raise a teenager! When it comes to making sense of the oft-confusing world of money and empowering us dads to teach important lessons about things we ourselves may not exactly be experts in, it helps to have modern tools at our fingertips. With Greenlight, I'm showing my teen daughters how to save for big-ticket items, avoid scary money matters like overdrawing their accounts, and invest in their long term futures, all while becoming financially literate thanks to the wealth of knowledge within the app's educational content. Greenlight allows me to instill in my kids smart habits that literally pay dividends today and will set them up for success as adults with more complicated decisions to make about how to earn, save, invest and spend their money… and someday, how to convince their own kids that they don't need the latest crazy-expensive, super cool gadgets!
And then the circle of financial life will be complete.
Greenlight is a brilliant tool that helps dads like you and me teach our kids how to earn, save, spend, give, and invest their money today and tomorrow, all within an easy-to-use app that is parent-controlled and safe.