Kobe Was Coaching His Daughter to Be the Family's Next Basketball Star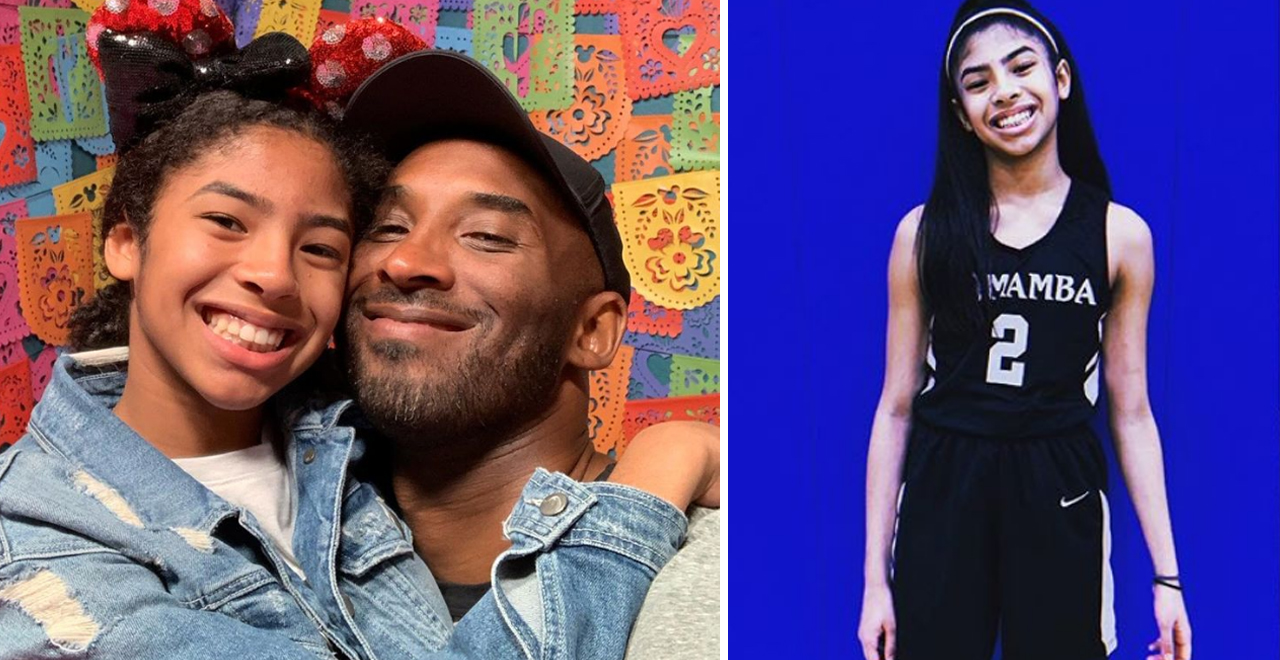 The world was dealt a tragic blow Sunday when news broke that basketball legend Kobe Bryant had died tragically in a helicopter crash at the age of 41. The news became even more heart-breaking when it was revealed his 13-year-old daughter Gianna also died in the helicopter crash.
They were flying to Gianna's basketball game, a game that Kobe was going to coach. Gianna (Gigi) was Kobe's second-eldest daughter and, like her dad, a devoted baller. When people in the basketball world told Kobe it was a shame he didn't have a son to carry on his legacy in the game, he was quick to correct them and point to Gigi as his heir apparent on the court, something he told Jimmy Kimmel in an appearance on his talk show in 2018.
Kobe on Gianna: "The best thing that happens is when we go out and fans come up to me, and she'll be standing next to me ..

They'll be like "you gotta have a boy, have soembody carry on the legacy… she's like, "oh, I got this!"pic.twitter.com/rsIgOXbNlI

— philip lewis (@Phil_Lewis_) January 26, 2020

"The best thing that happens is when we go out and fans would come up to me and she'll be standing next to me," Bryant said, "and they'll be like, 'You've gotta have a boy, you and V gotta have a boy. You gotta have somebody to carry on your tradition, the legacy."
"She's like, 'Oy, I got this," Bryant said. "I'm like that's right," Bryant said. "Yes, you do, you got this."
Kobe was one of the most high profile WNBA supporters around, partly because of his daughter's love for the game.
"What would it be like to one day be a WNBA player?"

Gigi Bryant: "I think it'd mean everything. It'd mean everything."

— Sandra 💙💯 (@SandHerrera_) January 27, 2020
Gigi Bryant wanted to be just like her dad. Rest easy Queen pic.twitter.com/Vj5POthu8o

— Zoe 🇭🇹🇭🇹🇭🇹🇭🇹🇭🇹🇭🇹🇭🇹🇭🇹🇭🇹🇭🇹🇭🇹 (@YourFavoriteZoe) January 26, 2020
Gigi even showcased some of her dad's moves on the court.
Like father Like Daughter.
Rest in peace Kobe and Gigi. 😥 pic.twitter.com/HnkiUcUsye

— waward (@Ed_Chris16) January 26, 2020
— SLAM (@SLAMonline) January 26, 2020
Rest in peace kobe and Gigi bryant💔😭#mambaout pic.twitter.com/nhmVD0fuOJ

— joey aniag (@bong23812815) January 27, 2020
One of the most shared clips on social media Sunday was a clip of Kobe in the stands with his daughter, as Kobe goes full dad-mode as he breaks down the game to Gigi.
Kobe and Gigi courtside breaking down the game 📋 pic.twitter.com/FxqSjVx6ew

— ESPN (@espn) December 22, 2019
Kobe Bryant and his daughter Gianna shared love of basketball. In a recent interview, Bryant said he was proud of the basketball player Gianna had become https://t.co/FA9OCjG4PC pic.twitter.com/IfAluSs7j2

— ABC7 Eyewitness News (@ABC7) January 27, 2020
Social media was consumed with tributes for Kobe, from utterly shattered and devastated friends and former teammates, to others in the sports world, teams found different ways to handle the news. Games were played, but every team started their game by taking a 24-second shot clock violation, paying homage to Kobe's jersey number. Dallas Mavericks owner Mark Cuban said no Mav would ever wear #24 again, in respect to Bryant.
And while the tributes poured in, the most poignant ones mentioned the bond between the dad and daughter, and the hopes the former had for the latter.
The last video Vanessa Bryant posted of Kobe Bryant's daughter Gigi was her coming to hoop in heels after a dance she had her dads mamba mentality 💔 @SONTHoops #RIPMamba | #MambaOut pic.twitter.com/jed42jr5O8

— George Jarjour (@gjarjour) January 27, 2020
Sunday's crash rocked the sports world and the devastating tragedy will continue to reverberate around a game Bryant left an indelible mark on. And as the sports world will always hold Bryant up for the shots he made, it will also mourn the shots Gigi will never get to take.
Kobe Bryant, you will be missed forever. ❤️ pic.twitter.com/2aP90OdXLm

— NBA Memes (@NBAMemes) January 27, 2020
View this post on Instagram