LeBron James Is Loving His Sports Dad Life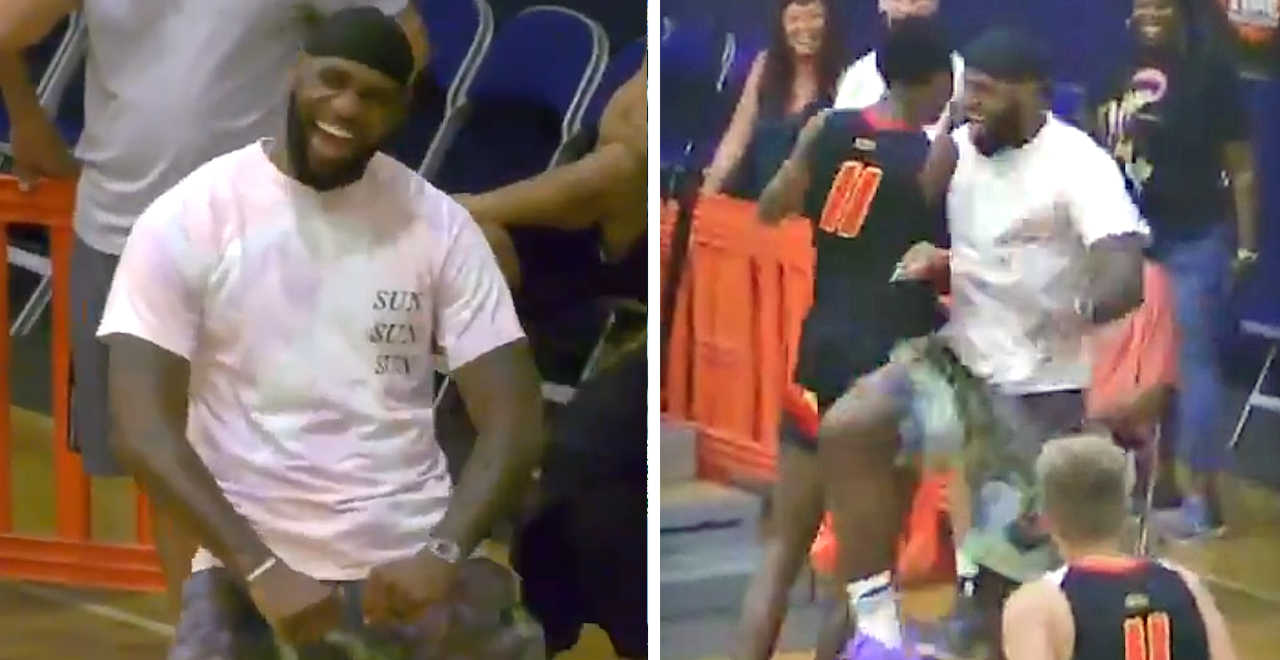 With the passing of the trade deadline in major league baseball and with the start of football season drawing nearer, we're getting so close to meaningful sports action. But you can't tell we're not quite there yet with what the sports world fixates on: this week, it was…LeBron's overenthusiastic parenting.
Pundits and hot take robots filled airwaves and TV shows with their pontificating about how LeBron needed to tone down the antics at his kid's AAU games. On one hand, sure, when you're the greatest player in the NBA, you attract a certain spotlight at your kid's games, so it makes sense to be somewhat refrained. On the other, and much more joyful hand, LeBron is acting like the dad he didn't have growing up and is fanning out. And it's hard not to smile watching this.
OH YEAH BRONNY‼️ @tiphoops pic.twitter.com/FrCDO8W7GW

— SLAM HS Hoops (@SLAM_HS) July 28, 2019
LeBron celebrated too hard and lost his damn shoe ???????????? @KingJames @TipHoops pic.twitter.com/F6yJ15wGKX

— Ballislife.com (@Ballislife) July 28, 2019
I mean come on, he loses his damn shoe then does a kick after getting it back. It's hilarious! Everyone complaining about this simply doesn't have enough joy in their lives. Before you scramble to add a whining "tsk, tsk" to the pile, consider the following: his son loves him being there, his teammates love him being there, their parents love him being there, opposing players love him being there, and he showers kids on both teams with respect and well-wishes after the game. He takes an active interest in all of the players on his kid's team, going above and beyond in that respect.
I promise you, I will celebrate that hard if any of my kids ever throws down a dunk like that. Finally, before you make up your mind on this, know that Jason Whitlock of former ESPN fame is one of the leading critics here. A good rule of thumb in any situation is to find out what Jason Whitlock thinks about something and then go the other way.
LeBron spoke about his attitude toward being a dad last summer on his HBO show and said:
"When I was younger, I didn't have a dad. So my whole thing was like, 'Whenever I have a kid, not only is he going to be a junior, I'm going to do everything that this man didn't do.' They're going to experience things that I didn't experience — the only thing that I can do is give them the blueprint, and it's up to them to take their own course, whenever that time comes."
Plenty of professional athletes were supporting LeBron. Boston Celtic Jayson Tatum was one of the most prominent, but he was far from alone.
With so many fathers not supporting there kids we get upset because he is genuinely happy for his son! Lol that's crazy I can't wait till my son get older and I get to support him with whatever he wants to do! https://t.co/pUCZOlZreD

— Jayson Tatum (@jaytatum0) July 29, 2019
Lebron has set the standard this era for all fathers and even more so for black fathers. His son sees and feels the love and support from his dad. It's never been seen on this level. They want to write the "his father wasn't there" story instead of this one. THIS is goals! https://t.co/1jUNJk0TGa

— Damon Harrison Sr. (@snacks) July 30, 2019
In non-LeBron news, NBA star DeMar DeRozan was running his youth camp in California when he took on the campers in a game of knockout. You'd think an NBA star would be a shoo-in to defeat a group of kids, but it's knockout, and crazy things can happen. And DeRozan's response is awesome.
Nothing like a game of knockout with @DeMar_DeRozan ????

????: @MambaSportsHQ pic.twitter.com/Gu6uHrcjSd

— San Antonio Spurs (@spurs) August 1, 2019
The San Diego Chargers have signed one of the most appropriately named players of all time.
His name is Dee Liner. And he plays D-Line.

Please make the team. https://t.co/9EO1AO2Zbk

— Bolt Beat (@BB_Chargers) August 1, 2019
And one of the best fights in recent history, the Cincinnati Reds responded to a cheap shot by a Pirates pitcher with a benches-clearing brawl. There's a lot to love here, such as this iconic shot of Amir Garrett taking on the entire Pirates team by himself.
Spectacular photo captures Reds pitcher Amir Garrett throwing a punch amid a brawl with Pittsburgh Pirates players in Cincinnati.

Major League Baseball is reviewing video of the fight, with suspensions expected on both sides. https://t.co/PekDSDuoFJ pic.twitter.com/fF0yyMa4cB

— ABC News (@ABC) July 31, 2019
The completely nonchalant police officer
This cop did a fantastic job at breaking up the brawl between the Pirates and Reds last night pic.twitter.com/s0n6LQda2a

— Peep (@PeepsBurgh) July 31, 2019
Or the fact that Yasiel Puig was in the middle of a brawl, sticking up for his teammates despite being traded several innings before, making his final moment as a Red being ejected. But, if I had to pick a favorite, it would be the fact that Reds manager David Bell, who had been ejected earlier, came back onto the field to try and fight the Pirates manager, and was ejected a second time.
Just an epic way to show you've got your players' back.