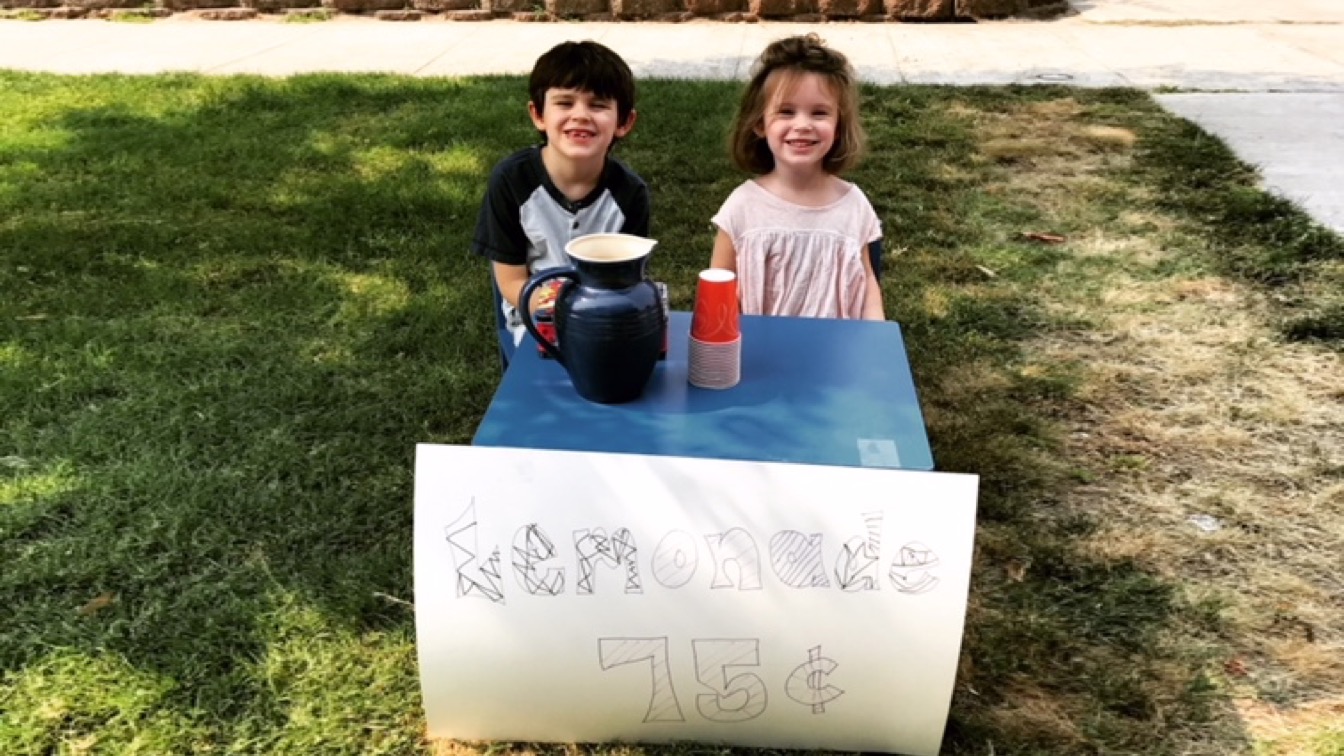 Credit: Morgan Mayfield
We live in a divisive time. One of the few things that unites the human race is we all are out here trying to do our best with our kids. We might go about it in different ways, but in our hearts we want our little rascals to grow into happy, healthy, successful adults. Here, in the land of the free market and home of the brave capitalists, it seems we generally believe a strong work ethic is an essential ingredient in that happy, healthy, successful adult recipe.
Enter a tradition as American as apple pie, baseball, and celebrity sex scandals: the lemonade stand, which will surely ruin our economic system in the generations to come. I'll tell you how.
I don't remember how my 6-year-old found out about lemonade stands but we were entering the 4th month of him begging to have one. I stalled for as long as I could, and finally, there we were, Saturday afternoon, setting up in 102 degree August heat.
Despite my resistance to the ORDEAL of launching this start-up, once we began preparation I was immediately overcome with the obvious superiority of my parenting. Here I was, teaching my 6 and 3-year-olds valuable life lessons. We'd utilize mathematics and business acumen, hone our customer service skills, get acquainted with the value of a dollar, all while bonding, creating lifelong memories and undoubtedly looking like a live shoot for a Pottery Barn Kids catalogue.
We started with writing the business plan. While my 3-year-old loudly sang the Trolls soundtrack over me, I formulated a plan with the nerdy one. What were our expenses? Could we afford to make lemonade from scratch? If we charged X, Y, or Z, what would our profit be? Was that even enough to cover our costs? What variables could affect our sales? What was our marketing strategy? How would we utilize our personal contacts and leverage social media? Obviously, he began ignoring me immediately. Undeterred, I shouted my calculations into the void. Finally, we were ready to send Dad to the grocery store while we moved on to Phase 2: Executing our Marketing Strategy.
https://giphy.com/gifs/mad-men-madmen-peggy-dondraper-don-sterling-cooper-cannes-oneshow-dandad-clio-droga5-lC7hvtmts4Bqw
Using a bigass posterboard, I wrote LEMONADE 75 CENTS. This was my 3-year-old's time to shine! I gave her and her big brother crayons and said, "Go ye to towne, kids! Bare your creative spirits! Decorate with reckless abandon as I stand several feet away Not Micromanaging!" 37 seconds later their hands got tired, so we taped our partially colored sign to our table and carried our supplies outside.
Once we were set up, I took a photo so everyone on Facebook could see what an energetic engaged parent I am. Then I sent the picture to their aunt so they would have at least one customer. Then we started dripping sweat because The Outside that time of year feels like a sauna packed thigh to sweaty thigh, but with more allergens. Then the children began Building Character*.
*complaining
After 15 minutes aka 900 seconds of constant whining, a neighbor came over to buy some lemonade. I poured while teaching my kids fool-proof sales lines such as, "Would you like some lemonade?" "75 cents please," and "Thank you." Before long, or after very extremely long if you were there living it, we had made $3. Then a horrifically un-American thing happened that has destroyed my children forever.
A man in an SUV drove by and gave my kids each a $5 bill and said he didn't want any lemonade. We had been sweating our balls off out there to make $3, and in one instant this guy made back our entire investment without even touching our inventory. We had a couple more customers, and then you know what happened? Another person just gave them a few dollars for no lemonade!
I smiled at the kind stranger with gritted teeth as I internally shouted, "Hey asshole, thanks for ruining my kids' work ethic! You think millennials are entitled lazy pricks? Wait until my kids grow up!" Having completely abandoned their money laundering front of a lemonade stand, my kids busied themselves with celebratory touchdown dances as they headed inside for popsicles, hands full of cash. I called after them to help me clean up, but they ignored me because they were rich now and didn't need parents anymore.
Months later, the experience has stayed with my kids. Do I feel good about giving them an idyllic formative memory? I mean, I'm glad Instagram has it documented like I'm Norman Rockwell-ing parenting.
But in all honesty I wish they'd just forget about it. To this day, on sunny afternoons my son approaches me with his sister in tow, always with the same question: "Hey Mom, is it okay if we go stand outside and ask people for money?"