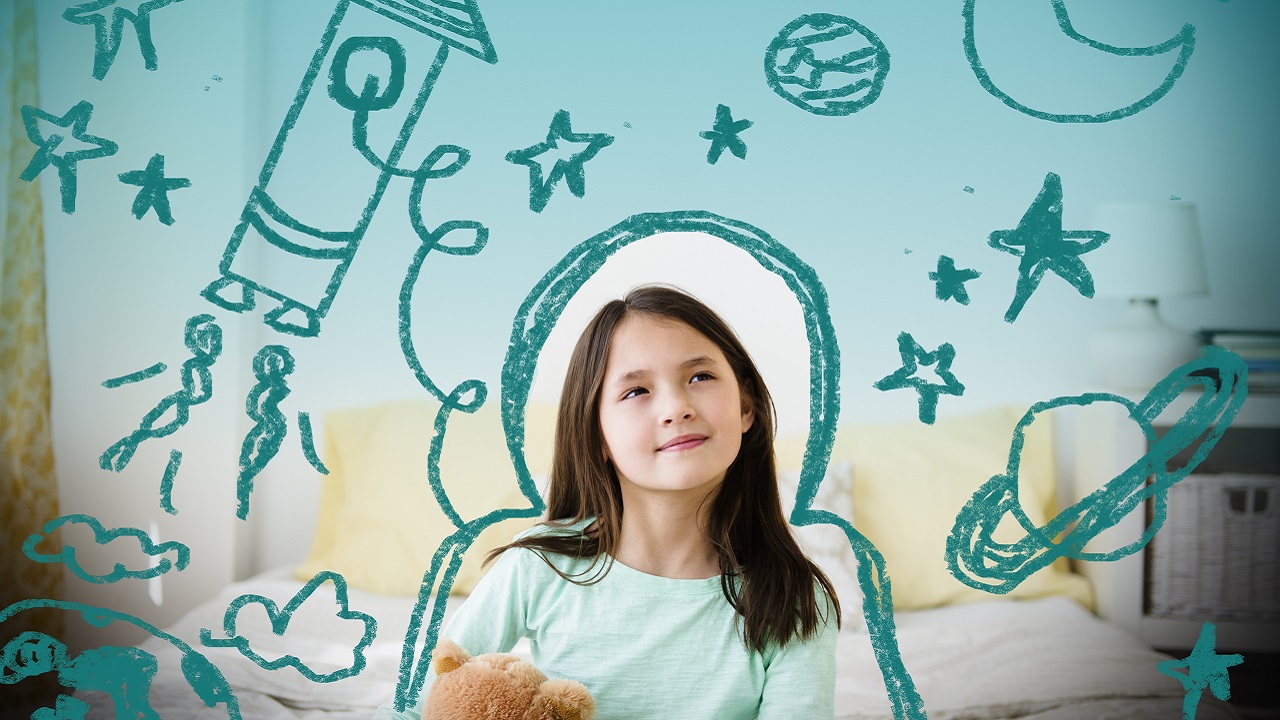 Credit: Getty Images/Jamie Grill
Ain't no thing but a chicken wing on a string
Astronaut is one of those fantasy professions that little kids grow up dreaming to be, like fireman or veterinarian or quarterback or president. When you're a little kid, there's no reason to worry about the specifics that make attaining such a job so difficult, but as parents, it can be useful to set expectations, not to deter a dream, but to instill the values necessary to achieve it.
One mom attempted to do just that for her little girl, and the 3-year-old's response to what it takes to reach the final frontier is inspiring the internet.
When Jen Dziura's adorable daughter announed to her mom that she was going to be an astronaut, Mom did her best to let the little girl know exactly what how much hard work it would take to make it onto a space shuttle.
My 3yo said she wanted to be an astronaut, and I said she had to study hard, go to college, learn a lot of science, and take a physical fitness test, and she shrugged and said, "That's just 4 things." So she's basically a nonchalant motivational speaker.

— jendziura (@jendziura) February 15, 2018
Her mom warned the 3-year-old that joining the space program takes studying hard, going to college, learning a lot of science, and passing a physical, and after she was done listing those requirements, the little spitfire said, "That's just 4 things."
It seems the apple doesn't fall far from the tree, as the ittle girl's mother runs Get Bullish, a website dedicated to "career (and life) advice for people (mostly women) who want to do their own thing." Sounds like her daughter is absorbing her mother's lessons.
Of course, becoming an astronaut is not quite as simple as doing "just 4 things," but at the same time, it kind of is. At least, if the 3-year-old keeps that kind of mindset and perspective, she's got a pretty good shot at accomplishing her dreams. And people are here for it.
Reason #170 why kids are awesome. They don't see roadblocks to their ambitions as negative.

— #SicEmBears DaddiO (@GoDaddiO) February 15, 2018
Some wish they had her drive!
I need this mindset https://t.co/afidj7aZqa

— melissa (@helloangelz) February 16, 2018
Of course, this being Twitter, somebody had to throw a little bit of cold water on those dreams, by reminding us all that toddlers are toddlers:
Nice! My then 5yr old daughter wanted to be an astronaut until we went to @spacecentre & she learnt that Helen Sharman had to sit still for 4 hours during & after launch.

— Moon Brew (@MoonBrew2) February 15, 2018
After the tweet took off – it currently has over 90,000 retweets and more than 400,000 likes – Jen shared a picture of her little superhero, who already has her outfit picked out!
Update. She would like to know whether astronauts wear real pants under their space pants pic.twitter.com/wbXB7Mz4Wo

— jendziura (@jendziura) February 19, 2018