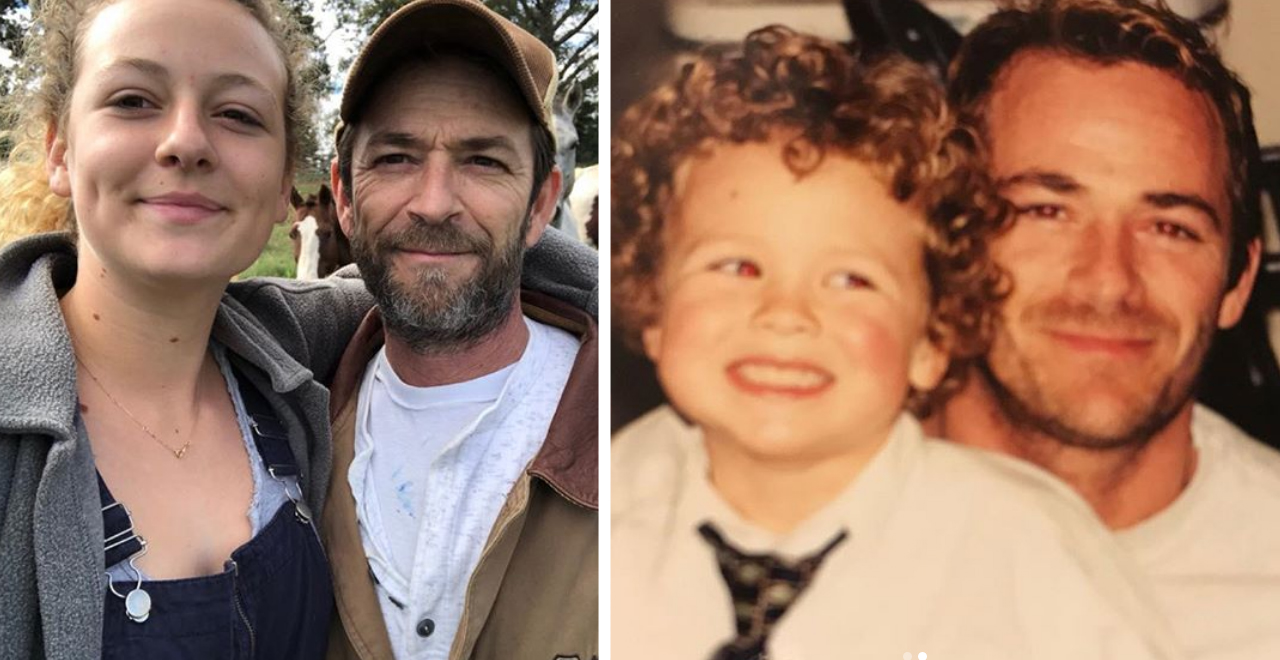 Credit: Instagram/lemonperry/boy_myth_legend
Luke Perry's Dylan McKay didn't even appear in the first episode of "90210", the show that made him famous and for which he'll always be remembered.
Once he drove up in his vintage Porsche, it wasn't long before his wounded, son-of-a-rich-but-absent-father became essential. In the early 90s, "90210" was so big, and Perry was such an essential part of it, that if you're between the ages of 35 and 50, your own social media was probably loaded with tributes to the actor. On Monday, he succumbed to a massive stroke, passing away while surrounded by family and friends.
Thanks to Perry's lived-in performance, Dylan's story-lines always felt the most authentic and provocative, even when they got ridiculous.
Among the highlights were his infamous love triangle with Kelly and Brenda, his fall off the wagon after his fortune was stolen – which precipitated a run of episodes in which a drunk and stoned burned bridges with all of his friends and was capped by surreal episode in which Dylan fights his demons while in a coma, and his romance with the daughter of his father's killer. These episodes contain moments I still quote and discuss with my friends. (There isn't much occasion to reminisce about Steve Sanders' hi-jinks.)
Dylan was often compared to James Dean. He was effortlessly cool on a prime-time soap opera that tried really, really hard to be cool, and Perry brought real edge to the show, which the past few days have taught us all was a testament to his acting, which led him to a long career on shows like "Oz," "Jeremiah," and Netflix's "Riverdale."
I grew up thinking Dylan McKay was a bad-ass because of his outfits, his alcoholism, his surfing, and his sideburns, but in the aftermath of the man who played him's tragic passing at just 52 years old, it has become clear that Luke Perry himself was even more of a bad-ass, and not merely because of his cool eyebrow scar.
Because of his kindness.
Story after story of Perry's unassuming, selfless demeanor has been trickling out over the past week. The spotlight-shunning actor was admired and loved by the kids who grew up crushing on Dylan McKay, his costars on Netflix's "Riverdale," where he played Archie Andrews' blue-collar single dad, his friends within the industry, and even strangers who bumped into him on a plane or in a restaurant.
Those people will remember him for far more than his roles on "Beverly Hills 90210" and 8 Seconds and Buffy the Vampire Slayer and "Riverdale." And thanks to their posts, so will all of us.
Perry leaves behind a daughter and a son both of whom were by his side when he was taken off life-support. Not long after his passing his daughter Sophie took to Instagram to addess her father's passing.
"A lot has happened in this past week for me. Everything is happening so fast. I made it back from Malawi just in time to be here with my family, And in the past 24 hours I have received an overwhelming amount of love and support. I cannot individually respond to the hundreds of beautiful and heartfelt messages, but I see them, and appreciate you all for sending positivity to my family and I. I'm not really sure what to say or do in this situation, it's something you aren't ever given a lesson on how to handle, especially when it's all happening in the public eye. So bear with me and know that I am grateful for all the love. Just, being grateful quietly."
And then yesterday his son Jack also posted an emotional Instagram tribute.
"He was a lot of things to a lot of people. To me, he was always Dad.
He loved and supported me in everything, and inspired me to be the best that I could possibly be.
I've learned so much from you, and my heart is broken thinking about everything you won't be here for.
I'll miss you every day that I walk this earth.
I'll do whatever I can to carry on your legacy and make you proud.
I love you Dad."
It's clear that his family meant more to him than just about anything else, as evidenced by an interview he did with US Weekly in 2017, about playing a dad on "Riverdale."
"My personal family is really all I care about and I think everyone can relate to that," he said. "You love you're family and you care about them, that's the main thing about [Fred Andrews] that I connect to…It's hard to tell people how to raise their kids and I'm certainly no authority on raising children, but love them as much as you can and talk to them as much as you can, make time for them."
When I was a teenager, I never suspected I'd be getting parenting advice from Dylan McKay. And good advice at that.
Rest in peace, Luke.