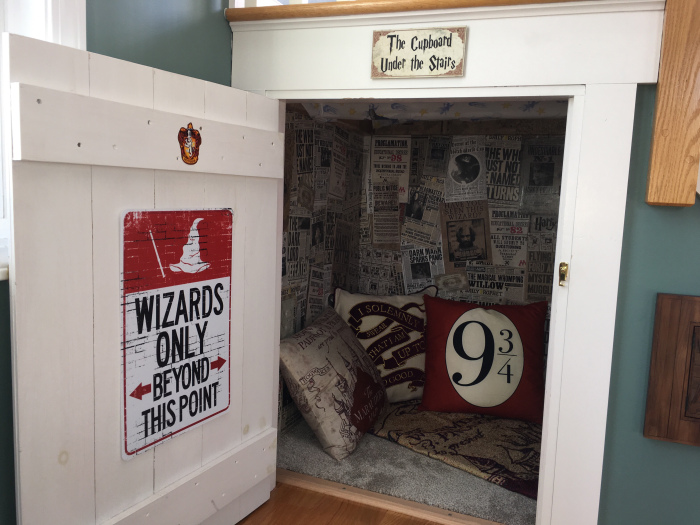 Credit: Peter Fragola
You're a wizard, Daddy!
The internet is a treasure trove of information, a cesspool of toxicity, a collection of terrible hot takes, and a vast landscape of inspiration and empathy. It's also a great place to go if you want to feel bad about your parenting, and not just because there are so many people out there ready to judge that picture you took of your kid in is car seat.
Anytime you are feeling good about your dadding, just hop online and you're sure to encounter the latest example of some other, better dad who used his DIY skills and ingenuity to build something awesome for his kids.
Today's example is Peter Fragola, the dad behind the blog "Chronicles of a New Dad." Peter is a school principal and father of two sons, and when he moved his family into a new house that has a crawlspace underneath a stairway, the Harry Potter fan knew exactly what he was going to do with it: recreate Harry Potter's famous "Cupboard Underneath the Stairs" for his kids to play in.
It took Fragola, who sports an arm full of Harry Potter tattoos, about two weeks of working at night after his kids had gone to sleep to transform this:
Into this:
His version of the Cupboard Under the Stairs is far less bleak and more fun than the one in which Harry Potter himself dwelled before being whisked away to pursue his destiny at Hogwarts. The handy dad included stencils of famous Potterverse quotes, a collage of Daily Prophet newspaper clippings, and a collection of accessories, like a stuffed Hedwig and a copy of The Sorcerer's Stone.
When you're a little kid, there aren't many things you enjoy more than creating forts and pretending to have magic powers, and with their very own Cupboard Under the Stairs, Fragola's kids will be able to do both at once.
They may not end up becoming wizards themselves, but they're certainly going to feel like their dad has magic powers.