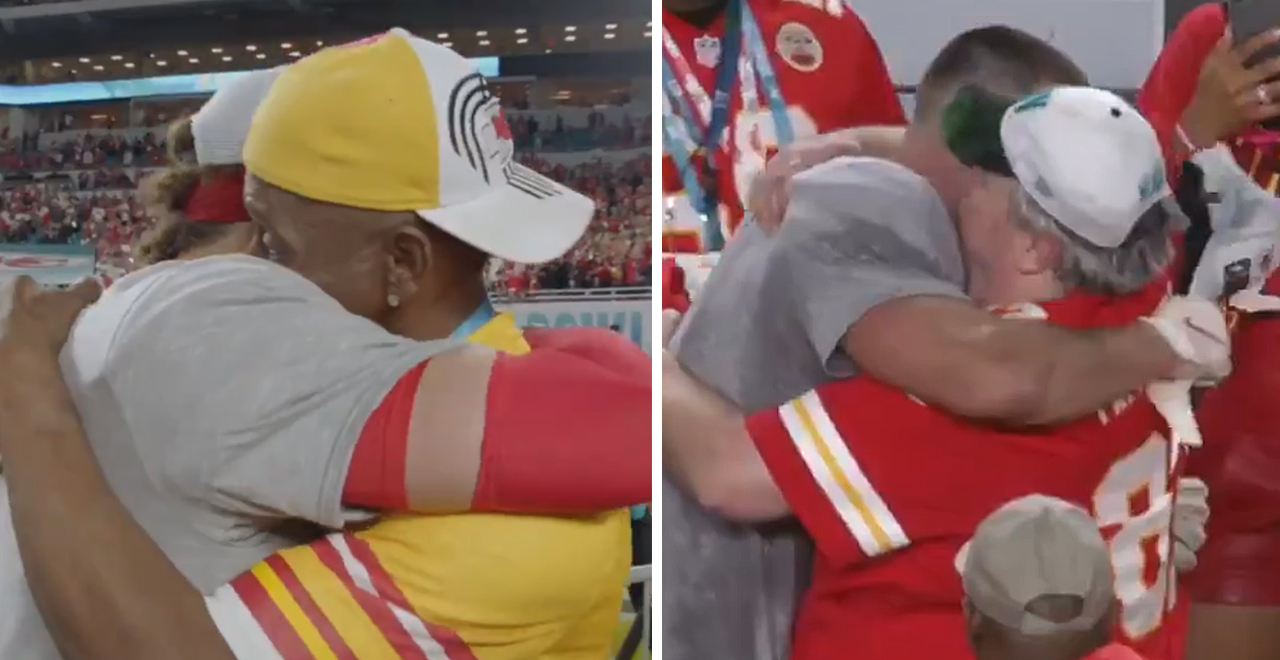 Credit: Twitter/NFLFilms
Nobody sacrifices more for athletic glory than the athletes themselves. The hours, days, weeks, months, years of working out, practicing, playing in games, getting better, striving to make the next goal, hit the next milestone, win the next game, capture the next trophy; it's never-ending, and it requires an enormous amount of dedication and commitment. Nobody but fellow athletes can really know the toll it takes.
Except maybe their parents.
After the Kansas City Chiefs completed their stunning 4th quarter comeback to win Super Bowl LIV on Sunday night, the field was awash with confetti, celebrating players and coaches, and cherished loved ones who'd come down to the sideline to congratulate the winners. Among the most vocal celebrants were the game's MVP and the league's golden boy, quarterback Patrick Mahomes, and outspoken tight end Travis Kelce.
The duo could be seen raucously celebrating their newfound and hard-earned status as world champions with their teammates and loved ones, but there were two interactions that were more meaningful than others.
First, Mahomes sought out his dad as he was leaving the field, embracing the elder Mahomes, a former major league pitcher, and telling him, "We did it, baby. I love you."
Who's cutting onions 😭@PatrickMahomes and his dad embrace a moment of a lifetime. @insidetheNFL starts NOW! pic.twitter.com/CcR0rJa7nh

— NFL Films (@NFLFilms) February 5, 2020
There's also footage of Kelce on the sideline, reuniting with his father after the game, with Dad telling his son how happy he is for him, saying, "you've worked so hard, all your life, and never ever really got the recognition you deserved."
"Never, ever really got the recognition you deserved."
Now, @tkelce is a World Champion. 🏆@Chiefs pic.twitter.com/pgcZAWuJbj

— NFL Films (@NFLFilms) February 5, 2020
Those parents weren't the ones sweating through every gym session, agonizing over bad throws and dropped passes, spending every off-season getting in shape, rehabbing injuries, busting their asses all season long just to get a shot at the playoffs, let alone the Super Bowl. But you can bet they felt every triumph and trip-up along the way, as every parent does, whether their kids are star athletes or merely performing in the school play.
These moments are as meaningful for moms and dads as they are for their children, and just watching those short clips, you can hear it in those dads' voices, and you can feel it in the strength of their embraces.
The Chiefs had their victory parade on Sunday, reveling through the streets of Kansas City with millions of fans, but something tells me Mahomes and Kelce didn't receive a single high-five or shout-out as significant as the hugs they got from their dads.