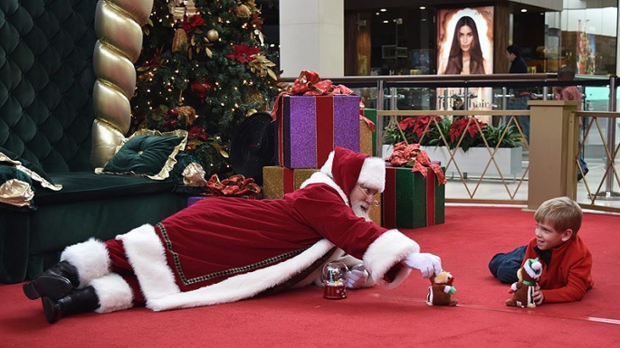 Credit: Autism Speaks
Taking your kids to meet Santa is a wholesome family tradition. You get to drive to an always-crowded suburban mall, spend 10 minutes circling for a parking spot, wait in a long line to meet Santa, and then take a picture of your kid crying when he comes face to face with the most magical person in their world. It really is pretty special.
And for some parents, especially those who have children with special needs, participating in these routine traditions can be a much tougher hurdle to clear. This is why Autism Speaks is hosting "Santa Cares" events at malls across the country, where kids with special needs can visit with Santa in a less frenetic setting.
On those days, the malls open early to help facilitate a smaller crowd, the music plays a little quieter, and the lights are a little lower. Santa also has training for children with special needs. Often times they'll stand behind their chairs or lay on the ground to make sure the children are comfortable. All of this combines to create a much more accessible experience for kids who need it.
Autism Speaks partnered with Cherry Hill Programs to produce the events, which include special training for the Santas so they can better interact with special needs children.
"Our goal is to create a more inclusive world for people with autism, and events like this make such a meaningful impact in helping families feel comfortable, understood and accepted," said a spokesperson at Autism Speaks.
SANTA CARES: This holiday season, malls across America are opening early – so children with autism can visit Santa Claus in a calmer setting ❤️ #sharethelove https://t.co/RQkrVgE2Ib pic.twitter.com/1LJr4X6F9q

— CBS News (@CBSNews) December 12, 2019
The Santa Cares event took place last weekend here at Seaway Mall. We welcomed families in a dimmed lighting, music-free atmosphere for their sensory-friendly photos with Santa in partnership with Cherry Hill Programs and @autismspeaksCAN Read More: https://t.co/85VarIKp01 pic.twitter.com/funyMKXVKW

— Seaway Mall (@SeawayMall) December 11, 2019
There are hundreds of events planned around the country, to find a sensory-friendly Santa experience near you, check out the Autism Speaks website.