Man Puts up Electric Fence to Keep Kids off Lawn [VIDEO]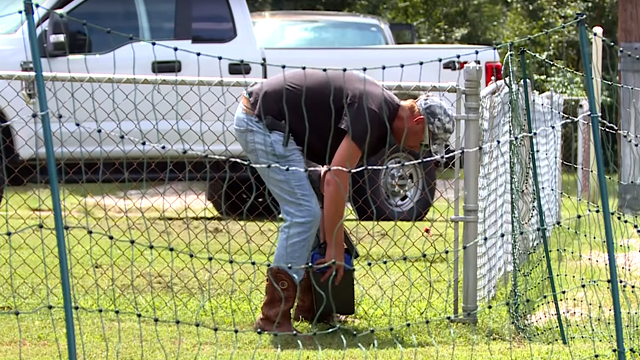 In one of the most memorable scenes from Gran Torino, Clint Eastwood's armed and grumpy character warns trespassers to "get off my lawn!"
Virginia man Bryan Tucker has a slightly more passive approach when it comes to protecting his property. He recently got so tired of neighborhood kids trespassing and littering, that he erected an electric fence. And it was even solar powered. While you may not agree with his methods – at least he's using a clean, renewable energy source when potentially electrocuting kids?
The irritated homeowner explained his reasons for the fence, which involved the local kids flouting his earlier attempts to keep them at bay. He previously put up "no trespassing" signs but says they had no effect.
"I'm not in charge of other people's children. I'm not directing people's children what to do. All I can do is protect myself and that's why I've got a fence up," Bryan Tucker told reporters.
"It says no trespassing for any purpose. Strictly forbidden. Violators will be prosecuted," Tucker explained.
Nearby parents obviously weren't pleased with the presence of the fence. It's right next to a bus stop where their children are forced to congregate while en route to school. The parents escalated the matter to the authorities and public works, who determined that the fence was encroaching on a public easement.
After attention on social media and pressure from authorities Tucker eventually took the fence down. Public works told him he could make a few adjustments and put it up again – but for now, he thinks his message has been heard loud and clear.