Mom Orders Moana Themed Cake, Receives Marijuana Themed Cake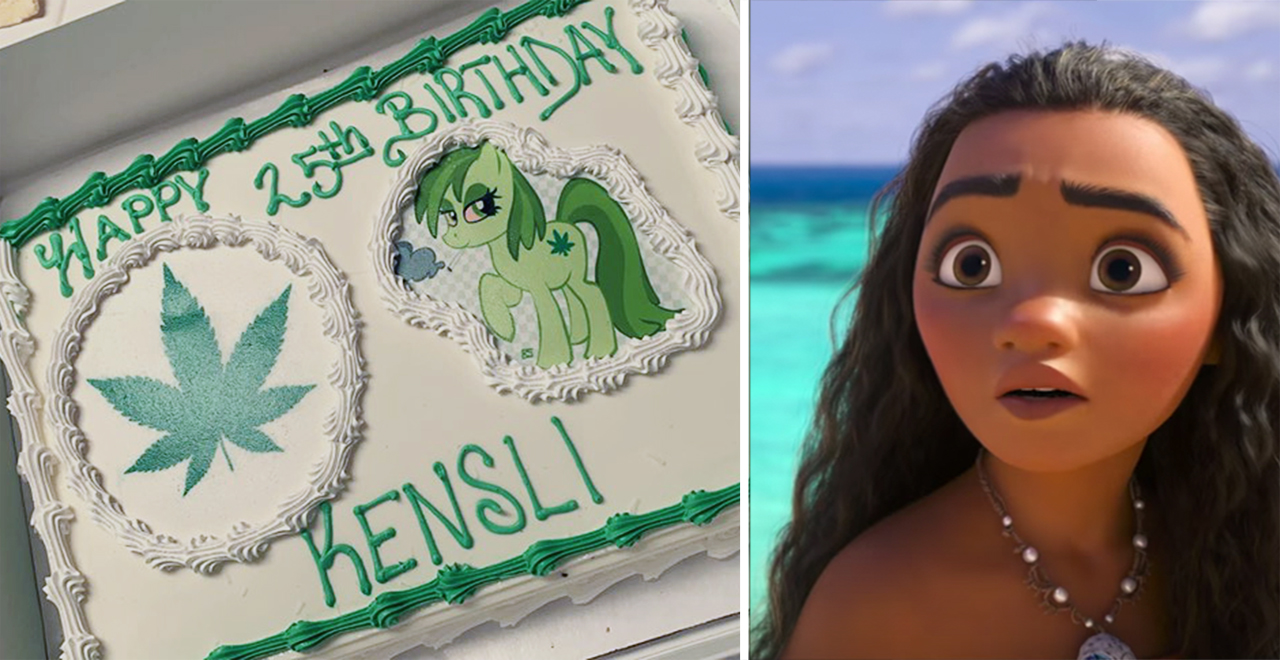 Kensli Davis's mom knew how much she liked Moana, which is why she requested a Moana-themed cake from the local Dairy Queen for her daughter's birthday.
But it wasn't a cake designed with the Disney character that Kensli received. Instead, it was a recipe for internet virality: a cake decorated with a marijuana leaf and a depiction of a My Little Pony character with a tattoo of — you guessed it — another pot leaf.
"My mother told them I like cartoons, so I guess that's why they threw the My Little Pony character in there," Kensli told local news affiliate WMAZ.
Kensli shared her birthday mishap to Facebook on July 2, posting a photo of the cannabis cake and explaining what happened.
"I haven't had a chance to tell y'all about our experience this weekend with my birthday cake. So my mama called and ordered me a cake telling them how much I loved Moana. (Because really I do) Well needless to say these people thought she said marijuana. … That ice cream cake was still good though!"
Since then, Kensli's post has gone viral, racking up 11,000 likes and 14,000 shares.
Kensli said that her mom was amused by the mixup, explaining that because of their south Georgia accents, the baker must've mistaken "Moana" for "marijuana."
"It had red eyes. It was smoking a joint with a tramp stamp of a pot leaf on it's bottom," said Kensli.
Kensli says that it was an honest mistake and she'll continue ordering from the same Dairy Queen, as she's been doing for the last 10 years, but will probably stick to non-themed cakes from now on.
"It won't be Moana or marijuana. I just won't get a design at all. I'll just get a regular ice cream cake if I have to," Davis said.
The baker offered to make her another cake, but Kensli was so tickled by the mishap (and still enjoyed her weed cake!) so declined. She said the cake was tasty.
Lesson learned? Next time you want to order a marijuana-themed cake but are too shy to ask, just use the code word "Moana" instead. All bakers know this secret code — they'll get the message and make your birthday lit.
Or you can just tell them to make your kid's birthday cake like something out of a horror movie.