Mark Hamill Cements His Place On The Light Side By Fulfilling Boy's Dying Wish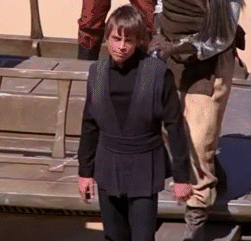 The Star Wars star is a real life hero
In advance of The Last Jedi, there is much speculation that Luke, the hero of the original trilogy, will go or has gone to the dark side. Given the hero's past, that seems unthinkable, but I guess we'll all find out.. in about a week! (NO SPOILERS, JERKS!)
Regardless of where Rian Johnson's unbearably anticipated sequel to 2015's The Force Awakens takes the last Jedi, one thing is for sure: in real life, there's no doubt that Mark Hamill belongs on the light side of the force.
Last week, screenwriter Ed Solomon (Men in Black, Bill and Ted's) took to Twitter to share a story of the time Mark Hamill saved the galaxy for a friend's terminally ill son.
The friend reached out to Ed, who was the only person he knew with Hollywood connections, to ask for help fulfilling his dying son's wish.
WHY I WILL LOVE @HamillHimself FOREVER (THREAD OF 4):

When a friend's son (who was, so tragically, dying from an incurable illness) made a wish: to meet Luke Skywalker, it fell on me — the only person the dad knew who worked in the film business — to make a call. 1/4

— Ed Solomon (@ed_solomon) December 4, 2017
Hollywood may be a small town, but it's not that small, and despite having had his share of success there, Ed did not know Mark Hamill from Yoda. But he reached out to Mark's agent and explained the particular rub of this request. You see, the sick boy didn't want to meet Mark Hamill, actor and superstar voice artist.
He wanted to meet Luke Skywalker.
[tweet 937717475814313985 hide_thread='true']
The agent, who surely fields many such requests for his client, promised to give the Star Wars actor a call. Hamill must have felt a disturbance in the force, because his response was swift.
[tweet 937717614306058243 hide_thread='true']
Hamill was in, and he didn't care that it meant being in character as Luke.
[tweet 937717951083532289 hide_thread='true']
With so many terrible stories of men behaving badly emanating out of tinsel town – and everywhere else – these days, stuff like this is more necessary than ever. Especially when it centers around a character who has been a hero to so many of us for so long.
It's clear I'm not the only one who feels that way. Ed's story has over 24,000 likes and has been retweeted more than 8,000 times. Whether Luke becomes a Sith in the next Star Wars movie or not hardly matters when the man who portrays him has already made it clear he's one of the good guys.
Finally, he chimed in with an explanation, though none was really needed.
There's no sweeter sound than a child laughing-I've been so lucky-feel it's my duty 2 give back in any way I can-Much prefer visits 2 hospitals than talk-shows
Heartbreaking but inspirational-makes my career seem trivial in comparison-Wish I could do more❤️ https://t.co/nXXutNfYsa

— @HamillHimself (@HamillHimself) December 5, 2017