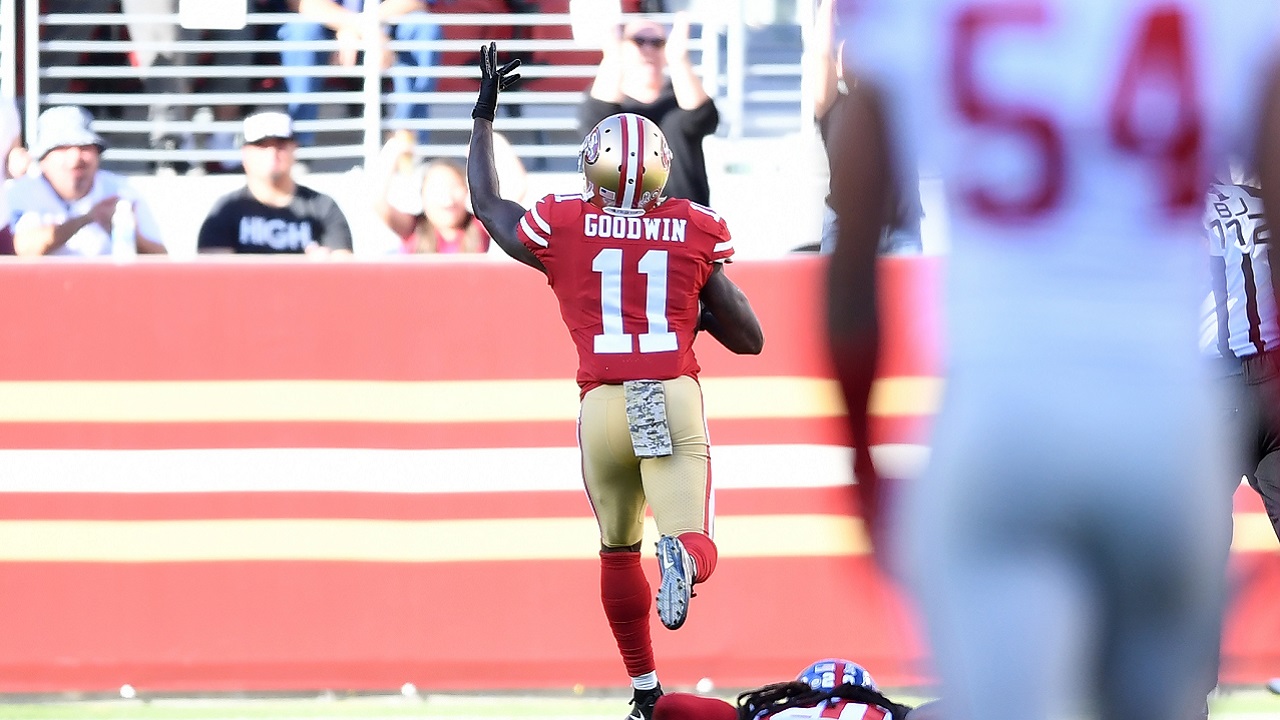 Credit: Getty/Thearon W. Henderson
The 49ers wide receiver played the game a few short hours after his baby's death
It's not easy to score touchdowns in the NFL, and that's true whether you're on the best team in the league or on a rebuilding team that hasn't even won a game yet. But scoring TDs is a cakewalk compared with surviving the death of a child.
On Sunday afternoon, San Francisco 49ers wide receiver Marquise Goodwin managed the former while trying to manage the latter.
C.J. going DEEP to @flashg88dwin for the TD! 83 yards to the 🏡 #NYGvsSF pic.twitter.com/snZKzSwVJB

— San Francisco 49ers (@49ers) November 12, 2017
The receiver scored a long 83-yard touchdown to help the 49ers get off the schneid against the Giants. Upon reaching the end zone, Goodwin got down on one knee, appeared to say a prayer, and when a teammate reached him, it was clear there was something going on behind the scenes that was impacting the player.
After the game, Goodwin shared a photo on Instagram that shined a heartbreaking light on the exactly what was going on.
https://www.instagram.com/p/BbawTQNjXQg/
In the caption to the post, the receiver wrote:
"Unfortunately we lost our baby boy due to some complications, and had to prematurely deliver him early this morning around 4am."
Losing a baby at any moment of a pregnancy is devastating, and having to deliver that baby has to be one of the most difficult things any parent can go through.
"Although we are hurt, I am grateful for the experience and grateful that God blessed me with a wife as courageous and resilient as Morgan. The pain (physically, mentally, & emotionally) that she has endured is unbelievable," Goodwin posted, praising his wife on Instagram.
For most of us, going into the office after such an experience would be unthinkable. But going out to perform in the National Football League, in front of thousands of people in the stands and watching at home, is nothing short of superhuman.
And then scoring a touchdown in that situation? Still reeling from the death of your child? Unimaginable. And it makes perfect sense why Goodwin would break down in the end zone, mere hours after the death of his child.
Voices from across the sports community – journalists, fellow athletes, even fans of rival team – expressed their condolences to Goodwin's family.
My heart goes out to you and grieves for you, @flashg88dwin and Morgan. I can't even begin to imagine your level of pain.

— JennaLaineESPN (@JennaLaineESPN) November 13, 2017
God bless you, your wife and your family, @flashg88dwin. My heart breaks for you and I will keep you in my prayers. 🙏🏻🙏🏻

— Michael Fabiano (@Michael_Fabiano) November 13, 2017
Praying for you and your family @flashg88dwin, we love you bro.

— Kyle Clemons (@kc_quik) November 13, 2017
I've lost a child and can't imagine having to perform on the NFL stage hours after a loss like this. Sending prayers and love to @flashg88dwin and family tonight. 🙏🏻 https://t.co/Yvfe1iSQAf

— ✨Cynthia Smoot (@ohsocynthia) November 13, 2017
Some things are more important than football. Even to rival fans. Some things are more important than football. Even to rival fans.
I know you don't know me, but I am a diehard giant fan. But after I heard of your loss all I can say is it's just a game and god bless you and your wife. I can't know your pain but I pray that you and your wife help each other through this.

— Raoul Colon (@RaoulColon1) November 13, 2017