Mascot Trucks a Group of Kids on Touchdown Run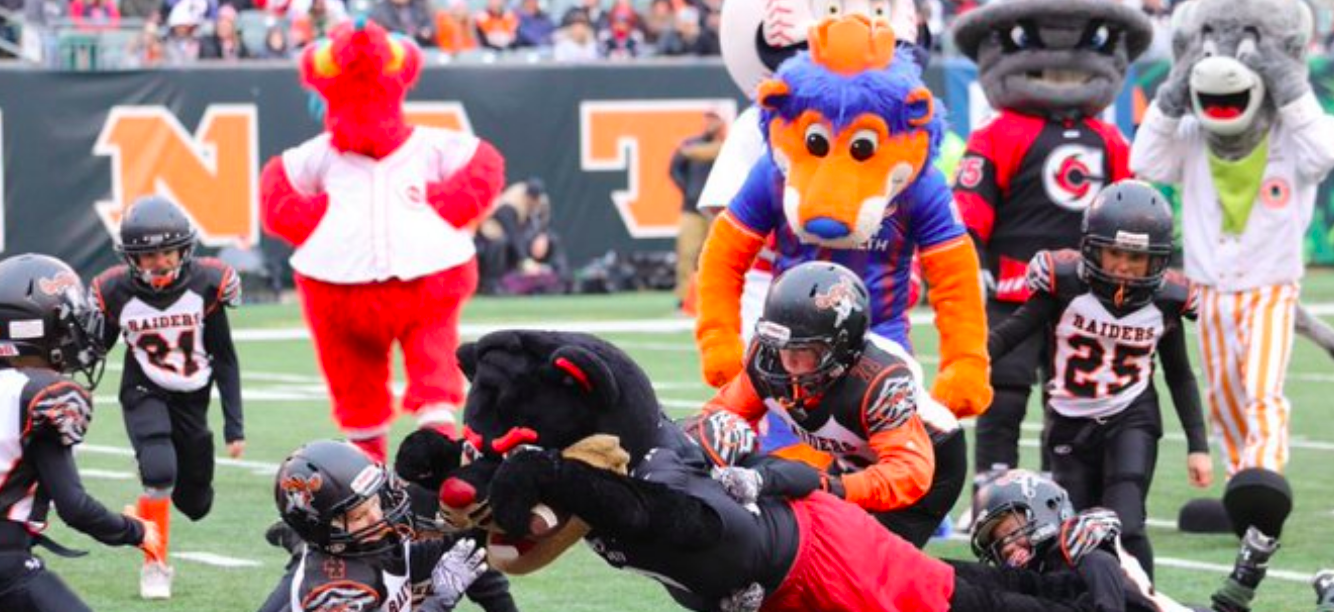 As football season is wrapping up, it's important to pay homage to one of the best plays of the season, which happened during halftime of a Cincinnati Bengals game (let's be honest, not many highlights are happening during actual Bengals play). This touchdown run came between a game pitting Cincinnati-based mascots against a group of kids. Why? Who cares? What is important is how the University of Cincinnati Bearcat didn't take it easy on those kids and trucked about four of them en route to this beautiful, diving touchdown.
The Bearcat doesn't mess around @TheCincyBearcat pic.twitter.com/4P9epn8nuL

— Barstool Cincinnati (@UCBarstool) December 15, 2019
The stiff-arm alone is a beautiful thing, but then he also plows through two other kids, before lunging and launching another into the endzone for the score. And the Bearcat showed his prowess on both sides of the ball, as he also tracked down one of the tots and prevented him from scoring with a huge tackle.
Halftime entertainment: Pop Warner kids vs. mascots. Great closing speed by the Bearcat. pic.twitter.com/H2BnYHwMbY

— Zack Cox (@ZackCoxNESN) December 15, 2019
Mascot mode comes to life. @OHLottery | #SeizeTheDEY pic.twitter.com/il9ujb1fSt

— Cincinnati Bengals (@Bengals) December 15, 2019
Sideline footage from the run of the SEASON pic.twitter.com/TqqEFljeMK

— Barstool Sports (@barstoolsports) December 15, 2019
The stiff-arm alone was so good, it drew comparisons to the University of Minnesota Gopher dropping a child a few years ago.
They did this once in Minnesota and the mascots didn't exactly take it easy on the kids. pic.twitter.com/gIcyJb1gxJ

— Chad Graff (@ChadGraff) December 15, 2019
Paul Dehner Jr. from The Athletic caught up with the 10-year-old who was on the receiving end of the stiff-arm and also talked to some of the parents of kids who played against the mascots.
The piece is great, and I recommend reading it all.
The kid did say he was happy it happened, and the team and their parents loved that the video went viral and they were tracking views before the actual game was over.
Their coach said every single one of the kids loved it and had a blast. And the Bengals, for their part, should probably offer that mascot a contract for next year.