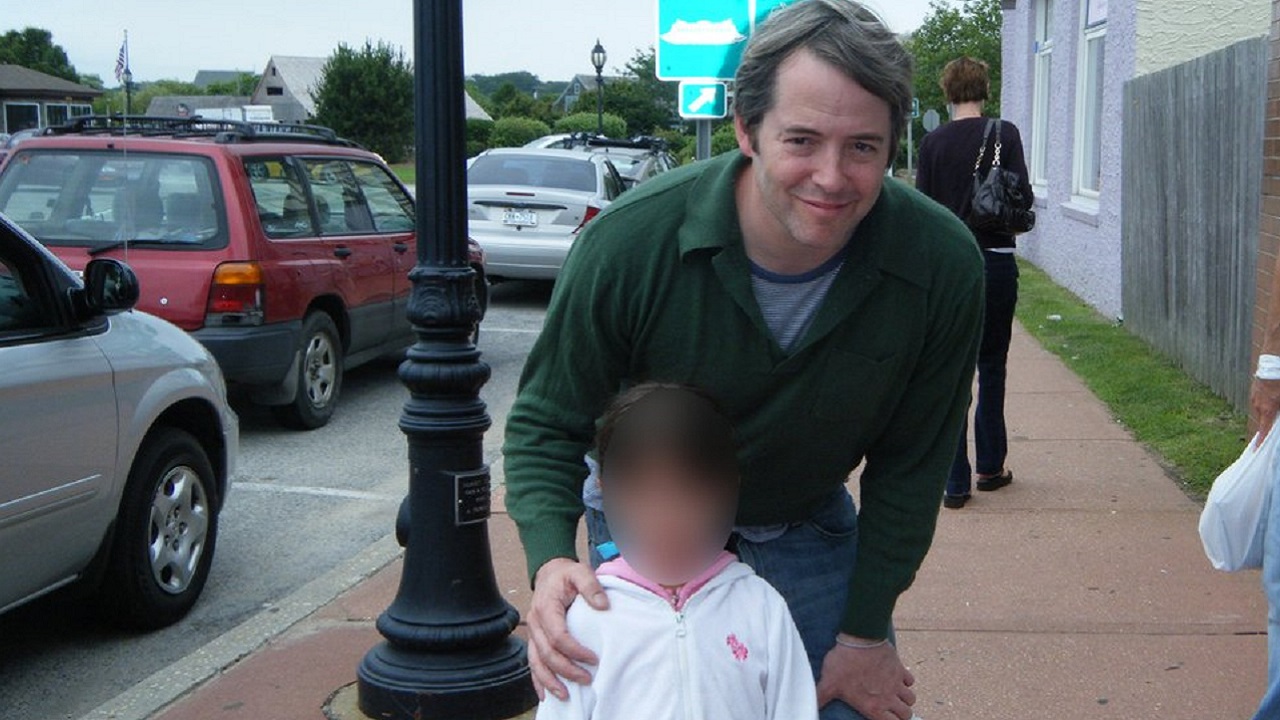 Credit: Twitter/Honored Spirit
This must be the Bizarro episode
It's not every day you run into a Hollywood star, but that's exactly what happened to one lucky gentleman who stumbled across childhood hero Matthew Broderick while on vacation with his family.
Unfortunately, it seems the man with the camera stopped following pop culture in the 80s, because not only did he not recognize Broderick's even more famous companion, he outright shoved that guy to the corner of the photo!
Needless to say, the internet is having a field day.
The story was told over a series of tweets by the amateur paparazzi's friend, known on Twitter as @HonoredSpirit.
The tweeter christened the tale "The Matthew Broderick Story," and explained that it went down during his friend's family's trip to Montauk, Long Island, aka the End of the World.
https://twitter.com/jetpack/status/957998394605293569
The second tweet conveys the nerves @HonoredSpirit's friend was feeling as he asked the "Ferris Bueller" star to participate in what was sure to be "the photo of a lifetime."
https://twitter.com/jetpack/status/957998480705941504
The friend sets the scene, making sure no one, not even Matthew Broderick's companion, sullies the photo with his presence by repeatedly asking him to move out of the shot until finally giving up, reassuring himself he can make due and remove the interloper later.
https://twitter.com/jetpack/status/957998583709683712
Then @HonoredSpirit drops the hammer in his final tweet, in which he reveals the photo, and everyone gasps as they recognize the man in the back right.
https://twitter.com/jetpack/status/957998926799437824
Yes, that's a ball-capped JERRY SEINFELD, having been forced to the margins of the photo. Twitter is now joining the rest of the photographer's family in mocking the man who took the photo.
Once they recovered, of course.
Oh my God https://t.co/kOdLmVrZ5a

— Travis (@TravisDuCote) January 29, 2018
https://twitter.com/jetpack/status/958000793797394432
Someone chimed in with a highly-relevant picture from that random stranger's classic TV show:
January 29, 2018
Thankfully for the photographer, several people homed in on Jerry himself:
*looking closely at jeans* It checks out. It's him.

— Freddie Campion-Awwad (@FreddieCampion) January 29, 2018
Look it's not every day you get the opportunity to viciously own Jerry Seinfeld

— CHOAM gang (@james_francoist) January 29, 2018
This gentleman sums up how many children of the 80s feel:
The moral of this story is now matter how big #JerrySeinfeld is he'll never be bigger than #FerrisBueller.

— Eric D. Wilkinson (@indeeproducer) January 29, 2018