MLB Dad Plays It Cool When Son on Opposing Team Hits a Home Run + More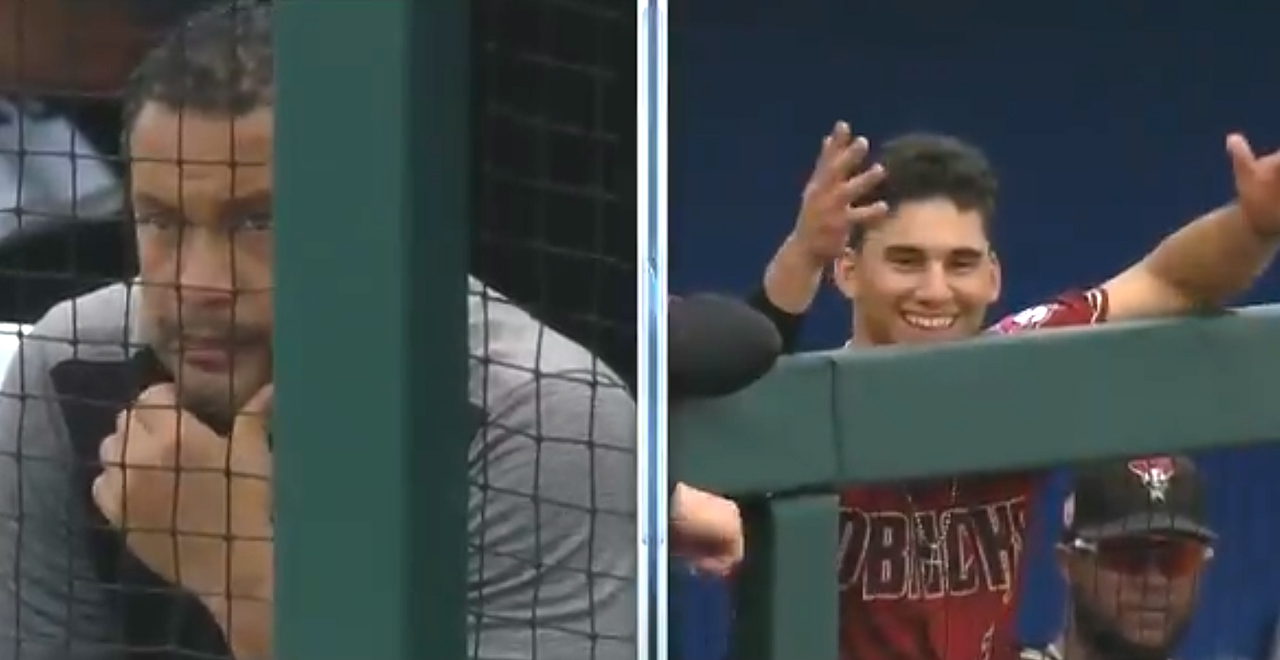 Alek Thomas was in high school a year ago and Wednesday, the Arizona Diamondbacks prospect homered in a spring game against the Chicago White Sox. What makes a mildly cool story even better was that his dad was in the opposing dugout when it happened.
His dad, Allen Thomas, has been the White Sox director of strength and conditioning for nearly two decades. Alex practically grew up at the ballpark, so I can't imagine what this moment was like for them. I do know, however, that Allen held his poker face far longer than anyone could've expected.
Love ya pops!✊???? https://t.co/yrZaJoI7rk

— Alek Thomas (@athomas22) March 20, 2019
I think the highest I've jumped in the last two years was when my daughter kicked the game-winning goal in a soccer game between five-year-olds where I was the only one keeping score. There is zero chance I could've been that cool in a moment like this.
If that was my kid, the second he crossed home plate I would've jumped out of the opposing dugout and run crazily around the infield like one of those impossible-to-catch soccer hecklers. Then I would've signaled to the PA announcer to play my pre-scheduled music cue, at which point I would dramatically tear off my White Sox jersey, revealing my son's Arizona jersey beneath, like a pro wrestler making a full heel turn.
Spring training might just be take your kid to work month for Major Leauge Baseball, as the Cincinnati Reds first base coach Delino DeShields got to exchange lineup cards with Texas Rangers center fielder….Delino DeShields. In case you were wondering when Texas plays Cincinnati during the regular season, come on, you already know it's Father's Day weekend.
A bit of a different lineup exchange today.. pic.twitter.com/svPPuQV7Hc

— Texas Rangers (@Rangers) March 20, 2019
The other sports video that took the internet by storm this past week was a youth basketball game. If you're curious why so many people have been spreading it around, I'm pretty sure it's because it is a classic example of how bad sports officiating has become. It's pretty clear that #50 travels like four times RIGHT IN FRONT OF THE REF! How does he not even see that???? The fix was in, I'm tellin ya.
March Madness is just heating up but we already have one-star performance, after Ja Morant put on a clinic when No. 12 Murray State blew out No. 5 Marquette. Zion Williamson has made his mark as one of the most impressive prospects in more than a decade, but Morant may have done enough to get himself to second. If you ask his dad, he thinks he should go even higher than one, which is exactly how I would act after my kid put up a performance like that. Honestly, it's not even fair to put a microphone in front of a parent's face after that, of course, they are going to say something nutty.
I asked Ja Morant's dad where he should go in the NBA Draft after this performance:

"Is there anything before one?" pic.twitter.com/4IB0qELWcB

— Master (@MasterTes) March 21, 2019
In sports dad revenge news, Richard Pitino coached No. 10 Minnesota in a big win over No. 7 Louisville, the school that fired his dad, Rick. At least, that's the narrative that was being pushed by a small part of basketball media. Rick did, after all, get Louisville entangled in one of the biggest bribery scandals to hit college sports in years. So, I don't know that I'm quite on board for the revenge story when his dad was a disgraced coach who led his program to more FBI investigations than championships (granted, how you view his legacy depends on how much you value things like vacated final fours and sex scandals).
No matter how you spin it, it doesn't pack quite the emotional punch of a major leaguer still trying to get his dad's attention after hitting a home run.