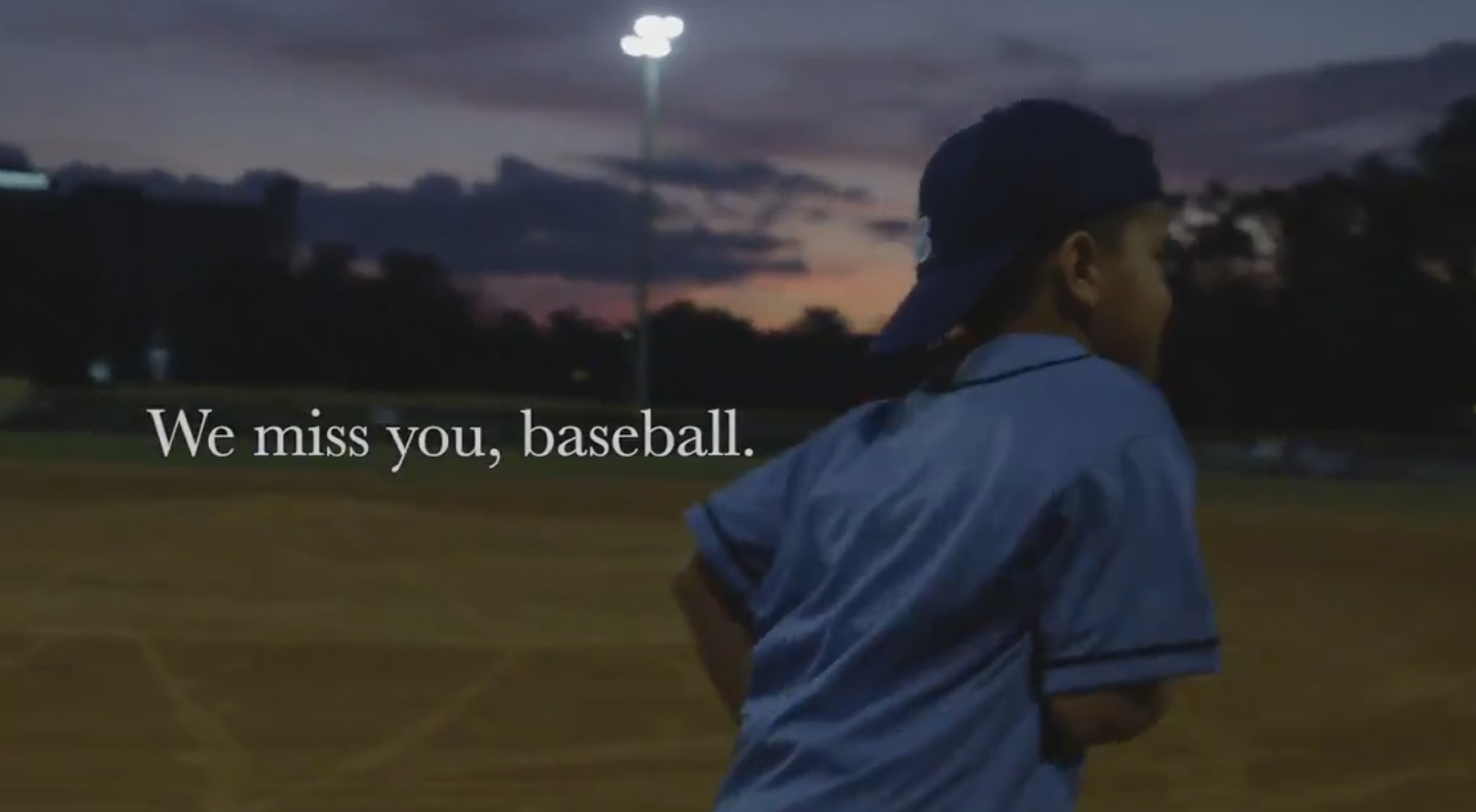 Credit: Twitter/RaysBaseball
Usually, this is a triumphant time for baseball.
Winter is over, teams are hopeful, and fans are ready for a new season. Opening day is a special day in America, even if baseball doesn't occupy the same place in our culture as it once used to when it truly was the country's national pastime.
Unfortunately, thanks to the global pandemic we are all dealing with right now, opening day has been postponed, along with the rest of the season. But major league teams still did their best to recognize opening day online.
First, Rob Manfred, the MLB commissioner, put out a statement urging fans to stay home to help contain the coronavirus, sharing ways they can watch classic games for free online, and professing hope that the sport will return soon.
A letter from the Commissioner to baseball fans on #OpeningDayAtHome. pic.twitter.com/3CEJwDFSIO

— MLB (@MLB) March 26, 2020
Teams across the league put out video messages on social media, sharing messages of solidarity with fans.
We're in this together.#OpeningDayAtHome | #Birdland pic.twitter.com/i5YQxBnqtA

— Baltimore Orioles (@Orioles) March 26, 2020
The game has changed, but our strength and community never will.
Our passion will help us through this.
We will cheer as one again.

No matter how far apart we are now, we will come together to #ChangetheGame. pic.twitter.com/hpWW45d173

— Chicago White Sox (@whitesox) March 26, 2020
On what would have been Opening Day, we just want to say…

We miss you, baseball. pic.twitter.com/WyOrGHr6Ht

— Tampa Bay Rays (@RaysBaseball) March 26, 2020
The Rockies made an exception to the "no crying in baseball" rule.
Today was supposed to be the day. Our day. Opening Day.

There's no crying in baseball, but since everything is on hold, let it all out and have a good cry 😭 pic.twitter.com/HGcWFeKTW6

— Colorado Rockies (@Rockies) March 26, 2020
The Red Sox put out a statement recognizing fans for their efforts to protect themselves and others from COVID-19:
Today was supposed to be Opening Day. pic.twitter.com/x8IW7BsyYm

— Red Sox (@RedSox) March 26, 2020
And the Mets put a call out to fans to share images of themselves celebrating this unique opening day with their gear:
We know it's not the same, but today is #OpeningDayAtHome! We want to see your #Mets gear and how you are celebrating. #LGM 🔶🔷 pic.twitter.com/h6kEaphADb

— New York Mets (@Mets) March 26, 2020
We may not have baseball this April, but we'll have it again, and the MLB is doing its best to keep fans happy and hopeful as we wait to return to our favorite ballparks.