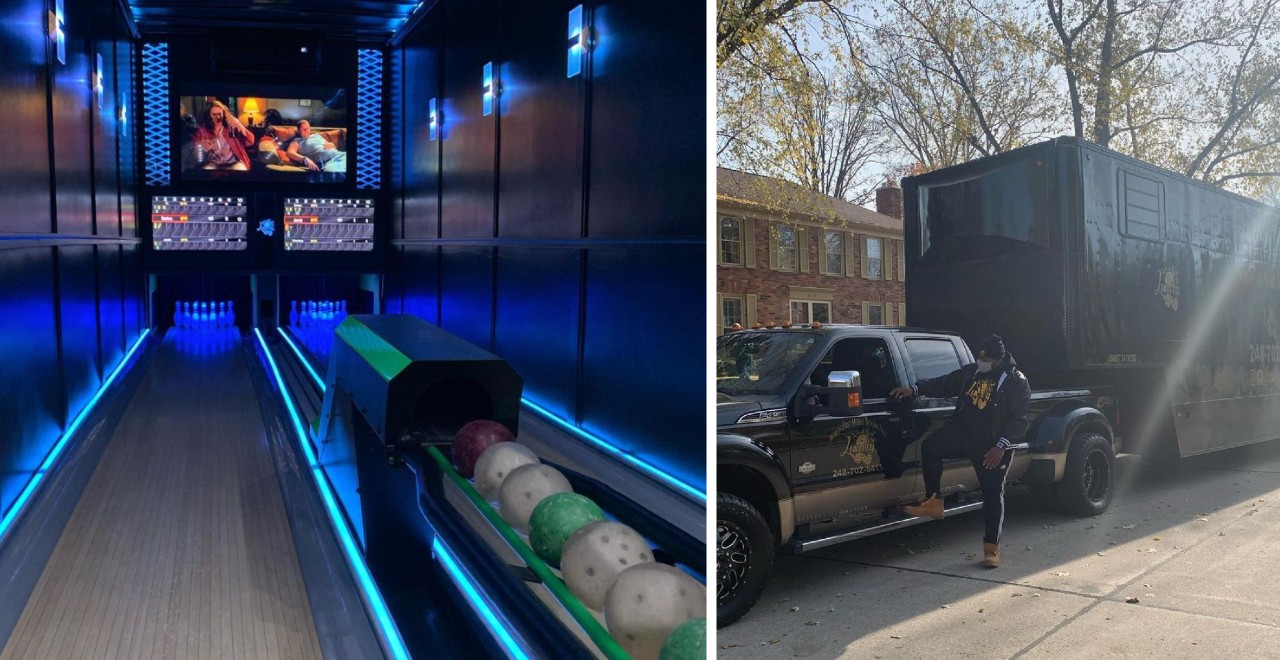 Credit: Instagram/LuxuryStrikeBowling
COVID-19 changed us a lot, so much that you're probably tired of seeing that phrase typed out. Some industries, especially the indoors-based ones that involve people, have been completely ravaged. Some businesses were able to get creative to encourage social distancing. Nothing is a bigger sign of our pandemic times, perhaps, than the fact that we have mobile luxury bowling alleys now.
View this post on Instagram
View this post on Instagram

2020 changed recreation. Whether it's taking your kids hiking more, embracing activities like camping and bonfires, or finding creative ways to dine (whether spaced out or outdoors, even in a bubble), or even socializing over Zoom, our leisure time has never looked more different.
Enter Terrence Jackson Jr. and his luxury mobile bowling alley, the first of its kind in the world. Luxury Strike Bowling is a two-lane bowling alley in a trailer, towed right to your doorstep (or parking lot of your choice) for a fun hang when everything else is shut down.
Jackson used to build party buses, and you think "mobile bowling alley" and, well, this is not what you were picturing. It's actually really nice inside, with a nightclub feel. It has two 25-foot lanes, an automatic ball return, pin resetters, and an 80-inch movie screen with a digital scorekeeper.
He's based in Michigan (but can go anywhere), where bars, restaurants, and places like bowling alleys are shut down. And even then, when you might be afraid to mingle with other patrons, this experience gives you the VIP feel and brings it right to you, exclusively.
So what's different? The balls, for one. They are small, 3-4 pound grapefruit-sized balls, with no holes. A small accommodation to make to your game, so you don't even have to bring your own ball with you.
"It's a state-of-the-art facility," he told NPR. "When you come inside, you just forget that you are actually in a trailer at all."
Looking at the pictures, it's easy to believe. And it's a cool idea, even if it's a bleak reminder of where we're at in 2020. At least it's a reminder that life will find a way.