Mask-Less Mom Uses a Buzz Lightyear Helmet in Grocery Store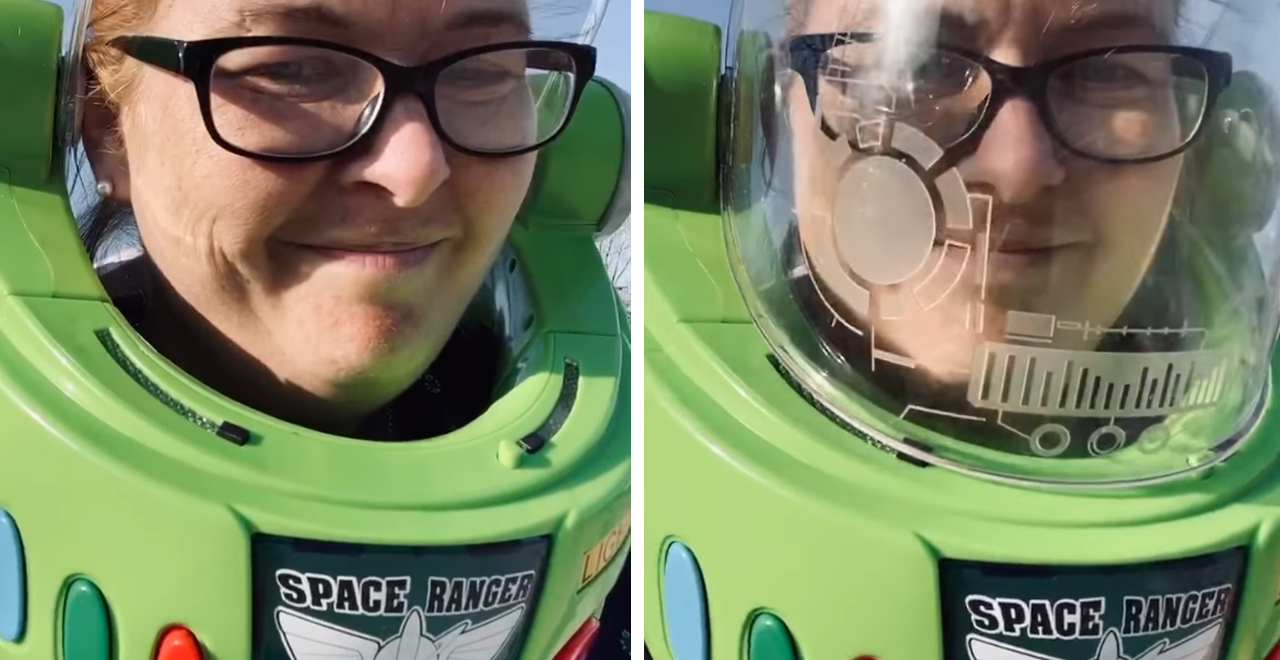 We have reached mask time in the coronavirus pandemic. Now that the CDC recommends cloth masks for anyone going out in public, in an attempt to reduce the spread of COVID-19, you're going to see people get creative with their facial coverings. They may use a favorite bandana or buy a mask sporting their favorite sports team. People will express their individuality with different colors and designs on their masks, making a statement for fashion as much as public health.
One North Carolina mom posted about her trip to the grocery store, where she was forced to resort to one of the only facial coverings she could find at home; her kid's Buzz Lightyear helmet (it was either that or a Chewbacca mask, and she told the Huffington Post Buzz was more practical).
She described needing to go to the grocery to buy chicken nuggets for her child (who has sensory issues and will eat nothing else). A parent's quest for chicken nuggets for their kid, this is a journey we have all been on in some form, only this time it was heightened dramatically by the virus and the CDC recommendation.
In a video Kelly Painter posted to Facebook, she is sporting the Buzz Lightyear helmet and recounting the conversation with her husband that led to the decision. She finishes the video by saying "going in" and closing the face shield dramatically.
What started out of desperation has morphed into more of a habit (more practical than no mask) as she's worn it to run other errands.
The helmet has made trips to McDonald's, Walmart, the gas station and more, as she has taken to posting videos of her trips on social media. Painter told INSIDER she's happy to put a few smiles on people's faces as she runs her necessary errands (insert some version of a "To Coronavirus and Beyond" joke, we can't do everything for you here).
She said people will frequently stop her for a photo or discreetly take a video of her. Whether they are laughing with her or at her, she said she doesn't care as long as they are smiling during these tough times.
"It's really crazy that people are laughing so hard about it," she said. "I think it's neat that everybody is trying to share the smiles."
Here at The Dad, we hope you, your families, and communities stay safe and healthy during the COVID-19 pandemic. For the latest information, please utilize online resources from local public health departments, the Centers for Disease Control, and the World Health Organization to remain as informed as possible.