Twitter Users Share Movies That Traumatized Them as Kids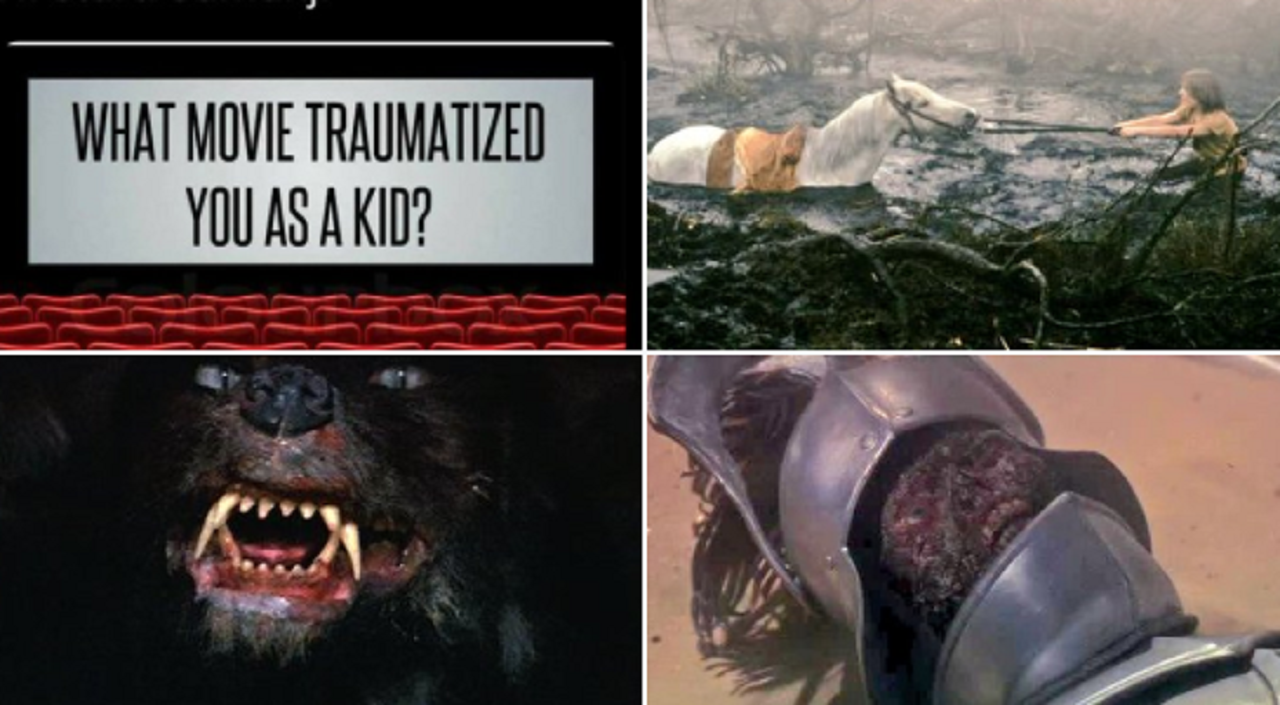 When I was a little kid, my parents took me to see Indiana Jones and the Temple of Doom. I remember my father putting his hand over my eyes during the KALIMA scenes in which Mola Ram forcibly extracted someone's beating heart from their chest. I don't recall my dad covering my eyes two years later when they took me to see something else come out of someone's chest in Aliens.
I survived those two movies, and I credit my parents for taking me to them at such a young age. They were pretty liberal with the entertainment they allowed, and I don't think it had any negative repercussions (my therapist may disagree). But that's not to say I didn't see some movies that put the fear of god in me. Or, in my case, the fear of trees.
That scene in Poltergeist, when the tree outside Robbie's window comes to life and tries to swallow him whole, gave my nightmares for years. Not least of which because I had a similarly large and gnarly tree right outside my bedroom window.
You never know what's gonna scare a little kid. For me, it wasn't chest-bursting aliens, it was window-bursting trees. For people on Twitter who shared the movies that scarred them the most as kids, it was even weirder stuff.
Twitter user @loudandfearless kicked things off, asking the question and then answering it with her own unlikely movie: Robin Williams' Jumanji.
Oh this is a good one.

I'll start: Jumanji pic.twitter.com/q9aVSi1Grq

— Ashley Bower (@loudandfearless) February 18, 2020
Then Twitter got a hold of it and things were off and running. I can totally vouch for this one, I saw it as an adult and the transformation freaked me out:
Pinochio. The scene where Lampwick turns into a donkey freaked me out. pic.twitter.com/5EKO0JLP0r

— Vivian ʕ•ᴥ•ʔ (@vivkinder) February 18, 2020
Credit to @OGintheOP for reminding me of this traumatic character:
The CHILD CATCHER from Chitty-Chitty Bang Bang. CHILD. CATCHER. Literally. pic.twitter.com/0rABv6DyrK

— Mulled Whine ~ The @GOP is fascist garbage. (@OGintheOP) February 19, 2020
A bunch of people mentioned this classic:
Wizard of Oz. When those feet curled up underneath Dorothy's house… 😳 pic.twitter.com/lqHLDQmxe7

— Lisa Bee (@leebee4life) February 19, 2020
Some movies didn't have to be supernatural to be psychologically damaging:
— Gamma Bomb Survivor (@Banner7997) February 19, 2020
This one will melt your face off:
I loved Indiana Jones movies (and went with my dad to see them) but during early viewings, had to keep to my eyes shut for this especially…just like you were supposed to…

*also, monkey brains…🧠 (don't forget bugs, snakes, human sacrifice, etc) pic.twitter.com/Gmv0tErC6b

— Katherine ⭐️ kamoorephoto/Kat's Books (@romans_mama) February 19, 2020
People continued to chime in, offering up more traditional horror movies like my aforementioned Poltergeist, The Exorcist, Texas Chainsaw Massacre, Jaws, The Birds, and The Shining.
My favorite response might have been this example tho:
The correct answer for anyone born between 1980 and 1995 is "The Neverending Story." pic.twitter.com/Zf0dQfV5YN

— 𝚒'𝚖 𝚊 𝚑𝚒𝚐𝚑𝚠𝚊𝚢 𝚝𝚜𝚊𝚛 (@BecketAdams) February 19, 2020
What movies scarred you as a kid?