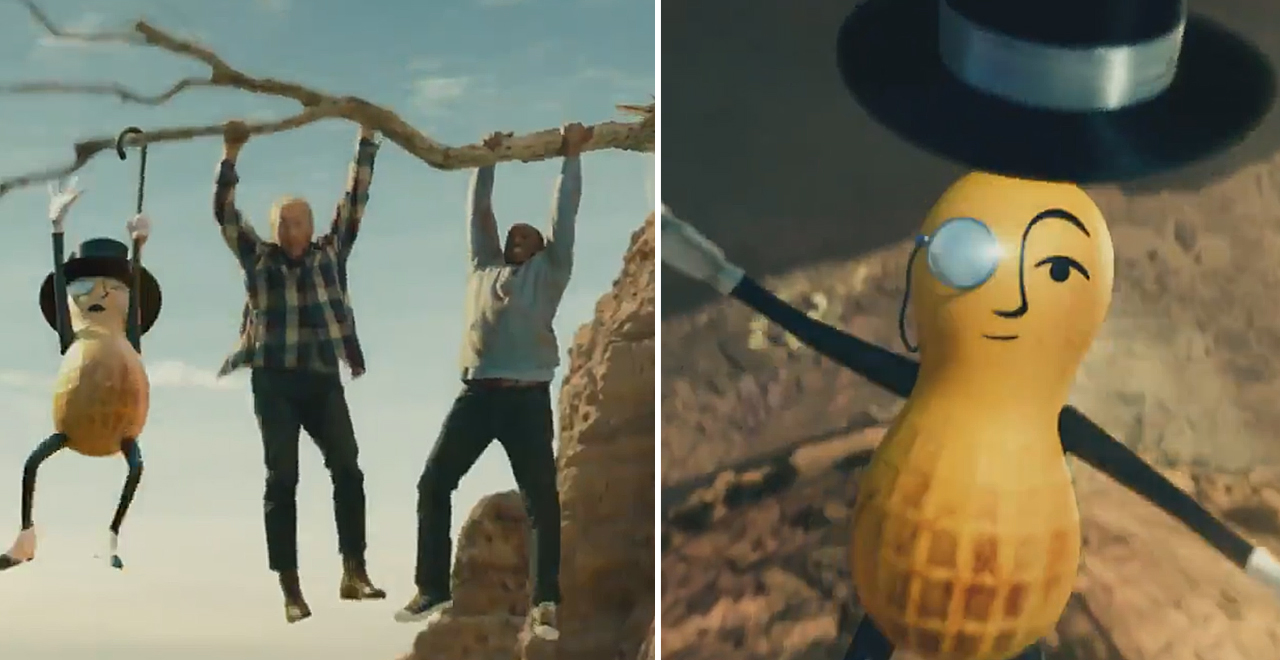 Credit: YouTube/The Estate of Mr. Peanut
Planters announced tragic news this week when they revealed Mr. Peanut has passed away. It's the end of everyone's favorite peanut-based mascot, at least when considering those who wear a top hat and monocle.
The company revealed Mr. Peanut died in an attempt to save his friends Wesley Snipes and Matt Walsh in the aftermath of a terrible car accident. This is all part of an upcoming Super Bowl commercial, so just go along with it, OK?
"It's with heavy hearts that we confirm Mr. Peanut has passed away at 104 years old," a Planters brand manager at Kraft Heinz said in a statement. "He will be remembered as the legume who always brought people together for nutty adventures and a good time."
We can all choose how we want to remember him. For those with terrifying peanut allergies, they probably remember him as a harbinger of danger, a sign of their mortality and the fleeting nature of life. They are probably celebrating this day with an abundance of joy. Others may be confused, and I'm sure someone somewhere will be sad about the loss of this icon (?).
It is with heavy hearts that we confirm that Mr. Peanut has died at 104. In the ultimate selfless act, he sacrificed himself to save his friends when they needed him most. Please pay your respects with #RIPeanut pic.twitter.com/VFnEFod4Zp

— The Estate of Mr. Peanut (@MrPeanut) January 22, 2020
If you need time to mourn, Planters has a third-quarter Super Bowl commercial featuring his funeral. The company says this will all make more sense after we have a chance to process it.
The internet is not a place that waits to withhold judgment.
Mr. Peanut was visually impaired (hence the monocle) and still driving around at 104? Just trying to make sense of this tragedy. #ripmrpeanut pic.twitter.com/vx6r4Dn0zF

— Her. (@HouseJones_) January 22, 2020
Open or closed shell funeral?

— dave, airbag man (@airbagged) January 22, 2020
Planters CEO: So what's your marketing plan?

Marketing guy: I think we should kill Mr. Peanut haha jk

CEO: Let's do it.

Marketing guy: What?

CEO: Kill him.

— Thor Benson (@thor_benson) January 22, 2020
I'm so sad Mr. Peanut died. I heard he was killed. He should have had a better ending than being assaulted nut.

— Charlotte Clymer🏳️‍🌈 (@cmclymer) January 22, 2020
Mr. Peanut is in Hell. He spent decades as the smiling face of a company that sold the boiled and roasted corpses of his people as a snack

— Patrick Monahan (@pattymo) January 22, 2020
i was just hanging out with Mr. Peanut.

The last thing he said to me was "they are going to kill me Jim. All for some dumb ad campaign. Don't let them do this to me"

and i just… laughed in his face. we were so drunk at the time.

Jesus Christ. https://t.co/B1r5aapDVz

— jim, (@urvillageidiot) January 22, 2020
Mr. Peanut was a vampire capitalist who sent tens of millions of his own people to slaughter. The world is a better place without him in it. May he roast, deliciously, in peanut hell.

— luke . (@lukeoneil47) January 22, 2020

No everyone was quick to crack jokes – a few other brands paid their respects.
Help us give a 21 dunk salute to our nutty and sweet friend #RIPeanut

— OREO Cookie (@Oreo) January 22, 2020
Always classy, always crunchy, always cleaned up nicely. We'll miss him! #RIPeanut pic.twitter.com/wtNQrFerBF

— Mr. Clean (@RealMrClean) January 22, 2020
I guess we should stay tuned, but one thing I think we can all agree on: Mr. Peanut should've been the one to sacrifice himself if anyone had to go. This entire car accident was his fault. Wesley Snipes and Matt Walsh were enjoying a fun trip when the driver just freaked out and plunged them over the cliff.
Was Mr. Peanut under the influence? Let's hope a full investigation is conducted and justice is served for all affected.