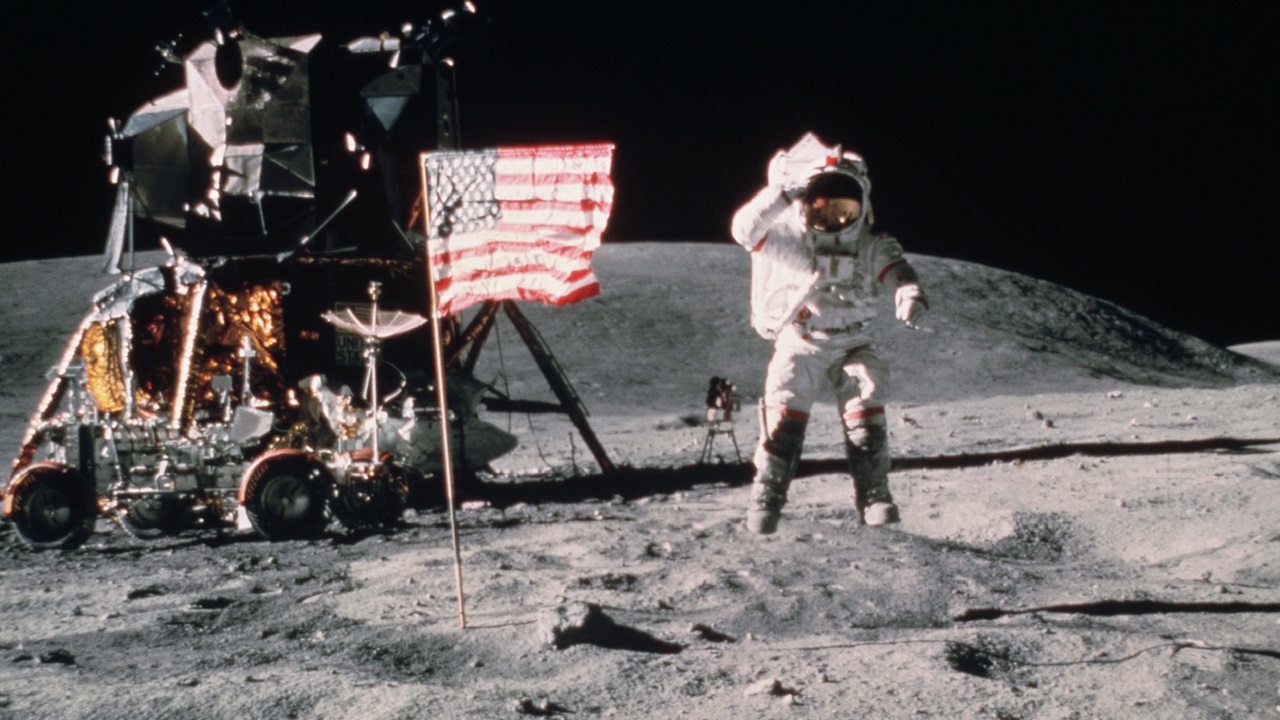 Credit: Getty Images/Bettman
One small meal for man, one giant leap for meat.
Astronauts are undeniably heroic. They do things must of us can only dream of, and to get to that point, they must excel at things most of us can barely even comprehend. Recently, one of those heroes, the first man to enter space six times, passed away.
He was 87, and he'll be remembered for a great many things. Not the least of which was smuggling a sandwich into outer space.
CNN posted an obituary of former astronaut John Young, who passed away last Friday due to complications from pneumonia. His list of accomplishments is long and distinguished, but there is one detail buried in his long resume that stands out, and marks him as a true legend.
Sure, he commanded the first space shuttle flight, and was the only astronaut to enter space in each of the Gemini, Apollo and space shuttle programs. But he was also the only one to secretly take a sandwich to the stars!
Young once told the Orlando Sentinel, "I was just lucky enough to be in the right place at the right time, and to get the opportunity to do it. It's not extraordinary at all — anybody could have done it, I'm sure. You've just got to hang in there."
He (probably) wasn't talking about the time he smuggled a corned beef (!) sandwich inside his spacesuit during his first Gemini mission, with Gus Grissom (who has the honor of being the first astronaut whose biography I read in elementary school, right before I inexplicably read Francis Scott Key's biography three times). But he probably should have been! Such a baller move deserves celebration and only elevates his status as a legendary spaceman.
Space.com provided a little background on the sandwich incident, including some choice quotes from Young's conversation with fellow astronaut Gus Grissom about it:
"Where did that come from?" Grissom asked. Answered Young: "I brought it with me. Let's see how it tastes. Smells, doesn't it?"
Grissom tasted the sandwich but quickly announced he would stick it back in his pocket because it was starting to break up. Young suggested the sandwich was "a thought … not a very good one." Replied Grissom: "Pretty good, though, if it would just hold together."
It doesn't sound like it went all that well, but that's not the point! The point is that Young was a pioneer in many fields, not least of which was the field of secretly transporting deli sandwiches to the stars probably as a science experiment but hopefully because he was hungry and no one tells him what to do!
In NASA Administrator Robert Lightfoot's statement following Young's death, he said, "NASA and the world have lost a pioneer. Astronaut John Young's storied career spanned three generations of spaceflight; we will stand on his shoulders as we look toward the next human frontier." Once again, the deli-based exploits are shamefully omitted.
But we at The Dad will do no such thing.
Neil Armstrong may have been the first man on the moon, but John Young is THE MAN for transporting a fucking meat sandwich into Earth's orbit, with the express purpose of eating it! Sorry, but there's no chance in hell Neil Armstrong would ever sneak corned beef to the moon! (What about Buzz Aldrin, you say? MAYBE.)
Godspeed, John Young. The world has lost a pioneer, indeed.