NFL Lineman's Touchdown Celebration Is "Stone Cold"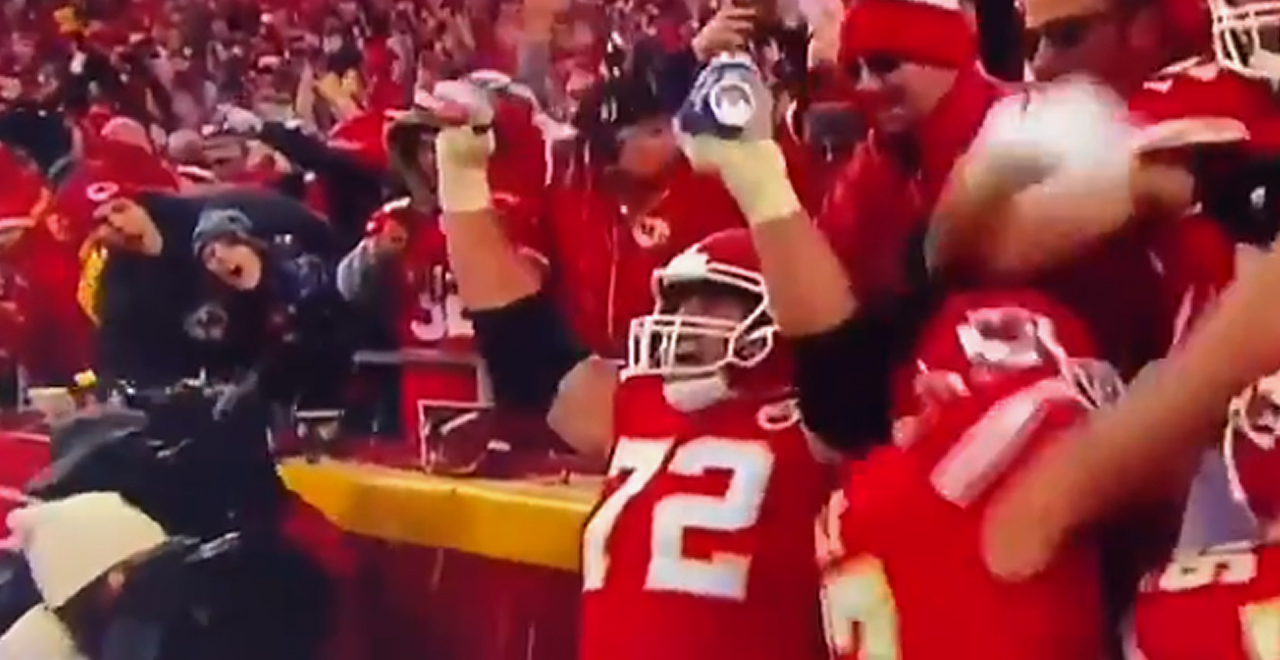 The Kansas City Chiefs looked like they were going to be next in the line of NFL favorites choking in the playoffs when they quickly fell behind 24-0 to the Houston Texans. It was a shocking start that left the home crowd stunned and dismayed. And then Patrick Mahomes remembered he was Patrick Mahomes, Travis Kelce unleashed a torrent of TD catches that his fantasy owners were looking for all season, and the Chiefs were well on their way to the AFC Championship game.
And you could see the joy and relief in the attitude of the Chiefs late in the game. Perhaps no better example was the celebration after Kansas City scored its final touchdown of the game. After Blake Bell caught an 8-yard-touchdown to put KC up 48-31, the team went crazy. And offensive lineman Eric Fisher had the greatest TD celebration of the season, as he grabbed two beers from a fan in the stands and pounded them together, a la WWE icon Stone Cold Steve Austin.
Nothing like giving yourself an in-game victory shower pic.twitter.com/qn35hCPDT8

— NFLonCBS (@NFLonCBS) January 12, 2020
Then Steve Austin tweeted the video with an enhanced soundtrack:
— Steve Austin (@steveaustinBSR) January 12, 2020
Eric Fischer pulling a Stone Cold Steve Austin during that TD celebration is amazing pic.twitter.com/N2KzPAPDRI

— Trey Vinzant (@Tvinny03) January 12, 2020
For his part, Fischer thanked the fan in a video he released on social media and asked for some help in tracking the guy down so he could repay him for the beers.
And then the internet tracked him down.
HOW BOUT THOSE CHIIIEEEEFFFSSSSSS!!!@steveaustinbsr @budweiser @budweiserusa @chiefs #chiefskingdom #kansascity #kc #nfl #chiefs #playoffs #thisbudsforyou #budlight #budweiser #touchdown pic.twitter.com/XrjBrN2x8C

— Eric Fisher (@Big_Fish79) January 13, 2020
"I was like there is no way this is coming right at us," the fan told a Kansas City news station about the celebration. "So, when it came in, he jumped in, and Eric Fisher came over and he grabbed the beers. He did the Stone Cold Steve Austin deal… I mean that was probably my highlight of all Chiefs games that I've been to."
And Budweiser also identified the fan and is making sure he gets more than a few Buds sent his way.
We found him. 🎯 Got a whole buncha Buds and some other surprises coming your way.

— Budweiser (@budweiserusa) January 13, 2020
Fisher gets a solid 10 for the celebration, which is probably going to go down as one of the best of the NFL Playoffs.