NFL QB Blames Kids' Birthday Cake for His Dad Bod + More Sports News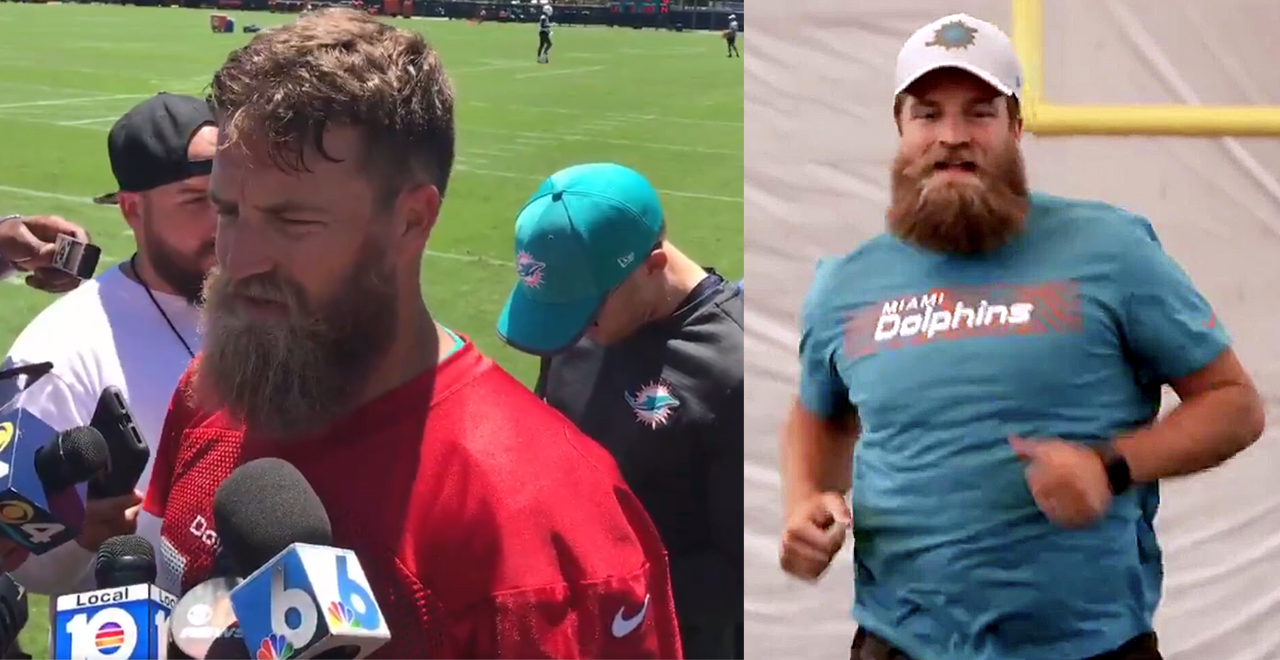 Miami Dolphins quarterback Ryan Fitzpatrick showed up to the first off-season practice a little "huskier" than he was last season. And Fitzpatrick had a very understandable and explanation: birthday cake.
Dolphins quarterback Ryan Fitzpatrick address the offseason weight he's put on and blames it on Birthday cake. Seriously! pic.twitter.com/ALp5D5y8VC

— Omar Kelly (@OmarKelly) April 16, 2019
As Fitzpatrick explained, three of his seven (!) kids have birthdays in March and between individual parties and friends parties, he was eating a ton of birthday cake. Granted, it looks like he ate all of the birthday cake, but I do have tremendous respect for blaming the weight gain on the kids. You earn that extra cake for all those nights you spend rocking a three-month-old back to sleep for hours (please do not mention this in front of moms, who will use it as an opportunity to launch into the "difficulty of childbirth" story yet again, like an elderly grandpa who talks incessantly about walking to school in the snow) (please don't send this link to my wife).
Fitzpatrick said he was in "peak off-season form", which is how I'm going to describe myself from this day forward. Why yes, I will help myself to the last few slices of pizza, after all, I'm in peak off-season form.
It was a great sports week for dads, as Tiger Woods shocked the sports world with his Masters win. His embrace with his son shortly after went viral, harkening memories to Tiger hugging his dad after winning his first Masters two hundred years ago.
Tiger's win was monumental because everyone in the world thought he'd never return to the top of the sport. He's now the old guy, getting routinely passed over by younger, stronger players. But for that Sunday, Tiger was back, and with a vengeance. Coming from behind in the final round for the first time in his career, Tiger just kept getting better and better as the day wore on. Even Michael Jordan called Tiger's win "the greatest comeback I've ever seen". And Jordan knows a thing or two about the mental toughness needed to excel at the top of a sport.
Michael Jordan also knows how hard it is to come back after you've passed your prime, as he came out of his second retirement to lead the Washington Wizards to a 37 win season.
What we can all learn from Tiger's win is that it's never too late to accomplish greatness. All that matters is that you never quit and that you were previously the greatest performer in the history of your sport.
This is so amazing. pic.twitter.com/3GxYOnQkUp

— Darnay Tripp (@DarnayTripp) April 14, 2019
While one legend was revived, another was just getting started. Professional sports gambler James Holzhauer has taken the Jeopardy world by storm, shattering the single-day winnings record by hauling in a modest $131,127. He reeled off 11-straight wins as of Thursday and is completely annihilating the competition. It's like watching Tom Brady in the Superbowl or Ryan Fitzpatrick at a birthday party-no one else stands a chance. He's now the second on the all-time winnings list, behind Jeopardy titan Ken Jennings. And apparently, it's because he's good with a buzzer.
NBA Playoff basketball is finding its stride. Giannis Antetakoumpo (no, it's not spelled right, but this stays because it was astonishingly close for a first try) is putting on an absolute show leading the top-seeded Milwaukee Bucks. He's the likely MVP and is dominant on both sides of the ball. It's scary to think how good he can be, given that he's still only 24. Seriously, even if you don't follow the NBA much, make a point to watch one of his games.
This is the dunk…pic.twitter.com/YbmfJTJH0j

— Bill Simmons (@BillSimmons) April 15, 2019
Between the Greek Freak, James Harden in Houston, Joel Embiid in Philly, Steph Curry and Kevin Durant on Golden State, and LeBron on the offseason, there hasn't been this much individual talent in the NBA in a long time.
Hockey is having its moment too. Playoff hockey is some of the most exciting action in sports. It's seasonal, like Reese Eggs, but when it's here it's fantastic. The action is thrilling and the first round saw a historically great team in Tampa Bay fall to the previously middling Columbus Blue Jackets. They didn't just fall, either, they got stomped. It's hard to oversell what an upset this was, as the Blue Jackets haven't won a playoff series in franchise history and the Lightning just finished one of the all-time greatest regular seasons.
It was a great week for underdogs and a great week for birthday cake. It was a bad week, however, to be on the 76ers bench.
He who smelt it dealt it… ????????@sixers | #Shaqtin pic.twitter.com/rrQLolUYF6

— Shaqtin' a Fool (@shaqtin) April 19, 2019