New York Is Cheering For Healthcare Workers From Their Windows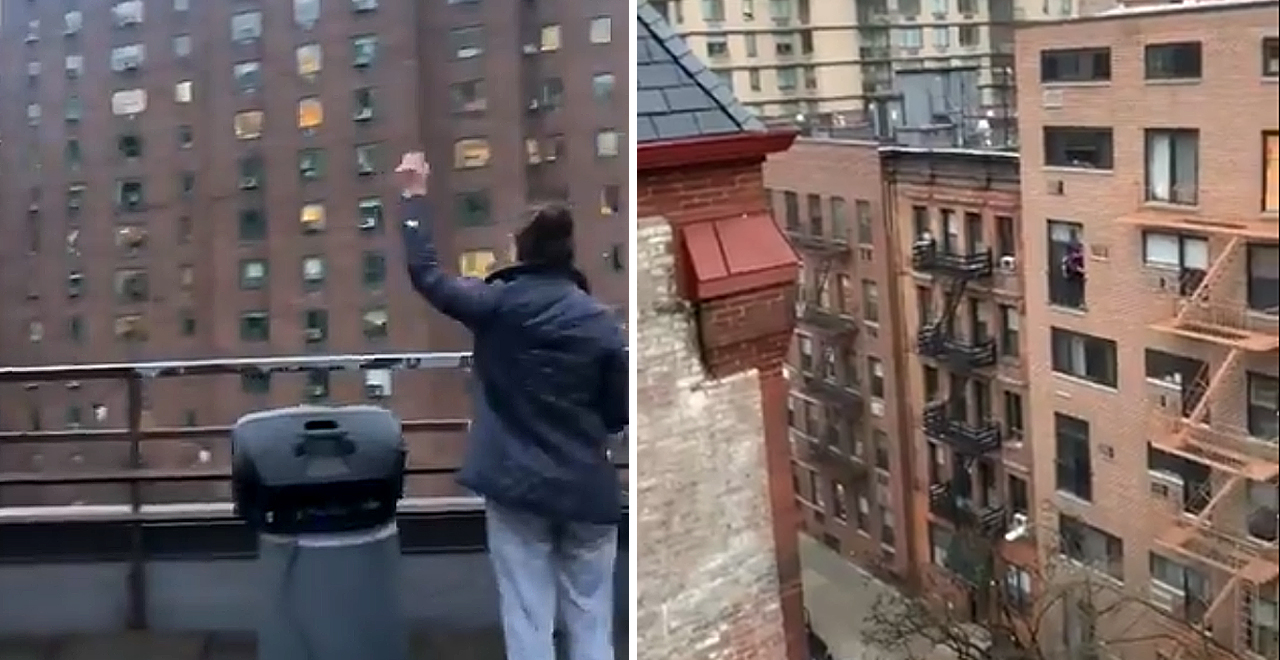 The COVID-19 pandemic has most of us stuck indoors, struggling to school our children, work at home and generally remain sane. Some of us have essential jobs, which require you to be out and about to help keep the country running. But no one is on the frontlines quite like first responders and healthcare workers, and people have been getting creative with their show of support.
At 7pm, as hospitals go through their shift change, New Yorkers have begun cheering and clapping from their apartment buildings, praising the healthcare workers for putting it all on the line. And what started as a one-time morale boost has grown into a regular tradition.
SOUND ON: People in the Long Island City neighborhood of New York City took to their balconies to clap and cheer for health care workers ending their hospital shifts. #clapforourcarers #coronavirus pic.twitter.com/IFK3gOfooL

— CBS This Morning (@CBSThisMorning) March 27, 2020
My roommates and I have started playing New York themed songs for the neighborhood every night at 7pm for the nurse shift change

Tonight we did Sinatra #clapbecausewecareNYC pic.twitter.com/a43REYfXFp

— Sean McQueen (@seanmcque_n) March 31, 2020
#clapbecausewecareNYC is now a nightly tradition in NYC. This is the third, and loudest day yet. Not my video or neighborhood, but #UES is also rocking it. I'll capture video tomorrow. https://t.co/I3n1hsc8Wv

— Vicki – #StayInsideSaveLives 🏩 (@Blitz_N_Me) March 29, 2020
The show of solidarity comes at a time when New York City is besieged by the virus. The U.S. hotspot accounts for a quarter of the country's cases, and the bravest of healthcare workers are heading to the city to provide some relief to the overwhelmed doctors and nurses.
And the applause is spreading. Boston is the latest city to join the mix, as word spread on social media late in the week to organize the movement over the weekend.
The #ClapBecauseWeCare movement in Mass. is inviting people in Brookline & throughout New England to open their windows tonight at 7pm to publicly cheer for health care workers, first responders, nurses, grocery store employees, truck drivers & many more who are keeping us safe. pic.twitter.com/zQtZZxWawk

— Town of Brookline (@TownofBrookline) April 3, 2020
Tonight we join all of Boston to applaud the incredible work of those on the front lines!#ClapBecauseWeCare 👏 pic.twitter.com/tisN9gI5Vy

— Red Sox (@RedSox) April 3, 2020
Others are following suit, both here and abroad, in places like Washington D.C., Hong Kong, Spain and Turkey, and many others. The languages may change, the locale change, but the sentiment does not. It's a simple way to say we see you, we appreciate you, and we are with you.
Here at The Dad, we hope you, your families, and communities stay safe and healthy during the COVID-19 pandemic. For the latest information, please utilize online resources from local public health departments, the Centers for Disease Control, and the World Health Organization to remain as informed as possible.